An apparent "power struggle" is what led to Christopher Douglas' (Sean) forced departure from The Young and the Restless.
In a message on his official web site, Douglas told fans that he "was caught in the middle of a power struggle between [executive producer Edward] Scott and [head writer Kay] Alden. Everyone at the show has been more than supportive of my situation, and I do realize that this decision has less to do with Chris Douglas, per say and more to do with a difference of opinion between an executive producer and head writer."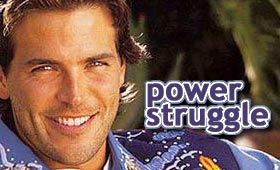 Since his arrival in Genoa City back in February, Douglas' character has been involved in a May-December romance with Jill Abbott. The character was - and presumably still is - scheduled to be part of the teen storylines this summer.
According to a setside source, a disagreement has erupted between Edward Scott and Kay Alden over the demeanor of Sean. One envisions Sean as mild mannered and the other as a man with a slightly rougher edge.
Prior to joining Y&R, Douglas played One Life to Live's Dylan Moody from 1994 to 1997. Between gigs, Douglas also auditioned for several other soaps. The actor has not ruled out a return to daytime, but it the interim he will return to his home in Montana.
Y&R has since named David Lee Russek (ex-Chip, Another World; ex-Christos, Guiding Light) as the replacement Sean. Also said to have auditioned for the role were Zen Gesner (ex-Braden, All My Children), Chris Bruno (ex-Michael, AMC; ex-Dennis, Another World) and Timothy Adams and Johnny Mesner (both ex-Rob, Guiding Light)
Douglas will make his final on-air appearance this month. Russek's first airdate is August 6th.