By mutual agreement, Tonya Lee Williams (Olivia Winters) and The Young and the Restless have agreed to a parting of the ways. While fans may lament the loss of the actress in Genoa City, the reason for Williams' exit is anything but bad news.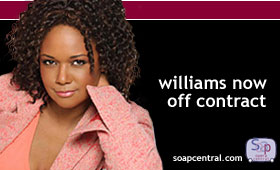 Williams has been pulling more than double-duty in recent months. The actress has been working as a director, managing the Real World Film Festival in Canada and serving as chairperson of the Toronto Film Board. The responsibilities involved with these outside projects made it too difficult for Williams to continue her contract-required appearances on The Young and the Restless.
The decision for Williams to drop to recurring from contract status is said to be a "mutual agreement." The move will also allow for Williams' character to be incorporated into the show's storylines in the future.
"When I am going to be in L.A., I let [the show] know in case they want to use me," Williams explained, hinting that her character may see more airtime in the future. In fact, the actress was last on the Y&R set in August and was able to tape a few episodes that will air in September.
Williams joined the cast of The Young and the Restless in 1990.