What is your reaction to Y&R's announcement that Billy is exiting?


I'm disappointed. I was looking forward to a story with Seymour's Billy.
52%
I believe Y&R that Billy was only supposed to be returning for a brief gig.
22%
I am hopeful that this means that David Tom or another actor might join Y&R
16%
It's a good move. I like Billy, but Seymour just wasn't working in the role
5%
I have no opinion about the news of Billy's impending exit.
2%
I don't care for Billy, so I am pleased that the character is exiting.
2%
Other
2%
Poll Posted: October 19, 2006
Newcomer Scott Seymour (
Billy Abbott
) is exiting The Young and the Restless after
only four months
with the top-rated CBS soap. As expected, the sudden departure has set off a wave of speculation among fans, including at least one recast theory.
Fans have had a lukewarm reaction to Seymour since his August 15th debut in Genoa City. Seymour, the ninth actor to tackle the role of Billy, had only limited pre-Y&R television experience. The actor's acting portfolio included several guest spots on FOX's primetime soap, "The OC" and FX's series, "The Shield." The actor also produced and starred in the film "1975."
While fans seemed less than enthusiastic about Seymour's work as Billy, a Y&R spokesperson denies that the actor was let go for that reason.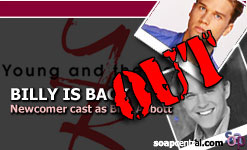 "Scott was specifically brought in to jumpstart the new, contentious storyline between Kay and Jill," explained Y&R's head writer/executive producer Lynn Marie Latham.
Fans, however, have their own theories about why Seymour was let go: the possible return of Emmy winner David Tom.
Tom was a fixture in Genoa City from 1999 through 2002. For his work on The Young and the Restless, Tom won a Daytime Emmy in 2000 in the Outstanding Younger Actor field. The actor also received a nomination in the same category the following year.
A Y&R spokesperson had no comment on the rumors of Tom's return. Seymour, meanwhile, will last air on November 20th.