Valentine's Day brought heartbreak for several members of the behind-the-scenes crew at The Young and the Restless. At least four of the show's writers, including head writer Lynn Marie Latham, were let go. As word spread on Thursday through the industry and, ultimately, Internet message boards and blogs, some disgruntled fans found the news as sweet as a box of candy.
Early reports indicate that Lynsey Dufour, Marina Alburger, and Latham's husband, Bernard Lechowick, have also been terminated. It also appears likely that Latham's son, Vincent Lechowick, will also not be asked to contribute to any more scripts.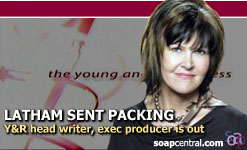 The decision to shake up the writing team comes only hours after the striking Writers Guild of America members voted to return to work. The sweeping changes seemed to catch at least one of the show's now-fired junior writers off guard. The week before the strike finally ended, Alburger told her college newspaper that she was ready to get back to work. After she was informed a few days later that she and other writing staffers were losing their jobs, Alburger expressed confusion and dismay.
"It was a surprise," she said. "Iím still unclear how they were allowed to have done that."
Alburger is resolute about her future though, and hopes to use all the contacts she made in the picket lines to find a new job.
In the aftermath of the firings, interim executive producer and head writer Josh Griffith has been transitioned to the show's official executive producer post. Griffith, who was hired by the CBS soap during the WGA work stoppage, used the "financial core" clause in his union membership to continue working during the strike. Like Latham before him, Griffith will pull double duty as executive producer and head writer.
Meanwhile, Griffith's co-writer Maria Arena Bell, who also used the "fi-core" option during the strike, has been named co-head writer. The future Paula Cwikly, who served with Griffith and Bell as the third credited writer during the strike, will remain on the show's writing team.
"The financial core members were allowed to stay," Alburger confirmed. "Itís a very complicated issue that has to do with a legal rights issue to say you donít have to be part of the WGA to write for a television show."
Married writers Jeff Gottesfeld and Cherie Bennett survived the purge and will remain with the show.
How do you feel about Lynn Marie Latham's ouster as Y&R's head writer/EP?


I'm overjoyed. Latham destroyed the Y&R that I love. I'm glad she's out.
55%
I'm disappointed. Latham provided a new spin to Y&R that will be missed.
19%
Latham is a great writer, but she just wasn't in tune with the Y&R viewers.
14%
I have no opinion on Y&R's decision to get rid of Latham.
6%
It's tough to stay. Latham's reign was filled with hit or misses.
4%
I think Latham should have stayed around to help with a writer transition.
1%
Other
1%
Poll Posted: February 17, 2008
"It has been difficult, it has been trying," Gottesfeld posted on a message board for writers. "Cherie and I survived with our jobs at The Young and the Restless intact; others were not so fortunate. Friends and colleagues are now trying to figure out what to do."
In addition to their daytime work, Gottesfeld and Bennett also write novels for teenagers and young adults.
Latham's dismissal does not come as a surprise to anyone; her office was reportedly cleared out late last year when she refused network executives' requests to continue working on the show during the strike. Latham's contract permitted her to continue production work for The Young and the Restless during the strike because of her hyphenated job title of head writer and executive producer. Latham, however, opted to walk the picket line with her fellow scribes.
In February 2006, after years atop the ratings, The Young and the Restless underwent some fine tuning. Latham was named head writer, replacing then-longtime head writers Jack Smith and Kay Alden. In September of the same year, Latham was elevated to executive producer as well. Having total creative control seemed problematic for Latham as the show focused more on plot-driven tales than the character-driven stories that had become so familiar to viewers.
Still, despite fan response, under Latham's reign, The Young and the Restless was named Outstanding Drama Series at the Daytime Emmys in 2007. Last month the show earned top honors for Daytime Serials at the Writers Guild of America Awards.
A CBS spokesperson did not respond to request for a statement.