Over the past few weeks, online rumors have hinted that Vail Bloom (Heather Stevens) might be on her way out. Now, the actress' publicist has issued a statement -- but that has done little to quash talk that Bloom is exiting the show.
As is typical when storyline seems to hint at an end to a character's storyline, Internet posters started speculating about the end of Heather around Thanksgiving. The rumor was fueled further by reports that Bloom's on-screen dad, Doug Davidson (Paul Williams), would soon be exiting the show.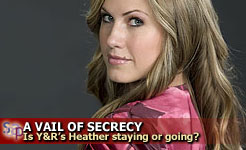 Bloom isn't going anywhere, according to Bloom's publicist, who notes that the actress was just given the green light to spend more time in Genoa City by show executives.
"Vail Bloom is not leaving Y&R," the publicist said in a statement. "In fact, her option was just picked up. It's just a nasty rumor."
A show source tells Soap Central that while Bloom is sticking around, it may only be for another 13 weeks -- the length of stay typically given to actors when their options are picked up. That would be just enough time for the writers to devise an exit that makes sense story-wise.
As for the chatter about Davidson's impending exit, the whispers have quieted now that the actor is again involved in a front burner storyline.
A spokesperson for The Young and the Restless had no comment.