For the second time this month, a posting on Twitter by a star of The Young and the Restless has created a bit of a stir. Emmy winner Bryton James (Devon Hamilton), a newcomer to the micro-blogging web site, started off his communications by expressing his desire to have his character interact with the entire Y&R canvas
"How about mix 'us' up with the actors we have instead of bringing on new ones? I want out of our 'black box.'" James tweeted. "I mean that [all] the Winters [family members] have stories with the Winterses, with the exception of Lily."
In the wake of other chatter about the Winters family -- the recasting of Malcolm, the sidelining of Emmy winner Kristoff St. John (Neil Winters), and Victoria Rowell's (Drucilla Winters) claims that some of her former co-stars are blocking her return to the show -- the Twitter post caused even more uproar among fans of Y&R's iconic African American family.
James quickly returned to his web page to offer clarification about what he meant.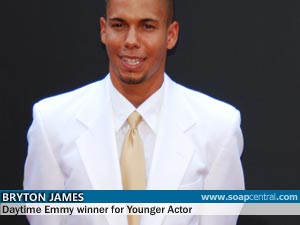 "I just want to make it clear that I'm not bashing our writers with what I said earlier," James added, "I'm truly grateful for them to have me [be] a part of Y&R. I was simply stating a frustration that's really just about wanting Neil & [Devon] to be mixed in with more of our already established characters."
In addition to discussing what he'd like to see happen with his Genoa City alter ego, James also clarified his status with the top-rated CBS soap. Contrary to previous reports, the actor has not been demoted to recurring status.
"I'm still on contract, just not [on] the show that much," James stated, adding that he can't wait to get back to working more regularly.
James, who until recently went by the name of Bryton McClure, joined the cast of The Young and the Restless in June 2004. He's been nominated for the Outstanding Younger Actor trophy at the Daytime Emmys in each of the past four years. In 2007, the actor took home the Emmy.