For 20 years, Peter Bergman has portrayed bad boy Jack Abbott on CBS's The Young and the Restless. Before that, he spent ten years as Cliff Warner on All My Children. Now, in a new interview, the Emmy-winning actor takes some time to reflect upon his three decades in daytime.
"The first time anyone mentioned this 20th year thing, I thought, 'Geez, it felt like yesterday,'" Bergman tells Michael Fairman for his On-Air On-Soaps site. "Then when I thought about it, when I started on this show, my daughter was four weeks old. My daughter is now a sophomore in college. So, I guess 20 years is a long time."
Though Bergman has been the face of Jack Abbott for 20 years, he is not the only actor to portray the role. The late Terry Lester originated the role of Jack in 1980 and remained with the show through 1989 when he opted to walk away from the role that had made him a household name. At about the same time, Bergman was unexpectedly let go from his role on All My Children. When The Young and the Restless came knocking to see if Bergman might be interested in a new daytime gig, he... told them they were crazy?!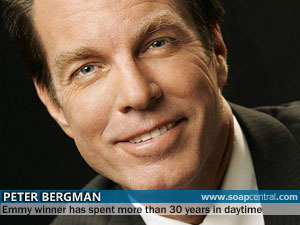 "[T]he first I heard of it was through my agent [who said], 'We just heard from Y&R and they wanted to know how tall you are.' And I said, 'That is insane! Don't even return that call. What do you mean how tall I am? They can figure that out.' It really bothered me."
The Young and the Restless made a second call to Bergman's agent, one thing led to another, and soon enough Bergman transitioned to life in Genoa City.
In the course of the interview, Bergman also takes time out to talk about his co-stars, including "terrific" Stacy Haiduk (Patty Williams), his "new favorite thing to talk about" Sharon Case (Sharon Newman), Michelle Stafford (Phyllis Summers), and, yes, even Eric Braeden (Victor Newman).
For years, Internet message boards and soap publications have touted an ongoing feud between Bergman and Braeden. Bergman, however, downplays any sort of Hatfield-McCoy rivalry.
"Eric and I had a number of problems when I first came here and they climaxed in an ugly situation that Eric wished would never had happened and I certainly could have done without it in my life," Bergman explains. "But Eric and I worked together for 20 years, and we have this enmity that the audience clearly loves. It's a crazy rivalry and it still has legs, and I am very grateful for it! We work together just fine."
For the complete interview, please visit:
http://michaelfairmansoaps.com/2009/the-young-and-the-restless/the-peter-bergman-interview-the-young-and-the-restless/