The Young and the Restless' Jeanne Cooper (Katherine Chancellor) is resting at home after more than a week in a Los Angeles hospital.
"She's HOME," Cooper's son, actor/director Corbin Bernsen exclaimed on Facebook. The actor also posted photos of Cooper's exit from the hospital.
For her part, Cooper immediately asked for a "big piece of paper and pencil," which she used to craft a special message to fans.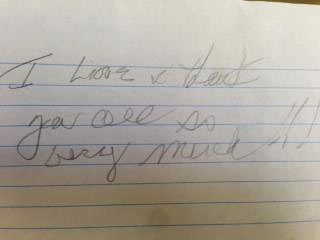 "I love + thank you all so very much," the message reads.
Bersen admitted to having a "heart-to-heart" talk with his mother about her road to recovery.
"[S]ometimes the fighter in us fights ourselves to do what's best for us," Bernsen noted. "I see the fire in her eyes and the will in her bones, and know she has the ability to perhaps even be stronger than she was before, but she's gonna have to work - hard. Try that at 84! If anyone can do it, she can. "
Cooper was admitted to Cedars Sinai Medical Center on April 12. The Emmy winner was listed as being in critical condition and was subsequently moved to the intensive care unit.
Throughout the ordeal, Bernsen took to social media to share updates on his mother's status.
"I know your prayers have helped my mom, but your kind words and the sheer number of you have held me up through all of this and given me a place to share my concerns, joys and tremendous love and blessings," Bersen added. "You are astounding!"
Jeanne Cooper joined the cast of The Young and the Restless in 1973 and quickly established herself as a force in daytime television. Cooper was awarded a Lifetime Achievement Award at the 2004 Daytime Emmys. Four years later, Cooper won the Outstanding Lead Actress trophy and issued her memorable quip, "Oh, dear. High definition or not high definition. I tell ya, it's a bitch, isn't it?"
In addition to her Emmy win, Cooper has nine other Daytime Emmy nominations.
Cooper also received a star on the Hollywood Walk of Fame in 1993.
Jeanne Cooper passed away on May 8, 2013, at the age of 84. For more on the life of Jeanne Cooper,
please click here
.