The Young and the Restless' Jeanne Cooper (Katherine Chancellor) has been hit with a setback in her battle against an undisclosed medical condition.
"An abundance of prayers needed this morning, mom has been taken back to hospital," Cooper's son, actor/director Corbin Bernsen, revealed on Facebook. "Not sure what to pray for at this point or what we even want for her. I know in my heart there is more for her to do in this world, but I also know there is a season for all things. I want more than anything comfort for her. I want her to have peace. This is that tricky place where you start to weigh all things, not what we need to do, actions to take, but instead open ourselves for enlightenment as to what God has planned for her and ultimately what is best for her. She's a fighter and I know she'll continue that. But when you're boxer is in the corner, bruised and bloodied from battle and demands to keep going, what do you do? I'm saying my prayers this morning, asking for guidance. Again, not reporting 'the end' here, just that tricky place at the precipice and those moments requiring deepest reflection."
Cooper was admitted to Cedars Sinai Medical Center on April 12. The Emmy winner was listed as being in critical condition and was subsequently moved to the intensive care unit. Cooper remained in the hospital for more than two weeks, but was released from the hospital on April 29. The actress appeared in good spirits as she posed for pictures with her dog, and even took time out to write a thank you note to fans.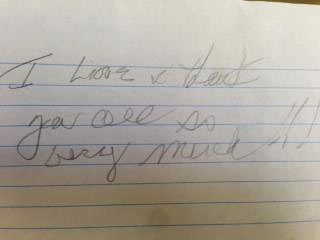 "I love + thank you all so very much," the message read.
While several of Cooper's costars reported that the actress was treated for an "infection," Cooper's family has not disclosed any information about Cooper's condition.
"I don't want to disclose at this point the specific 'illness' though I'm sure many of you are curious. But I don't want a thousand comments about that. Not at this point," Bersen explained. "In time I will share it all. Just know that she is back in critical condition and needs your continued prayers."
Jeanne Cooper joined the cast of The Young and the Restless in 1973 and quickly established herself as a force in daytime television. Cooper was awarded a Lifetime Achievement Award at the 2004 Daytime Emmys. Four years later, Cooper won the Outstanding Lead Actress trophy and issued her memorable quip, "Oh, dear. High definition or not high definition. I tell ya, it's a bitch, isn't it?"
Cooper also received a star on the Hollywood Walk of Fame in 1993.
Jeanne Cooper passed away on May 8, 2013, at the age of 84. For more on the life of Jeanne Cooper,
please click here
.