Genoa City has been turned on its head since the arrival of Miles Gaston Villanueva's Luca Santori. Nobody quite knows what this guy is all about, except the fact that he certainly hasn't been shy about going head-to-head with Eric Braeden's Victor and creating raised eyebrows in response to his dealings with Adam (Justin Hartley), Victoria (Amelia Heinle), Summer (Hunter King), and several other Genoa City residents. But is there more to Luca than meets the eye? And will we be meeting other members of the notorious Santori family -- a clan that's much talked about but has yet to be seen? Soap Central spoke with his portrayer, Miles Gaston Villanueva, to find out.
soapcentral.com: From what I can tell, you are one busy man! You posted on Instagram about a week in February where you shot five episodes of Y&R and auditioned for four pilots. Where do you find the time?!

Miles Gaston Villanueva: I have no idea! Honestly, the fact is, being on the show for a while now, I have been able to warm up to the rigorous schedule that we have, the demanding schedule. And that was probably the busiest week of my career, having to shoot five episodes in four days, and then I had four pilot auditions. One of the actors on Y&R told me one thing at a time regarding the soap work, and that's what I had to do that week. You have to push yourself. You know what's happening the next day, and the soap is priority, of course, because we're actually shooting that stuff, it's not an audition. That stuff is going to be seen by millions, so I want to be solid on that. But I don't know, man -- the soap world has made me so sharp mentally with regards to memorizing stuff and working stuff and soaking stuff up. So I give major props to Y&R for kicking my butt and keeping me in shape.
soapcentral.com: And I'm sure it helps when you're really passionate about what you're doing, which gives you an extra boost of energy.

Villanueva: Yeah, it's what I love to do. Absolutely. Getting new material each week for Y&R is thrilling in itself, but also having the opportunity to audition for these other things and getting that new material is [great, as well]. It's like I'm revived every day by the new material, and it's just exciting to be in competition at these auditions and be a working actor. It's inspiring every day because I'm getting to do what I love and I'm getting to make a living doing what I love. The work and the opportunities in my field, they make me say, "I can do this, I've got to do this, this is exciting, let's roll." I'm in the thick of it, and I am just very grateful to be in such a place right now.
soapcentral.com: You mentioned you've found a rhythm at Y&R, but does it still feel new? And how does the introduction of new stories and new characters to work with impact that?

Villanueva: Some days I'm like, "Yeah, I'm in the groove here." And other days I'm like, "What am I doing?!" [Laughs] But I think it all feels new because the pace at which we're shooting and digesting scripts, and then that week is done and we're moving on to the new stuff. That can sometime be like, "Whoa! I don't quite have my footing." But again, you kind of develop a muscle, and you get stronger. But I would say I'm really fortunate because they're writing me with different storylines, and I'm working with different people. And that's not necessarily "Oh, no." It's more, "Yes! Awesome, exciting." It can be a nervous feeling, because you think, "What's this going to be like? How is this going to work? This is a new person." Because sometimes when you work with the same people, you can get very comfortable, which is nice. But this new energy and these new relationships being created and what's going to happen with this person, that person, this character, that character, is scary and thrilling and invigorating.
soapcentral.com: You and Hunter King are on the cusp of a new story, possibly a romance. Is she one of the new actors you're talking about, and what do you think about a possible romantic connection between Luca and Summer?

Villanueva: Oh, absolutely! That is so new, what people are seeing, and it's very new to everyone: myself, Hunter, the writers, the audience. So we don't know where it's going to go. Is it something that Luca is playing, is it something that's romantic? Is it both, and he's going to have to at some point decide what it is? Someone on Twitter said the other day, "Hey, Summer, don't hurt Luca!" And I was going, "Hey, that's a different thought!" They were saying, "Hey, lady, don't hurt the man!" But Luca has such a history with the show and with these native Genoa City characters, so you suspect that he's up to some stuff. But I love, as they have done with Luca a lot, this sort of back and forth. I don't know what my place is or where my loyalties lie, and even the romantic storylines, starting with Marisa [Sofia Pernas], it's like, "Where is this going to go?" And it makes it difficult. It's not easy to play, because you wonder, "Is he sincere? And what do we want to do here?" And we all talk about it and make the decisions. It's kind of a day-to-day, week-to-week thing. But she is wonderful to work with, and let me end on that amazing note. I'm having such a great time. She's so easy and peaceful and open, on and off camera, and that's such a nice feeling. It's a new energy, again. And it's quite a buzz. And I think the audience, too, is torn. They're like, "No, not Summer! Not Summer and Luca!" And then some say, "Yes, they work so wonderful together." So that's great, to see their responses. Especially the positive ones. I'm always into the positive energy.
soapcentral.com: It's always a good sign if the fans are torn, because that means they care about the characters and are passionate about them and what happens. Do you feel you're in a good spot?

Villanueva: Absolutely! Just to see them respond to the potential, the what if, of Luca and Victoria. That was fun. And just to see them respond so vibrantly to certain things on the show: Summer and Luca, the Victor and Luca confrontations, the Luca and Victoria fantasy. That's so cool to read that stuff. And I tweet them back. I tweeted a couple last night and said, "You guys made my day. Thanks for this." So I'm glad they're so into it, they're so invested, they're so curious, all these different reactions and emotions. It's a wonderful perk of the job.
soapcentral.com: As you mentioned before, it's sometimes difficult to pinpoint where exactly Luca is coming from. As you've been playing him, have you been able to get a pretty good grasp of who this guy is, more so than the audience might know at the moment?

Villanueva: I'm definitely still trying to figure him out. But something you learn early on in acting is to always advocate for your character, unless a director or a producer or someone else tells you differently. So I'm trying to give him the best of intentions [in everything he is] trying to do. It's easy to play the villain and to be the snake, but maybe very specific moments like that happen because he was denied something or someone hurt him. I know Jill [Farren Phelps, our executive producer] and [some of the other producers] were talking about that sort of back and forth and finding these positive colors so the audience says, "Wait, that was nice! Why did he smile? Why do we like Luca now? What the heck?" So having them be torn like that is great, and I think I'm naturally a positive, happy guy, so it's nice to use that part of me in the character. But a grasp? I don't know. Not so much. I mean, I'm taking it week to week and looking at what happened that week and asking, "How does it affect that relationship?" or "How does it affect him and Summer?" and "How does it affect the Jabot crew and the Newman crew?" I think he's trying to find his place. I kind of had this revelation last week; he's trying to find his place within Genoa City, with this group of people, and within the company. So it's very interesting that he's kind of here and there and everywhere. But that's fun. It's exciting to wonder where he's coming from. I just got scripts for next week, and I have yet to read them... and I'm so excited to continue to see where it's going. We just shot some stuff, and it wasn't such good stuff for Luca necessarily, so I was like, "Well, there are three scripts for next week, so what the heck is going to happen?" I'm excited for that. One of these days I'll sit down with the fans and ask them, "What are you guys thinking?" The response on social media has been so great. There are mixed responses, for sure; some people don't like Luca because I'm messing with a lot of people's lives. But the response has been so positive, and I'm curious to hear what they're thinking.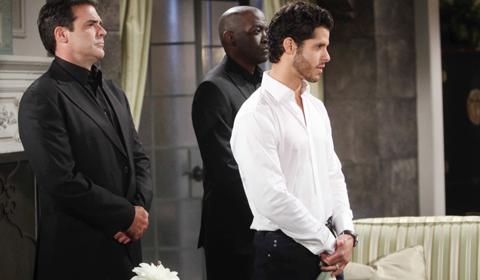 soapcentral.com: We've heard a lot about this notorious Santori family. Do you think they'll actually bring some of the characters to the canvas?
Villanueva:
Oh, my gosh, that would be crazy. I was the first Santori to be in this world, and if they introduced a father figure or some other member of the family, that would be, in my mind, a big step, based on the world that has been created for so long, these two solid main families. But I would be speechless. I'd be excited, and I'd be curious about who would be coming. People have had their theories on Twitter and posted photos of actors, like, "That actor would be awesome!" or "How about that actor?" But it would be surreal if they said they were planning to do that. I'd be like, "Shut up. No way!" But it would be such an exciting thing. Fans seem to be curious, but it seems like that would be such a big move for the show to bring in a new family. But it would be amazing!
soapcentral.com: You're in a pretty unique place because the family is talked about a lot, and these unseen characters have already created quite a lot of drama in Genoa City. So we hear about this off-screen family a lot, which I think opens the door for exploration.

Villanueva: Yeah, and maybe there will be a time when Luca is doing business in Genoa City and he'll be surprised by the arrival [of a family member]. We go so long, forgetting, "Boy, you've got this father in Spain," and he appears out of nowhere, and there's this gigantic gasp from the audience because it's something they knew about or talked about months and months previous to that. But I don't know, anything is possible in Genoa City and with these characters, which is so crazy, but also really exciting. So we'll see.
soapcentral.com: You really are proof that anything is possible, because you actually debuted on Y&R as Father Martin for just a couple of episodes back in 2013, but they remembered you and brought you back for this role. I mean, how crazy is that?

Villanueva: It's incredible that that happened, oh my gosh. And I don't know if people remember Father Martin. Some people do, but now people are all about, "What is Luca up to?!" But I couldn't say enough about what Jill and The Young and the Restless [did for me]. I think Jill was the one who had the final say on the guest role of Father Martin. I don't know if CBS Daytime executives had any input on that, I'm not quite sure, but I know Jill, I met her when I was doing that role, and she had this smirk on her face, and she said, "I could have gone older and simpler, or young and handsome. And I went with young and handsome!" I gave her a big hug that day, because that was my first TV gig, back in 2013 or whatever it was, and I had moved down to L.A. only five or six months previous, so it was very exciting. And the fact that they remembered me for this two years later, "Hey, what about Miles, who played the priest?" So they brought me in, and I read with [casting director Judy Wilson] and waited a week and came back in and read with Sofia, and I met everyone, and it was like, "Boom, boom, boom," and I got the offer that day. It was like, "Holy crap!" And then it turned into this, so there are all these different surprises. First Father Martin and then being brought in and then doing the callback and then getting the offer and then shooting that same week, the week I was offered the role. And even the evolution of the character and meeting everyone and what the writers and producers and the executives have seen and that they trust me and throw so many different, wonderful, exciting, crazy things my way, and to have these opportunities. It has opened up more roles for me, too. I've booked guest-starring roles on primetime, and it's just made me stronger as a collaborator, as a creative person and all of that. So I'm truly thankful. If I could write a letter to Jill and the people who offered me this opportunity every day, then every day I'd write them a letter saying, "This is amazing! This is why this opportunity is incredible and has been incredible." And it wouldn't be enough! I don't think that would be enough. But I feel it every day and just have to keep expressing those feelings to her when I see her without being crazy and having her go, "Miles, we get that you are grateful for this opportunity!" It's such an overwhelming feeling of gratitude all the time.
soapcentral.com: And now you're getting to work with fabulous people like Eric Braeden. And your characters have quite a unique relationship.

Villanueva: I know, and it's kind of nuts! People will watch a Victor and Luca scene, and they'll tweet about it and say it was one of their favorite scenes. They love the confrontations, they love the cat and mouse, the poker game between those two. But they also like that Luca is someone who is standing up to him, which I find very fascinating. Not watching the show for years and years like they have, I don't think they see many people standing up to him, and that's great. And Kambra, the writers have given Luca some crazy awesome dialogue. It's like, "Whoa! Really? He's going to say this to Victor Newman? Okay..." And they really have created this great conflict. And of course it creates great conflict, so Victor has to act, and he does stuff, and it's all in the interest of creating that drama and making it impossible for people to not watch, you know? He's legendary. Working with him is scary but invigorating. You never know what's going to happen. But he gives me a little fist bump after we get stuff done, and we laugh about stuff, especially when we have stuff that's physical and he gets in my face. It's very professional, but it's fun and like a father/son sort of thing, like a grumpy pops going, "You know what, son? Watch your freaking tone, watch your mouth, you watch yourself!" And we have a blast doing it.
soapcentral.com: You really got lucky with this character, writing-wise, because he is one of the few who has the guts to stand up to Victor, but yet, as you mentioned earlier, he has a surprising charming side. And that makes for a guy you can't figure out, a character you don't know whether to love or to hate. So, what do you think: should we love him or hate him?!

Villanueva: It's the best! It really is the best to be able to play these multiple colors and to be able to surprise people with, "Oh, wow, that was very charming," or "That was very heartfelt." And it's a tribute to the writers and them wanting to keep me present and keep people guessing. It's very human to be all the things, to be all of the colors, so I think the greatest thing, to be able to play a complex... Well, I don't know if he's going to turn into an antihero. I mean, right now, he's kind of the little rat. [Laughs] He's in everyone's story causing some trouble, but I also would say it's him trying to find his place. He's trying to find who is going to take him in and take him under their wing, like, "You're our guy, let's do this," and he can be part of a team. But before I booked the role, I was telling my girlfriend and some other people, "I want to play a charming, dangerous, sexy antihero, where you hate to love him, love to hate him," and then this popped up, and that's kind of what it's been. And they keep bringing more colors to him, and it's like, "Wow, I got what I was craving." So it's the greatest gift to be working on Luca with The Young and the Restless.
soapcentral.com: You mentioned that Y&R has opened a lot of other acting doors for you, but how else has being on Y&R changed your life?

Villanueva:Oh, man! Do you have another ten minutes?! [Laughs] Honestly, the fans are unbelievable. I love meeting them. I love seeing their responses, and the fan mail is amazing. People want me to sign stuff, and it's incredible. Even friends I've had for a while want me to sign stuff, and I haven't quite been on it yet because it's been so crazy, but that's amazing. I have friends and family watching all over the place, and my parents are huge fans now. We go out for dinner or something, and they're like, "Hey, that looks like Patty from the show!" And I'm like, "What are you talking about? We're not watching the show right now! You guys need to hold your horses!" But they're huge fans. And even meeting people, going back to the fans, being recognized and to see people light up, or even the very curious, "That can't be him. That's not Luca" stares. To chat with them about the show and to see their surprise to see me in real life, to have them tell me their story of how they've been watching for 40 years and when they started watching it, and who watches and when they get to watch it, and who their favorite characters are and what they think of Luca, it's pretty unbelievable... So connecting with the fans, and getting to connect with another human that way, to see them smile, and to share a piece of life with them, is probably one of the coolest things on top of all the other things I've mentioned.
Photo Credit: Howard Wise / JPI Studios
What are your thoughts on Villanueva's Luca? Do you love to hate him, or hate to love him? How would you like to see the character's storyline develop? We want to hear from you -- and there are many ways you can share your thoughts.