PHOTOS: Y&R stars walk to end Alzheimer's as Dina's emotional storyline charges forward
Stars and crew members from The Young and the Restless took a break from Genoa City this past weekend and participated in the Los Angeles-located Walk to End Alzheimer's that took place at L.A. Live.
The CBS soap family took part in the annual event held by the Alzheimer's Association to raise funds for and spread awareness of the sad and deadly disease, currently in the spotlight via a Y&R storyline that has Jack and Ashley's mother, Dina (Marla Adams), suffering from the illness.
"It was so great to be surrounded by such a positive and hopeful group, all with one goal in mind," says Daniel Hall (Scott Grainger). "What a beautiful morning to help End Alzheimer's Now!"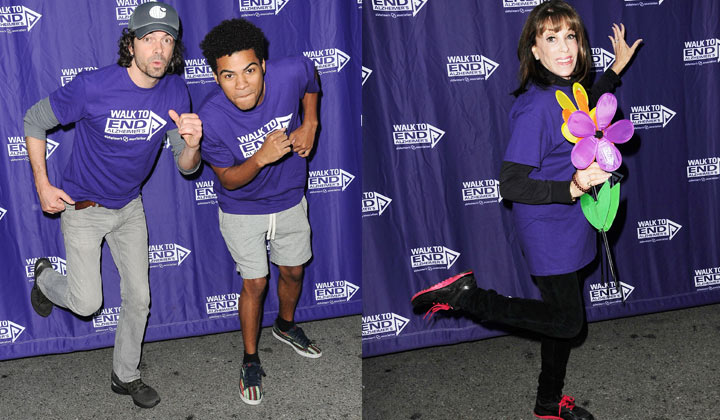 Adds Abhi Sinha (Ravi Shapur): "I dedicate this walk to my Grandmother who has Stage VI Alzheimer's and has been battling this dreadful disease for five years. It was a privilege to walk with my Y&R family!"
Held annually in more than six hundred communities nationwide, the Alzheimer's Association Walk to End Alzheimer's is the world's largest event to raise awareness and funds for Alzheimer's care, support, and research. Some sobering facts and figures about the disease include:
• One in three seniors dies from Alzheimer's
•It's the sixth leading cause of death in the United States
•More than five millions American are living with the disease
•Someone in America develops Alzheimer's every 66 seconds
•In 2017, Alzheimer's will cost the United States $259 billion. This number is expected to rise to over $1 trillion by 2050.
Y&R viewers are set for an emotional roller coaster, as Dina's unfortunate health situation is likely to get worse as November Sweeps rolls on. Make sure to have plenty of tissues on hand and consider finding out how you can help the Alzheimer's Association by visiting the organization's official website for more information.
What do you think about Y&R cast members participating in the Walk to End Alzheimer's? How do you feel about the emotional storyline taking place for Dina and her family? We want to hear from you -- and there are many ways you can share your thoughts.