INTERVIEW: Marla Adams gives an inside glimpse into how Y&R's Alzheimer's storyline continues to be a tear-jerker
When The Young and the Restless first brought an Alzheimer's storyline to the screen, many fans assumed that the dramatic tale revolving around Jack and Ashley's mother Dina would come and go in a matter of months. But much to many viewers' pleasant surprise, the CBS soap opera has delved deep into the heartbreaking storyline -- and it's still going strong a year and a half later.
The tragic tale has been lauded by fans and critics alike, largely due to its authenticity and relatability for the millions of people across the nation who have a personal connection to the disease. But most of all, Y&R's Alzheimer's storyline has been a success due to Marla Adams' powerful portrayal of a woman's very devastating decline due to the disease and the shattering effect it has on her family.
In order to get a better glimpse into the magic that has kept this storyline front and center for such a long span of time, Soap Central had a chat with the inimitable Ms. Adams herself. Read on to find out why the storyline has touched her heart, what goes into bringing Dina's illness to life each day, and how the Alzheimer's Association has helped shape the tear-jerker story.
Soap Central: You recently had a really special day doing a photoshoot with the Alzheimer's Association. How did that go?
Marla Adams: I certainly did, and it was wonderful. The whole experience was so great. It's the most wonderful organization; they do so much good in the world. So, to be attached to that and to play this absolutely iconic role that has never been done like this before on television, I feel so privileged. Alzheimer's is not a wonderful disease to have, but the gift has been the most wonderful experience of my life as a professional actress. To play this, and to receive messages from the caregivers that are writing to me and texting me, I break down and cry after each message. Of course, actors say, "Which eye do you want the tear from?" But this is truly heartfelt, and I can't get over what they say. The way it's being written and the way it's being played is so spot on to what an Alzheimer's patient experiences. I can't begin to tell you how much it means to me, more than any other part I've ever done, and I mean, I've done everything from Broadway to movies to nighttime television, but this is so personal and so authentic.
Soap Central: Do you have a personal connection to Alzheimer's disease? A friend or family member who has suffered?
Adams: I just hung up, before talking to you, with my oldest girlfriend who lives in the building. She's widowed now, and she has Alzheimer's. Everybody I know in the whole world -- and that goes for everyone at the show, as well -- every one of them has someone close to them who is dealing with, has dealt with, or has died from Alzheimer's. I'm being very redundant, but it is so personal. It breaks my heart. But at the same time, all of the wonderful texts that I'm getting, I bring joy to them, and they bring joy to me. And I've never had anything like that before. It's not like getting a fan letter. It's not about that at all. It's about addressing this disease with authenticity.
Soap Central: How do you receive the feedback from fans? Does the show give you letters and social media messages?
Adams: Many fans have my email address, and I'm also on Facebook. So, they write to me through that. I haven't talked to any of them personally, but I feel like I have because they go into great depth about their mothers, their family members. I met two fans at an event last year, a girl and her mother. And I received an email from the daughter not long ago that said, "You met my mother, we had a picture taken together, and now she died." It just blows me away. And then I got the sweetest letter with pictures, like a before and after picture, and the woman was widowed. She had been married over 60 years to her husband, and he died, and now she has beginning Alzheimer's. She was placed in a home, a health care facility, and she met a man who was 93. She was in her early eighties, he was 93 and had been married for 70 years, and his wife died. So, the two of them became friends -- and this is a true story -- and they started shooting pool together in the home and having dinner together, and then they fell in love. He asked her to marry him, and his family said, "You can't marry her! She has Alzheimer's." And he said, "Listen, I was married 70 years, she was married 60-something years, and between the two of us, I think we know what marriage is like. So, don't lecture me!" And they are now happily married! Isn't that a beautiful story?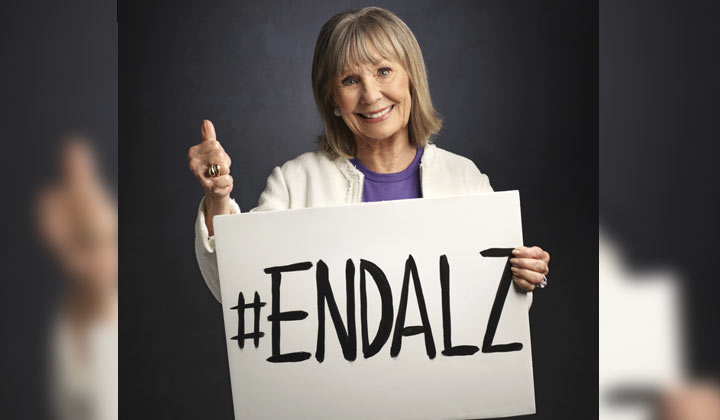 Soap Central: It is a beautiful story! I love that. Would you say that having a personal connection to a storyline makes it easier to play? Or does it actually make it more difficult to play?
Adams: Both. It's a privilege to do it, and I take it very, very seriously. I had never dealt with anybody [with the disease] before, so I didn't know how to act and react with this Alzheimer's thing. But... the producers have been in touch with the Alzheimer's Association and have worked closely with them, and they have been very, very helpful.
Soap Central: Are some of Dina's moments difficult for you to play?
Adams: When Dina gets mean, that's the hardest thing for me to play -- although I play bitches very well! But it's difficult to play that part of it, realizing that that is very much a part of the disease. And I think my Abbott children, especially Peter [Bergman, Jack Abbott], are doing a wonderful job talking about it. Jack is miserable because he's seeing that his mother is starting to slip away, and it's difficult. But I come home [after work], and I am wiped out, I can tell you that. Because I'm that kind of an actress; in the old days, they used to call it method acting. I put my heart and soul into it.
Soap Central: So, what kind of process do you go through to play Dina each day?
Adams: Becoming Dina, I get there in the morning, after a quick shower, with my hair dripping wet, and I go into makeup, and the character evolves, and then I put on the beautiful clothes, and I'm there. And then we rehearse, and then we shoot it. And when we do a good scene and we hear good things from the booth, [it's wonderful], but you know in your heart. Peter and I really play off one another beautifully, and he's right there with me every second. So, I'm privileged. It makes it easy, working with him and Eileen [Davidson, Ashley Abbott] and Beth Maitland [Traci Abbott], who is the best actress on the show. She should be the matriarch of the Abbott clan! But I don't know story wise what is going on, and maybe she's not supposed to know, because she's getting a little daffy! But I come home at night, and I'm wiped out. I come home, and I don't want to go anywhere... because I'm exhausted. And I do have difficulty sometimes with lines, which everyone does, because we do six shows every four days with no cue cards. That's pretty daunting, to say the least! So that is the most difficult part of the whole deal. Other than that, I'm thrilled to pieces to be playing this part. And I just hope it goes on for a long, long time.
Soap Central: I think everyone does. And, in fact, I think it's part of the reason the show is digging so deep into this story. Nobody wants to see it end, because then we won't have you on the screen anymore!
Adams: I hope so! I'm so deeply involved because of the way they're doing it. I mean, I've never done anything so real before and going by the seat of my pants, as it were! But following everything surrounding me, I'm getting marvelous support. And the Alzheimer's Association is fantastic, absolutely fantastic. [When we did the photoshoot], the people were so nice and so supportive. Everybody really does know somebody who has been touched by this, so I feel like I'm reaching people, and it's not something silly, like having tea with friends or having an affair on television -- which I don't want to say is superficial, but it's not deep like this. Nothing I've done has been like this, ever, on any show.
Soap Central: Your heart has to break for Jack, who is not only losing his mother but has now also found out that he has lost the father he thought he had.
Adams: Yes, exactly! And the boy who plays his son, Kyle [Michael Mealor], he's new and he is very good. He has a marvelous memory, and I like that the character has softened. When you play kind of an evil character -- which I know well! -- there has to be vulnerability, and there have to be reasons why [the person is the way they are]. And I love the way Kyle treats his grandma, Dina, in the story, which softens him and gives him more depth. He's just terrific. I can't tell you how wonderful and happy I am. And now I've been there a year and a half and still going strong. With this Alzheimer's thing, I had no idea where it was going to take me, so that's fascinating. Usually you can tell storylines, what's going to happen here or there, and that's what is so exciting to me, what's coming forward, because we don't know yet. We'll just have to wait and see!
June is Alzheimer's and Brain Awareness Month. For more information about Alzheimer's disease, visit the Alzheimer's Association's official website at alz.org.
What do you think about our interview with Marla Adams? How much longer do you think the writers will be able to keep Dina on-screen? Do you have a personal connection to Alzheimer's that you'd like to share? We want to hear from you -- and there are many ways you can share your thoughts.