EXCLUSIVE: Why do so many people hate Y&R's Sharon?! Portrayer Sharon Case opens up about her character's likability
In soap operas, there are characters that fans love to hate. And then there are those they just... hate. For whatever reason, The Young and the Restless' Sharon Newman frequently happens to be one of the latter, with many fans finding themselves unable to like her, and also many fictional residents of Genoa City being unable to like her, as well. But the big mystery is, why?
So many people -- the fans, and the characters on the show -- have a negative view of Sharon. Even during the bachelorette party scenes prior to her latest doomed walk down the aisle with Nicholas (Joshua Morrow), none of the characters on the canvas could think of anything nice to say about the bride-to-be. But it's surprising because, when you think about it, Sharon Newman is a rockstar. She has worked extremely hard to overcome mental illness, she went back to school as an adult and graduated -- while raising kids -- and she's an extremely dedicated and loving mother. So, what gives? Why is she one of the most hated characters in Genoa City? Soap Central asked portrayer Sharon Case for her take.
"I agree that it's a little strange that she is so hated," Case shares. "I think that maybe could be looked at with the writers, because for some reason, Sharon did get this bad reputation around town. And it really stuck, and it's really strong. It's still there today, where most if not all characters in town think Sharon is this bad person. But you're right: how is she such a bad person? She has raised beautiful children, she is running a successful business, she now has a second job, she has a degree, she overcame mental illness. I'm sorry, how could you criticize this person?! [Laughs]"
That being said, Case does feel that perhaps some of her character's early storylines played into how viewers feel about her... and those old opinions have been, for whatever reason, quite hard to shake.
"It was convenient for storyline reasons decades ago to make Sharon more of a villain or to try and paint her as more of a villain rather than a hero, and that's okay to do that for storylines sometimes, to change your villain into a hero or your hero into a villain for a period of time. But I think after that happened, we just never completely pulled out of it," she muses. "A character is considered bad or good not just based on what they do, but based on the opinion of what all the other characters in town have about them. So if everybody in town just started saying nice things, then the audience would think, 'This is the hero.' And if all of the characters think bad things, then the audience goes, 'Well, okay, this is our villain.' So all you have to do change that is change what the characters say."
As for why most of the characters in Genoa City continue to think badly about Sharon despite the character's growth over the last couple of years, Case guesses it probably has to do with the major baby Sully/baby Christian storyline that happened in 2015 and stretched on into 2016.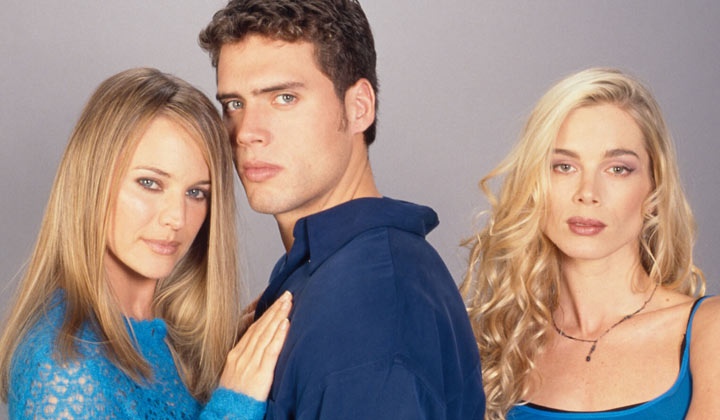 As fans may recall, after Sharon miscarried her and Dylan's (Steve Burton) baby, she checked herself into a sanitarium under the care of Dr. Anderson. What Sharon didn't know was that Dr. Anderson held a grudge against Sharon's ex, Nick, and as part of a revenge plot, the doc had stolen Nick and Sage's (Kelly Sullivan) baby, made the couple believe that their child had died, drugged Sharon, and then gave Nick's baby to her, making Sharon believe she had actually not miscarried and had given birth to her and Dylan's baby in the sanitarium.
"When the characters say bad things about Sharon, I think what they're referring to is when she lied about baby Christian," Case explains, referring to that storyline. "But that's also -- I think -- blown out of proportion. For half the time Sharon had the baby, she did not know that it wasn't hers, and anyone could understand, I think, being reluctant to say something. And if you're a person who does have mental illness, you might be even more reluctant, because you don't want to put yourself through a loss, because you're not really that strong; taking a hit like that could send you down another rabbit hole, so maybe you just hold off. So I can't really see their justifications for what she did. I mean, she took really great care of that baby, she loved that baby."
What's more, Case feels that when it comes to Sharon and the various storylines told over the years, "not a lot of bad things that have happened were her fault."
For example, she says: "Sometimes characters refer to Sharon badly because they say she was a cheater or something, but I don't really remember Sharon being much of a cheater. I may have forgotten that part of the storyline, but when did that happen? I think Sharon is actually faithful to the men in her life. She did have mental illness, so she was a klepto for awhile. And I think that the main reason why Victor [Eric Braeden] doesn't like her is because Sharon set the house on fire. [Laughs] Okay, that's a justifiable reason, I guess. So okay, I get why he doesn't like her!"
What do you think about the character of Sharon? Why do you feel it has been difficult for viewers to warm to her over the years? If you don't like Sharon, what -- if anything -- could make you change your mind? We want to hear from you -- and there are many ways you can share your thoughts.