There was an amusing thread on Soap Central's message boards recently under the topic "Would you date Y&R's Arturo?" The somewhat new character is a sweet, sexy, confident Latino with charisma to the moon and back. But then again, some fans think he views women like Baskin-Robbins ice cream, wanting to enjoy all 31 flavors. First, he dated Nikki Newman (Melody Thomas Scott); then, he moved on to her stepdaughter, Abby (Melissa Ordway). And now, there are questions circling about whether or not his recent marriage proposal to the bombshell blonde was motivated by love or if it was merely made to ruffle the feathers of his brother's wife, Mia (Noemi Gonzalez).
So, is Arturo really a ladies' man? And will he be the next in a long line of men to break Abby's heart? Soap Central caught up with the character's portrayer, Jason Canela, to find out. And while he was dishing on his spicy Genoa City love triangle, he also opened up about a hilarious moment with Peter Bergman (Jack Abbott), salsa dancing with his costars, the future of the Rosales family, and so much more.
Soap Central: You recently celebrated your one-year anniversary at Y&R. Has your first year on an American, English-speaking soap opera been anything like you imagined it to be?
Jason Canela: It's been a wild ride. When I joined the cast, I didn't really have an idea of what to expect. I had spent some time working on some Spanish soaps in Miami, and I prayed to God that it wasn't going to be what I experienced there in regards to production. Granted, it's been ten years, and a lot may have changed, but back then, it was pure chaos. It was like seeing a bunch of first graders at recess. It was just crazy. So, when I moved to L.A. about four years ago and I started knocking on doors and getting opportunities, just from the get-go, even from the auditioning process, it was already a different ball game. And then The Young and the Restless gave me the opportunity to come on board and be part of the family. I came in, and I won't forget, it was January 3rd, and I had every ligament torn on my foot from an accident that happened the day before -- it was terrible! But they made it the best experience ever. I couldn't imagine feeling anything good in that moment, besides walking in there, but they really did their best to make me feel as comfortable as possible with what I was experiencing. And they truly have made it an unforgettable experience for me. This is a dream come true.
Soap Central: Speaking of dreams, you're currently involved in an on-screen love triangle with two sexy women. How much luckier could you get?
Canela: That's just the icing on top of the cake!
Soap Central: How do you feel about Arturo being with one woman but sort of secretly yearning for another?
Canela: Well, to be honest, it's definitely not something I want to say I relate to in real life, because that wouldn't be a good thing. But I think we all have, at one point in our lives, been in a similar situation, maybe in our earlier years, where you perhaps are with someone, and somebody from your past comes into your life and kind of shakes everything up. But I think it all comes down to whether or not the relationship is strong enough to be able to bring you back to your senses, and even if the house is shook up a bit, to just kind of bring you back down and help you realize what it is that you want, what your priorities are. As far as Arturo and Abby, this is a show that has been going on for 45 years, which means the people running it, clearly they know what they're doing. So, I, as an actor, need to trust that whatever decisions they make for the character, ultimately, it's what is best for the show. I'm not gonna lie -- there are things that I have gotten in the script that I've read, and originally, I'm like, "Damn, I don't want to go there. I wish the character wouldn't go there." But for the story and what they see down the line, that's the decision they're making, and at the end of the day, it's my job to go in there and bring life to the words that they are putting on paper for me and to always try to find reasons as to why the character is doing that. Personally, I do wish that Arturo and Abby are able to fight through whatever obstacles they go through as a couple and really stay true to each other, because I think it's a message that is needed in today's world... They're going to go through their ups and downs, but to show them sticking it out and working it out with each other to make it through to the other side, that would be cool. But again, that ain't my job!
Soap Central: There are a lot of fans out there who are on your side and hope they make it. But there's a big question about his motives. What do you think was the biggest factor that pushed Arturo to propose to Abby: was it love or was it Mia?
Canela: [Laughs] Actually, I do think it came from a place of love, of clarity... I don't think his intentions were to steal the light or to put the attention on him and Abby, even though it's extremely plausible, considering the circumstances. But I think it's more him realizing what Rey [Jordi Vilasuso] and Mia have, and it's the one thing he thought he could never find after what he saw growing up with his parents. So, it was more like, "Oh, my God, I could have this, too! I feel it!" He had already had the ring on him a couple of days and had been waiting for the right moment. I actually have a cousin, for example, who always wants to do the right thing, but he just, for whatever reason, seems to do it in the wrong way, and it just never works out for him. And that's kind of like the case of what's happening here. It definitely came from a place of honesty and real devotion to Abby and wanting to grow with her and expand this relationship that they have and make it a long-term, life commitment. But maybe it wasn't the best timing!
Soap Central: Abby is the wonderful woman that he has fallen for, but he still seems very pulled by Mia, who is a bit of a troublemaker. Is there something exciting about that to him, the fact that she's somewhat of a wild child?
Canela: I think when Arturo was with Mia back in the day, he was going through the separation of his parents, the constant betrayal that he, Rey, and Lola [Sahsa Calle] saw growing up. It wasn't the best environment for him, with their dad walking out on them. And there was a scene where he talked about it, he said something like maybe Mia was poison, or I don't remember the exact word he used, but she was the only thing that he knew. Mia was Arturo's escape, if that makes sense. So even though he has moved on from it and learned to love other people and not be a part of her life anymore, especially the way it all happened, him and her hooking up after she got with Rey, and then him making the extreme decision of moving out of the city and relocate, I think when she showed up out of nowhere, it was like, "Well, what do we do now?" And especially, add to the fact it's not just that Mia showed up and Arturo saw her; Mia showed up and does absolutely everything in her power to stay in his eyesight! She is very about getting in Arturo's business, whether he wants it or not.
Soap Central: Noemi Gonzalez is brand new to the show, so the fans don't know much about her. What is she like?
Canela: Noemi is great. I remember they were searching for someone to play the character for a really long time. Mia is a storm -- she's like a force to be reckoned with -- and it was a difficult character for the casting director and everyone to [fill]; they were looking for an actress for a long time. And on her first day, I believe she had about 15 to 20 scenes on the call sheet. That was what was going to be asked for that character, from the beginning to however long the character is on the show. And so, Noemi came on board, and she came ready to play. She killed it. And it has been so much fun to work with her. She's feisty, and she brings that drama.
Soap Central: And how has your experience been working with Melissa Ordway?
Canela: Melissa is unbelievable. She's so great. I remember when I first started working on the show, I was working with Melody, and I had a scene where Melissa and I bumped into each other at the coffeehouse. In rehearsal, we bumped into each other, and Melissa said, "Oh, you're not related to me? Then we're definitely going to end up together!" [Laughs] We had never met, and it was just so funny because, from the way she saw it, from what she was telling me about Abby's past, I guess any guy that isn't a Newman, at some point [they'll get together]. She's had some really crazy relationships on the show. So, it was very comical. We had good energy from the get-go, from the beginning. And then, when we read in the script that we were going to end up together, it was a lot of fun. We've been having a lot of fun from the beginning. Melissa has been doing this for a while, and I'm blessed enough to go and work with her, because she comes prepared, she comes ready to do her thing, and she makes it a great time.
Soap Central: Whether it's fully true or not, Arturo has sort of established himself as a ladies' man. Would you say he is, or do you think that is an unfair assessment of him?
Canela: I honestly believe it's an unfair assessment! When Arturo came onto the show, yes, he had a thing with Nikki, but if you remember, [he didn't view] Nikki in any way, shape, or form as a sugar mama, but a lot of people perceived it that way. Arturo came on the show, he was working with her on a project, and they ended up feeling something. She was living through some crazy time with Victor [Eric Braeden], and Arturo, I've always said, he is the type of person that lives in the moment and just goes off of what he is feeling in that very moment. As cliché as it may sound, at the end of the day, the only thing we have is the now. And there are a lot of people that live that way. So, when he was with Nikki, he wasn't going around and hooking up with any other girls or trying to start any other relationship. He was actually exploring the chance at having a relationship with her until finally it came crashing down, and it didn't work. And some time after that, he meets Abby. He didn't know the relationship between Nikki and Abby -- he finds it out later -- but still, like I said, it wasn't the type of thing he was going to allow to stop him from pursuing Abby and seeing if something could come from that, from them hanging out and getting to know each other. But I don't think in any way he's a "ladies' man." I haven't even seen Arturo try and pretend that he's a ladies' man or insinuate in any way that he's a ladies' man or try and hit on any girls, you know? But, hey! If another Newman ends up popping around, and she wants to explore going on a date with Arturo... I'll talk to the writers and see! [Laughs]
Soap Central: How did it feel for you to be paired up with Melody, who's one of the leading ladies on Y&R, the moment you joined the show?
Canela: Working with Melody was great. Granted, I was nervous, and I didn't know what to expect, and she really did her best to make me feel at ease and make me feel comfortable with everything. When you get there, they don't really hold your hand and walk you [through everything] and tell you how it goes. No, you get there, and yeah, they're all very nice and there is very good energy on set, but when you get there, they expect you to come and deliver. You're walking up to home plate and you're getting in the batter's box, and they are pitching 99 miles per hour, and it doesn't stop. That is the best way that I can explain this, coming onto the show, because it really is like feeling the same thing a batter would feel when he steps into the batter's box to face a pitcher in the big leagues. Just because it's your first time batting with them, they're not going to come at you with a 75 mile per hour curveball. No, they're going to throw a 99 mile per hour fastball right down the middle and expect you to make contact. And with Melody, she really made me feel at ease in that situation and gave me the confidence and gave me the comfortability to be able to at least give it my best shot to make contact. I don't know how well my contact was, but...
Soap Central: Well, it must have been good because you started out as being a short-term character, and now you're one of the main guys on the show!
Canela: Yeah, it started off as a guest-star role, and yeah, shortly after that, they asked me how I felt about writing in a family around the character, which I obviously was super stoked about. And it's been really, really cool to be a part of such a special, special show -- a show that is literally twice as old as I am! It's such a blessing to be able to walk in there and work with such incredible people, everyone from the cast, to the producers, to the grip guys, to the crew, to everybody who is setting up lights, cameras. I don't know if a lot of people know this, but a lot of our crew members, their fathers were crew members before they were born, and I think it's such a beautiful thing. That explains to me why the energy is so incredible in that studio, because it truly is family. We're talking 45 years of legit families that have been the driving force behind The Young and the Restless. And I don't mean the actors, which are obviously a huge part. The actors go in there, and we do our thing and people watch us and believe in us and are kind enough to have lent us their eyes for the past 45 years, and I greatly appreciate the fans for that. But it's the crew members, the guys that get there [early]. If my call time is 7AM, there were guys who got there at 4AM, and they're the ones who are walking around in that freezing studio, setting up everything, setting up cameras, setting up lights, setting up the scenes for the day. And those people, they didn't just wake up one day and say, "Hey, I want to do this. Let me see if I can work for this show." No -- they saw their parents doing it when they were growing up, and now they've taken the place of their parents, and they are in those same studios that they grew up in, and they're doing the same thing, and they're bringing life to this amazing show. And I think that really is the secret as to why America feels like they are a part of The Young and the Restless and they know Genoa City, because it's truly family driven. It's pure family.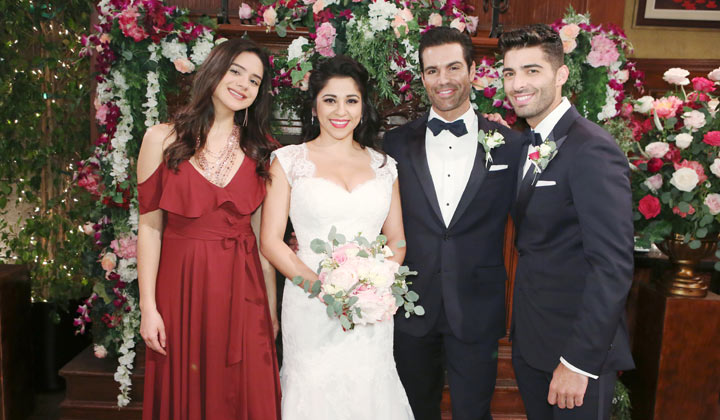 Soap Central: And on-screen, as well. Y&R is all about these fictional families, and I think the introduction of the Rosales clan is special, because you are representing Latinos in Genoa City. How does that feel for you personally, to be a part of that?
Canela: In today's world, with everything going on with diversity and people feeling like they're left out, it's a blessing. It's a blessing period, just to be an actor and be given the opportunity to walk into a studio and work on your craft and get paid for it, considering the thousands and thousands and thousands of extremely talented individuals that there are in this city, in this industry. It's a blessing. But to be a part of a Latino family, and being Latino, it's even more of a blessing. To be able to portray my culture and give people a little insight into where I come from and how we act and just be the face of that on this show, it's a huge blessing. A huge, huge blessing.
Soap Central: I feel like you and Jordi Vilasuso have very similar backgrounds, both being handsome soap opera stars, both being Cuban and both being from Miami. Has that helped you two bond as on-screen brothers?
Canela: I think right off the bat! When I first saw Jordi, I believe he was talking with Matt [Y&R's publicist] upstairs, and I had gone upstairs to sign something, I don't remember what. I didn't know he was going to be playing Rey, but I saw from this guy's vibe that we were two wings from the same bird. Does that make sense? They say that about Puerto Rico and Cuba. And I remember thinking, "Man, we could play brothers." And a few days later, I walk onto the set to meet Rey, and it was Jordi. And we were like, "Bro, no way!" I remember our first scene together: it was the first time Rey and Arturo see each other and we get into each other's faces, and right off the bat, we were going at each other. Jordi and I spoke for maybe two minutes before that scene and tried to do the most connecting that we could -- and two Cubans from Miami can connect a lot of dots in two minutes! We talked so fast! "Oh, you're from there? I'm from here. I went to this school, you went to that school, your parents are from here in Cuba, my parents are from there in Cuba..." I mean, we literally knew each other's life stories in the two minutes of blocking before we did the scene. And it was just so incredible to be able to connect like. I'm lucky enough to call him a brother on-screen, and for us to have that chemistry, me, him, and Sasha [Calle, Lola], who is also from Miami, it's a really special group. I can't say thank you enough to the producers and to the network for blessing us with the opportunity of bringing life to these characters and for really believing in us and taking a chance. It's been a lot of fun.
Soap Central: You're teaching viewers a little bit about your culture just via storyline, but have you taught any of your costars about your Cuban culture, like with recipes or anything like that?
Canela: I've been trying to get a group of us together to go out salsa dancing and do things that have to do with our culture, because I'd love to share that with them. Peter [Bergman], who plays Jack Abbott, he was born in Guantanamo Bay, so he was actually the first Cuban on Y&R, and no one even knew it! It's funny, because I had a scene with him early on, when I first started, and we were knocking on the door at the ranch, and he goes, "Man, I never thought I'd see the day when two Cubans are knocking on the Newmans' door." And we both started dying laughing. That was when I found out he was born in Guantanamo Bay. He left when he was eight months old, but still, the way he says it, he says he grabbed the best part of Cuba -- he got the genes. And now it's a little joke between us. But, yeah, I'd love to share a bit more of my culture with the cast. We've talked about it a few times, with everything that is going on in Cuba and what is happening in Venezuela now, with the new appointed president. I send my prayers and all of my positive energy to the people who are literally fighting for their freedom. And I pray that this is the beginning of a free Venezuela, and I hope it is the beginning of one day being able to see Cuba free again.
Soap Central: I'm really glad you mentioned that, and I hope the same. Do you know if you have Spanish-speaking fans who tune in to Y&R even though it's an English soap opera?
Canela: Oh, yeah! I do, and they write to me all the time. They love it. I started in Spanish [soap operas], and the people who have been with me and watched my beginnings and have been supporting me, I am so grateful to them. A lot of them speak English as well as Spanish, because they're a part of that percentile that I'm a part of, which is, yeah, I'm American, I was born in America. But I grew up in a Spanish household. So, the same way that I feel 100% American, I feel 100% Latino. I always spoke English with my friends in school, but the moment I got home, I spoke Spanish with my family. So, I think a big percentage of my fan base is that same percentile that I put myself in. They'll tune in to watch something Spanish, but if I let them know I'm doing something in English, they're not going to hesitate to switch the channel and watch it. We're 200%: we're Latinos and Americans, and we're all about supporting [both].
Soap Central: Is there anything else that you'd like to add before I have to let you go?
Canela: Actually, now that we're talking about family and all of the families on the show -- I know that there are core families and people who have been on Y&R for 20-plus years, and the Rosales family is a new family, and we're Latino, and we're representing this new side that hasn't been represented before. A lot of people seem to be having a tough time watching it, and I ask myself, in 45 years with this show, all of these families, all of these characters that are here today, although a great part of them have been there for a very long time, they weren't always there for a long time. They, too, came onto the show as newcomers, and I don't doubt that people had a hard time accepting them because of whoever they replaced or because of whoever they were when they came onto the show. There are so many reasons why a person leaves a show or a person comes onto a show, but what I can assure you is there are no characters who are replacing other characters on this show, at least with our family and the integration of the Rosales family. So, to those who are having a tough time seeing that air time for us, I suggest that they put on their seat belts and buckle down, because the Rosales family seems to be here to stay, and I hope that they can learn to love us or love to hate us, because it's going to be a fun ride.
What do you think about our interview with Jason Canela? Would you like to see Arturo and Abby make it down the aisle? Or do you think he and Mia are a better match? Do you agree with Canela about Arturo not being a ladies' man? How do you feel about the Rosales clan sticking around for the long haul? We want to hear from you -- and there are many ways you can share your thoughts.