The Young and the Restless Recaps: The week of February 22, 2021 on Y&R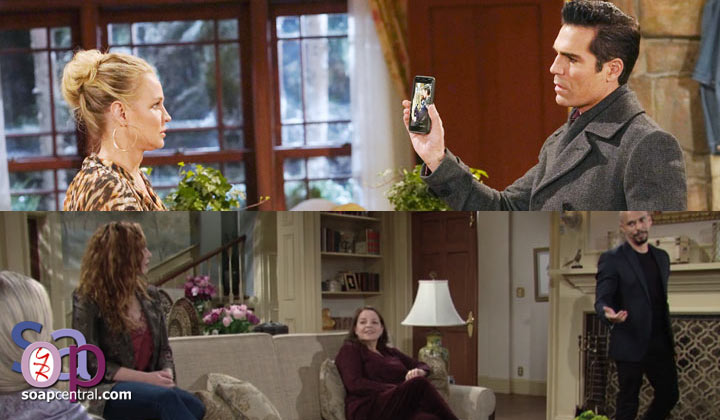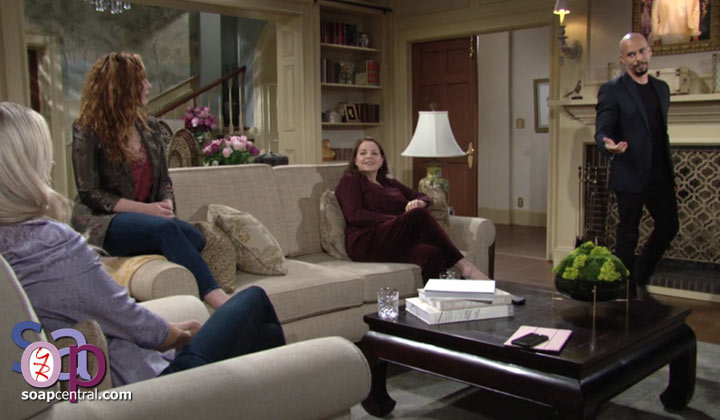 Devon makes Abby a life-changing offer
Monday, February 22, 2021
Devon approached Abby at Crimson Lights to touch base about her decision to have a baby via a surrogate. Abby acknowledged that Mariah had agreed to carry a baby, despite a setback after a doctor had determined that Chance couldn't be the biological father. Abby paused and, sounding let down, cried "Yeah, it was supposed to be the three of us." Devon asked Abby how she felt about it. Abby admitted it had been difficult to let go of the initial expectations she'd envisioned. Devon looked on sympathetically as Abby understandably related her reservations, explaining that she'd been tasked with choosing an anonymous sperm donor on her own without Chance's input. Devon agreed that it was an intimidating process, recalling that Hilary had gone through the same trials and emotions. Abby wiped away a tear and thanked Devon for being a good friend.
After Abby left, Devon joined Amanda out on the patio. Devon said he understood how deeply Abby was struggling with anticipation and longing all wrapped up in hopes and dreams. Amanda nodded and replied, "Infertility is one of those things that you never think will happen to you." Devon remembered Abby having been excited about wanting three kids that would all be part Newman, Chancellor, and Abbott. Devon cried that he couldn't help but think about Hilary and the child they'd lost. Amanda said she'd noted how selfless and generous Devon was soon after they'd met. Devon said he understood how difficult it was for Abby to select an anonymous sperm donor. Amanda expressed certainty that Abby and Chance's child would be greatly loved. Devon added, "And wanted." Amanda said being wanted made all the difference.
Abby returned home and told Nina about her encounter with Devon. Abby said Devon had made her realize she was ready to find a donor. Nina seemed eager to assist and said Chance would love the child with all his heart. Abby sadly interjected, "When he gets home." Nina remained upbeat and said Chance might not be gone as long as Abby thought he might be. Abby admitted she'd vacillated between thinking he'd soon return and worrying that perhaps he might not, the latter of which made it all the more important to get Mariah involved in conceiving immediately.
Abby perused the list of donors and chose one she believed would be the perfect match. Abby initiated a contract and soon had her hopes dashed when she learned that the donor had set a limit on the number of children that could be conceived using his sperm. The limit had already been reached. Nina said there had to be more than one optimal donor. Devon and Mariah stopped by. Devon said he knew how important a step it was to select a sperm donor, so he graciously offered to be the donor. Abby, Nina, and Mariah seemed taken aback by Devon's offer.
Summer stopped by Sharon and Rey's house. Rey was there with Sharon. Summer said she'd heard about Faith's suspension from school because some kids had planted a bottle of vodka in her locker. Summer said she couldn't believe it. Sharon expressed doubt that Faith had been set up. Rey explained that Faith had been caught drinking with an older girl at school.
Summer requested she be allowed to talk alone with Faith to determine whether Faith was telling the truth. Faith appeared at the stairway and said, "I am. Maybe you'll be the one person who believes me." Sharon interrupted the conversation with Summer and told Faith that the Valentine's Day card she'd received from Faith had been the best ever. Sharon fondly recalled the sentiment Faith had written about her mom always being there for her. Summer invited Faith to go out for a while.
After Faith and Summer left, Sharon and Rey said they hoped Summer could get through to Faith. Rey told Sharon he loved Faith like she was his own and only wanted what was best for her, no matter what happened. Sharon picked up on Rey's misgivings about her involvement with Adam. Sharon insisted she wanted Rey, not Adam. Rey said actions meant more than words, noting that her toehold in Adam's world signaled that she hadn't completely chosen to honor her vows. Rey warned that they might not have a future if Sharon continued to include Adam in her life.
Rey cautioned Sharon that Faith was paying a price, too, because she needed her mother. Sharon angrily asked Rey how he could question her commitment to Faith. Rey mentioned the article about Adam that had revealed what had taken place when Faith had been a baby. Rey asked Sharon how Faith might have felt had she seen her mother allow Adam to hold her hand. Rey asked Sharon if she'd ever be able to truly break free from Adam.
At Crimson Lights, Summer told Faith she'd heard about the trouble Faith had had from other girls at school. Faith admitted her troubles had begun after the article about Adam had been published, especially among members of a clique of mean, popular girls. Faith explained that after "doing the math," they'd figured out that she was the baby Adam had stolen. To make matters worse, Faith cried, the group had posted messages about her online and in a chat group, making her sick to her stomach each time she received a notification about another posted comment.
Summer admitted to Faith that she'd once been a bully and had singled out a boy to abuse online. Summer explained that after she'd gotten to know the young man, she'd realized how wrong she'd been to hurt him and regretted what she'd done. Summer invited Faith to share her feelings without fear of judgment. Faith swore that someone had put the vodka in her locker, noting that it had likely been someone who'd found out she'd been drinking.
Faith admitted she'd only drunk a couple of times with her only friend, Jordan. Faith confided that she'd only agreed to drink with Jordan for fear of losing her friendship. Summer explained that if Jordan was a true friend, she shouldn't be pressuring Faith to drink. Faith cried that it didn't actually work that way, especially after someone older and cooler had taken an interest.
After Faith and Summer returned, Summer told Sharon and Rey that she believed Faith's account about someone having put the vodka in the locker. Summer noted that the abuse had been taken to an extreme level. Rey asked how they could prove the allegation and get Faith back in school. Summer suggested Rey employ his policing skills to find out. Faith thanked Summer for being supportive. After Summer left, Faith went to her room. Sharon begged Rey to believe that Adam was no longer part of her life. Rey tried to make Sharon understand how Adam had manipulated her, even using her in a way that put her in Adam's home, where he could be alone with her whenever he needed a shoulder to cry on.
After Rey abruptly left, Faith arrived downstairs and asked what had happened and what her mother had done to Rey. Faith cried that she knew something was going on because she'd lived through breakups before. Sharon insisted she and Rey weren't breaking up. Faith received a notification on her phone and was horrified to read a text message stating that her mother had kissed "psycho" Adam. Sharon was shocked when Faith displayed a photo of Sharon kissing Adam. Faith cried, "What is wrong with you?"
In the boardroom at Jabot, Sally greeted Kyle and Mariah. Sally asked Mariah if she was enjoying managing Jabot's marketing department. Mariah said she had no complaints. Sally noted that Summer had likely trained her replacement well. Mariah agreed. Sally replied, "Isn't it great? Things are working out for all of us." After Sally left, Mariah noticed Kyle's reaction and noted that he clearly had a problem with Sally. Kyle wasn't ready to talk about Sally, but Mariah insisted that talking about it might help him feel better.
Kyle closed the door for privacy and made Mariah swear not to tell anyone what he was about to say, especially not Tessa or Summer. Mariah agreed she wouldn't. Kyle recalled that when he'd lived in New York City, he'd met a woman named Tara Locke while partying in the Hamptons with Theo. Kyle said he and Tara had spent the summer together, despite her being married to a man named Ashland Locke, a powerful, ruthless man. Mariah was relieved when Kyle said Ashland hadn't known about the affair.
Kyle tied his story to Sally by explaining that Theo had recently breezed into town and provided scandalous information Sally could use to hold over him. The part Summer didn't know about, Kyle added, was that Tara had a three-year-old son. Kyle cried that the timing was right, and the boy reportedly resembled him. Kyle expressed concern about Ashland finding out about what had transpired. Mariah pressed Kyle to consider how he might feel knowing he could be a father. Kyle said there was no point considering his role until he knew whether or not the kid was his, which would prove difficult after Tara had replied to his voicemail, warning him in a text message not to contact her again.
Kyle became upset and recalled that those who feared Ashland referred to him as the "Locke Ness Monster" because he completely destroyed his opponents. Kyle said one victim had lost his wife, his company, his assets, and his reputation over a business dispute. Kyle said he anticipated that complete chaos and destruction would ensue should Ashland learn about the affair and possibly discover that the child he'd been raising had been fathered by another man. Kyle said he hadn't yet, until that moment, considered that he might have a son and couldn't help but be curious. Mariah said she understood because she knew that family meant everything to Kyle.
Mariah assured Kyle that he was a good guy, though she cautioned that keeping what he'd confided to her a secret from Summer could wreck their relationship. After Mariah left, Summer entered, and Kyle mentioned the issue with Sally. Summer said she thought they'd agreed to just go on with their lives, knowing that each party had reasons to keep silent. After Summer asked Kyle if something else had happened, Jack entered before Kyle could respond. Summer left and told Kyle they'd talk later.
Sally approached Phyllis at the Grand Phoenix. Phyllis barely paid attention as Sally gloated about her promotion and inquired about treating herself to a larger suite. Phyllis made a cursory glance at listings of available rooms, said none were available, and agreed to put Sally on a waiting list. Sally said, "You don't like me, do you?" Phyllis looked Sally in the eye and replied, "I really don't think about you." Sally mentioned Summer and explained that they'd smoothed things out between them; they were no longer enemies and might even become friends because they were actually a lot alike.
Jack entered and greeted Sally and Phyllis. Sally turned to face Jack and enthusiastically said, "Jack, so we meet again." Phyllis seemed disgusted by Sally's overly friendly banter when Sally thanked Jack for helping her celebrate her promotion. Jack said Sally had proven she deserved her promotion.
After Sally went upstairs, Phyllis told Jack they needed to discuss Sally. Phyllis warned Jack that Sally had an agenda. Jack pleaded with Phyllis to give Sally the benefit of the doubt. Phyllis insisted that Sally was trouble. Jack replied, "Where's your proof?" Phyllis shrugged. Jack explained that Sally had moved to Genoa City to get a fresh start and that Phyllis should know what that felt like, as should Summer and Kyle. Jack insisted that Phyllis give Sally a chance and stop treating her like an outsider.
After Jack left, Phyllis encountered Sally again and said, "You may have other people fooled by this wide-eyed, innocent, working-girl thing you got going on, but I know better." Sally told Phyllis it was a shame she couldn't see the good in people. Phyllis said she knew Sally because she'd written the book. Sally replied, "Good to know. I'll be more discreet."
Phyllis summoned Summer to meet and talk. After Summer arrived, Phyllis was worked up and said, "Have you seen the way that Sally girl has been working Jack?" Summer replied, "Yeah. I have to shield my eyes." Phyllis cried that it was like watching a python try to lure a puppy while warning the puppy about the python, even though the puppy insisted the python was his friend.
Summer said Sally had been working on Jack since the day she'd started at Fenmore's. Summer added that Jack believed everything Sally said and often took her word over that of someone he'd known for years. Phyllis said she felt bad for Jack and knew he was vulnerable. Phyllis and Summer vowed to work together to protect Jack.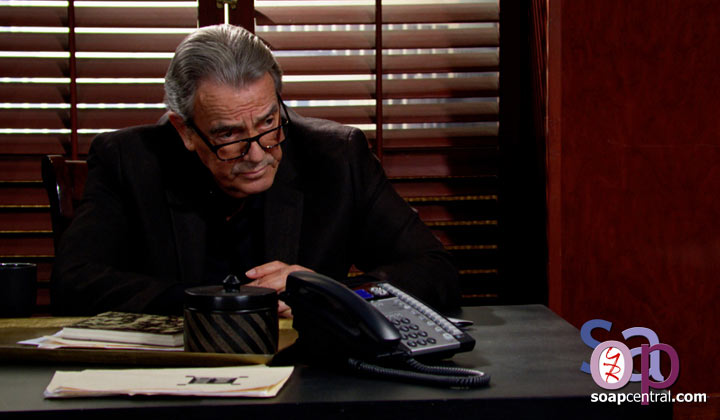 Victor uses Newman to go after Billy behind Victoria's back
Tuesday, February 23, 2021
At Chancellor Communications, Billy entered Lily's office and groaned about what a day it had been. He declared that he was done putting together his presentation, and he invited Lily to join him to get something to eat. She informed him that she still had a lot of work to do. Billy picked up a chocolate from her desk, but Lily protested that it was hers. She agreed to let him have the chocolate and leave early if his presentation was good, but he'd have to stay there with her if it was flawed.
Billy called it a win-win for him, but Lily added that she'd also get the candy in the latter case. She found his presentation on the server, looked it over, and half-heartedly muttered that it looked pretty good. He thought she sounded dissatisfied, and she admitted that he'd won the chocolate fair and square. He reasoned that a real winner knew how to share and who to share with, and he handed the treat back to her.
As Lily savored the chocolate, she found another piece of candy that had been obscured by paperwork on her desk, and she offered it to Billy. He responded that he got more enjoyment watching her eat it, but he amorously insisted on having dessert after dinner that night. As he prepared to leave, he inquired whether she'd heard any buzz about Cyaxares Media being up for grabs. Lily identified it as one of Ashland Locke's companies, and Billy quipped that only someone that pretentious would name his media company after an actual king of Media.
Billy thought ChanceComm should buy the company if only just to change the stupid name, but Lily worried that there would be a lot of redundancy. Billy contended that it was a global company that would complement what ChanceComm did, and it would put them on a level playing field with some of their competitors. He bragged that they had experience making things work, and she asked why he was smiling. He replied that the two of them had worked, and his smile had not left his face since she'd told him she was falling in love with him.
Lily teased Billy for still processing her proclamation from 24 hours earlier. Billy enthused that he was marinating in it, and he claimed that falling in love with her had cleared his head and given him focus. He insisted that the media deal would be good for them, and he expected someone else to jump on it if they didn't. Lily agreed to discuss it after she reviewed it in more detail. She intended to finish some work before meeting him for dinner later. He danced his way to the door as he looked forward to a romantic dinner with a special woman.
At Newman Enterprises, Victoria entered her office and was surprised to find Victor there. He claimed he'd been in the neighborhood and asked if it was a problem. She assured him that he was always welcome, but he sensed some hesitation. She noted that he'd been visiting a lot lately, and she wondered about the real reason he was there. "I own the place," he firmly replied.
Victor reminded Victoria that he was her advisor, and she argued that there had been a time when he'd trusted her to handle things. He insisted that he trusted her work, even when they disagreed -- like when she'd sold off some divisions. She defended that the company had made a profit and that she'd been freed up to focus on their core businesses. Victor huffed that there had been more considerations, and Victoria assumed he had a problem with seeing Billy succeed. Victor objected to not having a media division to communicate with the public and their customers.
Victoria countered that it would take a lot of time and money to launch a new division. Victor referred to a company that was about to be spun off, and he thought they could acquire it for a reasonable sum. Victoria suspected that his desire for a media company hadn't stemmed from wanting to restore something he thought was missing from Newman's portfolio. Victor readily admitted that his plan was to stick it to ChanceComm. Victoria opposed going after Billy's business, because they were raising kids together.
Victor advised Victoria to keep family and business separate, and she hoped he saw the irony in his statement. He mentioned that Nikki had told him that Victoria had rekindled her fondness for Billy, and he guessed that was why Victoria was hesitant. Victoria flipped the question by asking why he was so driven to get back into the media business. Victor recalled his pledge to make Billy pay for the exposť on Adam, and he stressed that he kept his promises. Victoria figured it would be a bonus for him if he drove a wedge between her and Billy.
Victor asserted that a CEO had to make hard choices, even when those choices affected the people around them. Victoria countered that she'd made that hard choice when she'd gotten rid of their bloated media division, and she refused to use Newman to assist Victor in his vendetta. She urged her father to let go of what Billy had done and acknowledge that Adam had done far more damage to their family than Billy ever had. Victor snapped that it wasn't a conversation about Adam, and Victoria retorted that it wasn't a conversation about Billy, either -- not anymore. Later, over the phone, Victor told someone that he was considering acquiring Ashland Locke's media division.
At Society, Billy sent a text message to Lily, saying he was falling in love with the thought of having dinner with her. Victoria entered the restaurant, and Billy called to her. He observed that she seemed a little tense, and she blamed it on a meeting that hadn't gone well. She thought his mood seemed to be just the opposite, and he indicated that he had finished work early and was meeting Lily there. He inquired about Katie's arm, and Victoria reported that the girl was using her injury to get Johnny to do things around the house.
Victoria recalled telling the kids to let them know when their feelings had been hurt, and she told Billy that he'd hurt her feelings when he'd told her he thought she didn't want him to be happy. She questioned whether he thought she'd be that vindictive after all that time. Billy conceded that upon hearing her repeat what he'd said, it sounded judgmental, but he hadn't meant it to be. Victoria thought he hadn't realized what it had felt like for her to hear it.
Billy apologized for speaking without thinking, and he swore that he believed Victoria when she'd said she wanted him to be happy. Victoria shared that Victor had been the meeting she'd mentioned earlier, and she cautioned that her father was still angry about the article on Adam and determined to make life hard for Billy. Billy figured that he had dodged Victor's bullets for years and was still standing. Victoria warned Billy not to dismiss it because Victor was dead set on going after him. Lily spotted them together.
Lily invited Victoria to join her and Billy for a drink, but Victoria declined. Billy's expression darkened when he received a text message with a tip that Newman was making a move on Cyaxares Media. Billy testily questioned why Victoria would make a move like that after she'd sold off Newman's media division. Victoria noticed her takeout order was ready and offered to tell the kids he'd said goodnight. After Victoria headed out, Lily wondered if Billy's source had been wrong.
Billy thought Victoria had seemed surprised by the news. Lily suspected it was personal, since Newman had the resources to buy any business it wanted, and they'd chosen to directly compete with ChanceComm. Billy surmised that Victoria hadn't been the one behind the move. Billy told Lily that Victoria had warned him that Victor was on the warpath. Lily found it hard to believe that Victoria hadn't known what Victor was planning, and she cautioned that there was a possibility Victoria was in it up to her neck. Lily fretted that they might have two Newmans going after them.
Victoria returned to the office, where Victor had been writing a note to her. She coolly asked if it happened to say anything about buying a media company from Ashland Locke. Victoria blasted him for pulling a move like that behind her back. "My dear girl, you may be the CEO of the company, but I still own the damn place," Victor huffed.
Victor added that he'd never promised that he wouldn't be involved in business dealings. Victoria spat that he was doing it because he didn't see her as the true CEO, and he didn't trust her feelings about Billy. Victoria accused him of being as controlling as ever. "You bet," Victor replied.
In the Jabot conference room, Kyle conducted an online search and found a picture of a young boy flying a kite. He complained to himself that it was too blurry to see anything. Summer entered and asked who the kid was. Kyle covered by claiming that a college buddy had sent a photo of his son. Summer hoped the friend hadn't majored in photography, and she reminded Kyle that he'd wanted to talk about something the day before. He told her not to worry about it.
Summer announced that she had to make a trip to L.A. to meet with Bill Spencer again to go over the details of their agreement. Kyle said he'd miss her, but Summer suggested that he go with her to mix business with some fun and romance. He responded that he couldn't, but she whined that he hadn't checked his schedule yet. He cited a big finance meeting the next day that he had to take in person.
Summer reminded Kyle of the fun they'd had in California the last time. Kyle maintained that he couldn't go, and Summer groaned that she felt like the universe was telling her not to go after Sally had warned her how ruthless Bill could be. Kyle answered a call and learned he had to reschedule the finance meeting. Summer squealed that it meant he could go to L.A. with her. Kyle claimed that there were things other than the meeting he needed to be there for.
Summer pressed to know what obligations Kyle had, and he rambled about planning for Mother's Day sales. Summer grumbled that if she didn't know any better, she'd think he didn't want to go with her. He swore that nothing was further from the truth. She taunted that it was too bad, since she'd be all alone in the big, comfy hotel bed. She offered to pick them up some coffee before her next meeting. After she stepped out, Kyle gazed at the photo of the little boy. He made a call to see if the jet could be ready to fly to New York first thing the next day.
At Crimson Lights, Gloria was glad she and Lauren had cleared up their misunderstanding over Lauren forgetting that she'd offered Gloria the executive assistant job. Gloria wanted to dig in so she could hit the ground running the following day. Lauren started to describe how she liked to structure her day, and she chided Gloria for not taking notes. Gloria swore that she was listening intently, adding that she wasn't an empty-headed millennial. Sally walked in, and Lauren explained that she was going over details with Sally's replacement. Sally recalled that she and Gloria had met once before. "Twice, actually," Gloria corrected. Gloria haughtily stated that she never forgot a face.
Lauren thanked Sally for getting Gloria up to speed, and Sally chirped that she'd always be available for questions. Gloria made a snarky comment under her breath, and Lauren reminded Gloria to thank Sally for being generous with her time. Gloria referred to a few scheduling conflicts she had to run by Lauren, including a yoga class. Sally advised Gloria not to get locked into anything for the first few weeks, since Lauren's schedule was unpredictable. Gloria swore that she'd always be available for Lauren, and she dryly thanked Sally for the advice.
After Lauren left, Gloria rolled her eyes at Sally's helpful hints about how to keep things running smoothly at Fenmore's. Sally surmised that the position was a step down for Gloria. Gloria pointed out that Sally had also been overqualified, but Sally had worked hard and gotten a promotion; there was nothing to say Gloria couldn't do the same thing. Gloria envisioned lording that moment over Sally when Sally worked for her one day. Sally understood that Gloria was telling her not to be patronizing, and Gloria cautioned that she liked to keep track of who had been naughty and who had been nice. Sally mused that Gloria reminded her of her great-aunt Sally. Gloria wondered if she should be flattered as Jack interrupted.
Gloria insisted that Jack was a welcome presence, and he inquired about Sally's first official day at the new job. Sally mentioned that she'd been giving her replacement a few pointers, and Gloria revealed that she'd once been Jack's executive assistant. Gloria pointedly stated that Jack had relied on her for everything -- professional and otherwise. Jack clarified that Gloria had technically been Jabot's receptionist years earlier. Gloria received a text message summoning her to the office to fill out HR forms, and she headed out.
Jack voiced surprise that Lauren had hired Gloria, and Sally expressed disbelief that Gloria had once worked for him. Sally reeled from Gloria's "professional and otherwise" comment, and Jack chalked it up to it being a strange and brief time. Sally sensed it had meant more to Gloria, whose demeanor had completely changed upon his arrival. Jack stressed that it was all in the past, and he imagined that Sally would eventually run into a few ladies he'd been close with. He noted that some of his exes were still good friends, but he tried to keep others in the past. Sally questioned which category Phyllis fell into, and Jack was impressed that nothing got by Sally.
Jack recounted that he'd been married to Phyllis twice, but things had happened. He thought Sally was like Phyllis in that when either of them walked into a room, everyone took notice. He admitted that his breakup with Phyllis had been a very painful time. Jack confided that he'd been called a womanizer in his youth, but he'd been more recently termed a hopeless romantic, and he didn't know which was more accurate. Sally asserted that labels were pointless, since people added up to being more than just one thing. Jack couldn't argue, especially where she was concerned. He mused that from where he sat, every side seemed to be spectacular.
Jack closed the topic of his exes and suggested that he and Sally talk about other topics over dinner that night. Sally spotted Summer walk in, and she declared that she would love to go to dinner with Jack. They made plans to meet at Society. After Jack left, Summer informed Sally that she was going to L.A. the next day. Sally assumed that Summer hadn't been listening when Sally had warned her about Bill, but Summer shot back that she'd had to consider the source.
Sally maintained that she'd been trying to prove she was sincere, but Summer suspected that Sally was trying to wreck the deal with Spencer Publications. Sally realized she'd been too vague, and she revealed that Bill had written numerous hateful things about her line and had set fire to the Spectra building. Sally added that he'd also blown the building up while she'd still been inside it and later reneged on his promise to rebuild it. Sally curtly stated that she had a dinner to get ready for, and Summer had a trip to take to see a "vile, power-hungry bastard." Sally told Summer to have fun, and she sauntered out.
Summer returned to Jabot, and Kyle wondered where his coffee was. She explained that she'd gotten upset and left without ordering anything after she'd run into Sally. Summer repeated Sally's words about Bill viciously using his magazines to trash her and blowing up her company's building. Summer considered holding off on her L.A. trip until she got more information.
Kyle doubted a successful businessman would attack someone he was trying to make a deal with. Summer worried that something felt off, but Kyle encouraged her not to throw away a great opportunity because of Sally. Summer supposed she could size Bill up as a business partner, and she purred that Kyle had about 16 hours to make her feel like it was still Valentine's Day. He planned on making every second count.
Sally met Jack at Society, and he admired how she looked. She thanked him for inviting her, and he was glad she'd made it. She looked forward to an in-depth conversation with him over a delicious dinner, but she requested that he clarify something to avoid any confusion. "Is this a date?" she asked, and he replied that he thought it was. She smiled.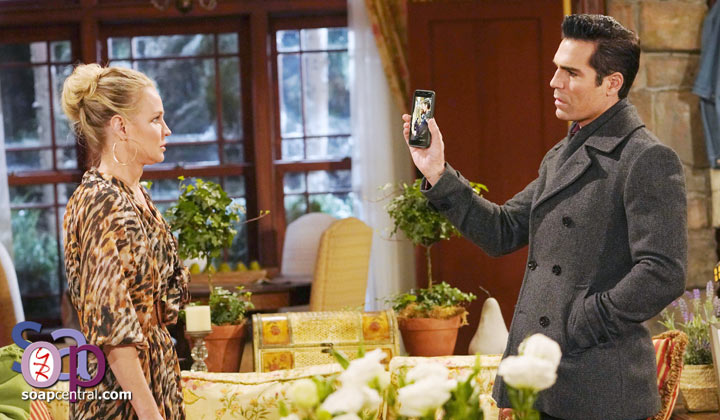 Sharon tries to do damage control
Wednesday, February 24, 2021
Lily and Billy arrived at the Grand Phoenix. Billy said he wanted to be alone to do some thinking about Ashland Locke's media division, Cyaxares, and the fact that Victor wanted to buy it.
Devon arrived as Billy was leaving. Lily asked Devon what he wanted to talk about. Devon updated Lily about the situation between Abby and Chance. He said Abby was unable to carry a child, and Chance had his own issues. They had asked Mariah to be their surrogate. Lily said she understood how they felt. Devon told her that Chance was on a secret assignment, and they had no idea when he would return. He said Abby was searching for an appropriate donor.
Devon told Lily that he and Abby were close friends, and he loved her. He said because Abby was uncomfortable choosing a stranger as a donor, he had decided that he wanted to help by being their donor. Lily thought it was a great idea; however, she warned him that things could get messy. She said she would forever be grateful to Mac for her twins, but there had been issues. She stated that things never turned out the way one expected them to. Devon said that was life in general, and he wouldn't let that stop him from helping his friend.
Lily assured Devon she wasn't trying to talk him out of helping Abby achieve her miracle; however, it was the same miracle that he and Hilary had had, one that had been taken away from him. Lily questioned whether his decision was connected to that loss. Devon admitted it might be a very small part, but he claimed it wasn't the same thing. He said Abby and Chance needed help, and he wanted to step up for his best friend. He believed that, in the end, he would become a favorite uncle to the child. Lily said she'd had to question his reasons for helping, and she'd gotten the answers she'd been looking for. She said Devon was giving his friend a very special gift.
Nick was on the phone with Faith and trying to calm her down. Faith was extremely upset about the photo of Sharon and Adam kissing that was all over social media. Nick promised to make things better for her.
Sharon had been anxiously waiting for Rey. When he finally arrived, he told Sharon that he'd needed time to calm down before he asked her about the photo. Sharon claimed the photo had to have been taken by one of the kids who had been bullying Faith. Sharon said that when Faith had seen the photo, she'd jumped to conclusions. Rey asked when the kiss had happened. Sharon explained that she'd been driving around and thinking. She'd decided to go to Society, and when she'd arrived, Adam had already been there. They hadn't planned to meet.
Sharon told Rey she'd informed Adam that she couldn't be Chelsea's therapist. Adam had claimed that she hadn't only been helping Chelsea, but she'd helped him with his pain. Sharon stated that when she'd turned to leave, Adam had taken her hand and pulled her in for the kiss. He had acted in the moment. It was a normal reflex for Adam when he was agitated.
Rey asked Sharon why Adam thought it was okay to kiss her, whether Adam had forced the kiss on her, or if Sharon had given him permission. Sharon claimed it had been an irrational mistake. Rey left in anger.
A short time later, Nick arrived. Sharon told him she'd had a terrible fight with Rey, and she didn't need Nick to add to her misery. Nick asked her to explain the photo. Sharon claimed it had been a fleeting moment and had been taken out of context. She believed that one of the kids that had been bullying Faith had recognized her, taken the photo, and sent it to Faith to hurt her. Nick said he'd spent an hour on the phone with Faith, trying to make things better for her. Sharon stated that they needed to find the kids who had been bullying Faith and put an end to the bullying.
Nick told Sharon that whoever was posting the messages and photos was using a fake name, and they needed to advise the school. Nick said that Faith wanted to live with him on a full-time basis. Sharon was shocked, and she said no. Nick said that Faith was hurting, and she'd seen the terrible things Adam had done. Faith felt Sharon had chosen Adam over her.
Nick claimed that Sharon's continued involvement with Adam was extremely infuriating to Faith, and the photo had really hit home. It had been a slap in the face for Faith and for Rey. Sharon assured Nick she wasn't having an affair with Adam, and she felt terrible that Faith had been hurt over one stupid moment.
Nick suggested that Sharon needed to avoid any situation with Adam. Sharon claimed she had every intention of staying away from Adam. Nick said Faith needed to be with him to calm down, and perhaps she would give him the names of the girls who'd been bullying her. At first, Sharon objected, then she agreed to let Faith live with Nick -- but only until things got sorted out. Nick said Faith needed to know she had their support.
Sharon asked Nick if Faith's drinking was a result of the bullying or if it was because of them. Nick said that between Faith's therapist and Nikki, they would help Faith, and living with him would be good for her. He said it would give Sharon and Rey a chance to work things out. He hoped that Adam hadn't done irreparable damage to Sharon and Rey's marriage.
Victor arrived at Adam's penthouse and showed Adam the photo of Adam and Sharon kissing. Victor beckoned Adam to step into the hallway. In her mind, Chelsea wondered what that was about.
Victor asked Adam about the photo. Adam claimed it had been a momentary lapse on his part, not Sharon's. He had no idea who had taken the photo. Adam said Sharon had already informed him she could no longer work as Chelsea's therapist. Victor was concerned that if Chelsea found out about the kiss, she would be extremely hurt. He told Adam to be very careful. Adam claimed he would stay away from Sharon. Victor reminded him that there were cameras everywhere. Adam swore it wouldn't happen again.
In Chelsea's mind, she wanted to know about Victor's unexpected visit and the reason for all the secrecy. She felt Adam was going back to his old life right before her eyes. She knew Adam needed Victor's approval, and she saw how drawn Adam was to Sharon, yet all she could do was to sit in her chair and watch it happen.
Adam was reading to Chelsea, but she wasn't paying attention. In her mind, she claimed Adam was really smooth. She wanted to know what Victor had shown Adam on his phone and what Adam was hiding.
Suddenly, there was a loud banging on Adam's door. When Adam opened the door, Rey barged in and warned Adam to stay away from Sharon. He showed Adam the photo that had been taken at Rey's sister's restaurant. Rey claimed he'd arrested guys just like Adam, and he warned Adam there were always consequences. Rey told Adam to consider himself warned. After Rey left, Adam told Chelsea that Rey wanted to blame him for the trouble Rey and Sharon had been having.
In her mind, Chelsea knew Adam was lying. Rey and Victor had been there to confront Adam. She wanted to know what Adam had been up to and what he'd done. Adam suggested that Chelsea have a bath, and he asked Meredith to run one for her. In her mind, Chelsea said she didn't want a bath. She wanted to know what Victor and Rey had shown Adam on their phones. Chelsea looked at the phone on the table next to her.
Adam told Chelsea it had been strange how Victor and Rey had been there to rake him over the coals over nothing. He assured Chelsea there was nothing to worry about. In her mind, Chelsea knew there was plenty of reason to worry, or Adam wouldn't have felt the need to sneak into the hall to chat with Victor. Adam told Chelsea he had to go out for a bit, but he would return shortly.
Chelsea looked at the phone again and then at Adam. After Adam left, Chelsea succeeded in getting the phone and putting it on the chair. She found the photo of Sharon and Adam kissing.
Billy arrived at Victoria's, and he questioned her about the sale of Ashland Locke's media division. He asked if Victoria was going after ChanceComm to get back at him. Victoria claimed Billy didn't have the facts. She said it had been Victor's idea. Billy realized that she hadn't known what Victor had done. Billy questioned how she could be so far out of the loop. Victoria said she wasn't going to have that conversation with Billy. Billy said he needed to know what was going on. He said it was a shame that Victoria hadn't reminded Victor that she was the CEO. It appeared that Victor still called the shots.
Victoria told Billy she'd made it clear to Victor that she wasn't happy with his actions. Billy suggested that she remind Victor that she was in charge and then squash the Locke media deal. Victoria changed the subject and began talking about going skating with the kids the next day. She and Billy discussed the kids, and then Billy said he wanted to talk about Locke's media division. Victoria said she wouldn't discuss it. They could either discuss the kids, or Billy had to leave.
Billy told Victoria that he had whiplash from the mixed messages he'd been receiving from her. She'd wanted him to spend time with the kids, but she didn't want him coming around her home. He said the schedule was chaotic. Victoria apologized for the mixed messages, but she didn't want to talk about that, either. Angry, Billy said he would see her and the kids at the skating rink. He asked if he could bring Lily. Victoria said, "Of course."
A short time later, Victor arrived at Victoria's. He told her she'd been doing a "hell of a job" as CEO, and he should have told her that more often. He said the acquisition of Locke's media division would be a good thing, and they would be a competitor in the media world again. Victoria said it wasn't about the deal; it was about the reason Victor wanted Cyaxares Media. She claimed Victor wasn't trying to acquire it as part of a long-term investment -- he was trying to use it to destroy Billy. Victor claimed Billy was a competitor, and he admitted that it was his goal. Victoria said it had nothing to do with profitability or a return on an investment; he only wanted to destroy Billy, and she couldn't play that game.
Nick entered Society and joined Rey at the bar. He told Rey he'd seen Sharon. Miffed, Rey asked if Nick had spoken to Sharon about their problems. Nick reminded him that Faith lived in that house, and he would do whatever it took to protect her -- and that included having Faith move in with him. He said it would give Rey and Sharon an opportunity to work out their problems. Angry, Rey said it was another one of Sharon's exes interfering in her life -- it never ended. He said every time he turned around, he saw another Newman and asked "why the hell" the Newmans didn't leave him and Sharon alone.
Nick reminded Rey that he wasn't the enemy. He'd been on Rey's side from the start. Rey apologized for going off on Nick and acknowledged that Nick had been supportive. He said he'd just needed to lash out. Nick assured Rey that he would do anything to help. Rey didn't understand how Nick and Adam could be brothers. Nick claimed Adam had a special gift for wreaking havoc on people's lives. He said Adam did what he wanted without fear of the consequences. Rey just happened to be caught in the middle of it. Rey said that included Sharon.
Nick told Rey that Sharon had a huge heart, and Adam loved taking advantage of it. Sharon continued to believe she could save Adam, but Nick believed Adam was beyond saving. Rey said that Sharon knew how he felt about Adam yet never chose to walk away from Adam. Nick assured Rey that Sharon loved him. He told Rey not to give up on her because, at that moment, she needed Rey more than she'd ever needed anyone. Rey received a text message from Sharon, "Please come home. We can work this out. I love you."
When Adam arrived at Sharon's, she asked why he was there. Adam claimed he didn't want to make things more difficult for her. He said Rey had stopped by his place and shown him the photo. He claimed Rey had threatened to bring him in. Rey had been angry and confused. He said that Chelsea had been present, and he felt Rey had upset her with his outburst. Adam claimed he'd wanted to make sure Sharon was okay.
Adam told Sharon that the kiss hadn't been planned, and he was sorry. However, he couldn't get the kiss out of his mind. Sharon told him he had to leave. Reluctantly, Adam left.
In Chelsea's mind, she wondered why Adam had kissed Sharon in Rey's sister's restaurant.
Adam walked into his penthouse and told Chelsea he'd rushed home because he worried about her when he was away too long. Chelsea managed to put the phone back onto the table before Adam noticed. He assured her everything was okay, but Chelsea just glared at him.
Billy arrived at the Grand Phoenix as Devon was leaving. Billy told Lily that he'd ended up at Victoria's to ask her about Cyaxares, Ashland Locke's media division, and it turned out that it had been Victor's idea. Victor had gone behind Victoria's back. Lily said she'd given some thought to that acquisition and decided she didn't want to get into a bidding war with a Newman. Billy agreed. He believed that Victor had planned to buy Cyaxares to go after ChanceComm and him. He hoped Victoria would squash the deal. He didn't think Victoria wanted to go along with Victor's plan, and he didn't believe Victoria would do that to him.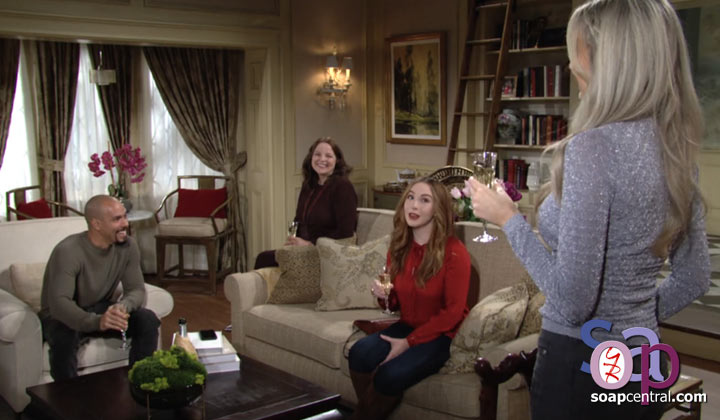 Abby and Devon agree he will be her donor
Thursday, February 25, 2021
At the Grand Phoenix, Nick told Phyllis he had to pick up Faith from Sharon's. Phyllis suggested that Nick take Faith to the hotel, and she would arrange for Faith to have a spa day. Nick thought that was a great idea. He hoped being alone would give Sharon and Rey a chance to work things out. Phyllis stated that none of it had been Sharon's fault. She said that Adam wanted to ruin Sharon's marriage. Phyllis hoped it wouldn't happen.
Naya arrived at the hotel to meet with Amanda. Naya told Amanda she looked lovely, and she apologized for how things had ended on their last visit. Amanda said that she'd been upset that Naya had wanted to keep their union a secret from her family, but after looking at it from Naya's point of view, Amanda understood. Naya said she wanted to keep their time together special.
Naya regaled Amanda with stories about Amanda's grandfather and how he'd tried to talk her out of her choice of college and how hard he'd tried to talk her into going to Yale. Amanda brought up Naya's pregnancy. Naya responded that she'd been very young, inexperienced, and unprepared for what had been happening to her. Amanda told Naya that no one had expected her to go to college, but she'd been determined. She'd held down two jobs, begged her teachers for recommendations, and taken as many scholarship programs as she could. She said it had been her against the world, and eventually, she had graduated with honors. She had then attended Yale Law School, her grandfather's alma mater.
Naya told Amanda how impressed she was. She stated she might not have the right to say it, but she'd never been prouder of anyone in her life than she was of Amanda. Amanda appeared to be deeply touched. Naya was also impressed that Amanda was general counsel for ChanceComm and that Amanda had accomplished so much. Amanda said she'd had to do it on her own, with no family behind her. Naya claimed she deeply regretted the choices she'd made. She wished she'd had the opportunity to meet Hilary, and she said she could have helped Amanda.
Amanda asked if Naya was referring to financial help. Amanda asked, if Naya had had the same determination that she'd had, whether Naya would have gone home with a baby in each arm and protected them against the world. Amanda wondered, if Naya had seen or heard the way Amanda had been living, with no family and painfully lonely, what Naya would have done. Naya stated she didn't know how to answer that. Amanda said Naya just had.
Naya saw an incoming call from Imani. She didn't answer it. She apologized to Amanda and said she had to leave. Naya said she'd learned "so much" about Amanda. She wanted to return and get to know Amanda better. Before she left, Naya smiled and said, "Until next time." After Naya left, Amanda appeared to be fighting her emotions.
At home, Sharon appeared anxious, but when Faith entered the room, Sharon offered to make breakfast. Faith rebuffed Sharon, indicated that she only wanted cereal, and disappeared into the kitchen. Sharon received a text message from Rey: "Just so you know, I won't be home. Spending the night at the station." Sharon was disappointed.
Nick arrived to pick up Faith. He asked Sharon how things were. Sharon said things were quiet. She admitted that Faith living with Nick was a good plan. Nick said it would be a good time for Sharon and Rey to work things out. Sharon said Rey had to be home for them to talk. She told Nick that Rey had chosen to stay at the station. Nick said that there was more to the situation than one reckless kiss.
Sharon told Nick that Adam had stopped by, but she'd asked him to leave. She felt that Adam wouldn't have stopped by if Rey hadn't gotten in Adam's face. It had given Adam a reason to check up on her. She claimed that Rey should have been talking to her, not Adam.
Nick told Sharon he had talked to Rey. Nick saw it had upset Sharon, and he explained that he'd run into Rey at Society. He said he'd encouraged Rey not to walk away from the great thing he had with Sharon. Nick suggested that Sharon find a way to reach Rey and Faith. Sharon said that if Faith trusted her the way she had in the past, Faith would have told her who was behind the bullying. Sharon wanted to be the mom she'd been before. Sharon was certain that Faith had starting drinking because of the stress. Nick said they had to stop the bullying.
Faith entered the room with her luggage. Sharon was startled by the size of Faith's suitcase. She commented that she'd thought Faith would only be gone for a short time. Faith said one never knew. When Nick left to put Faith's bag into the car, Sharon told Faith she would miss her, but she knew that Faith needed to spend time with Nick. Sharon assured Faith that she would do everything she could to make things right with Rey.
Faith walked to the desk to retrieve her phone, but it wasn't there. Nick returned and said he had it, but before returning the phone to her, he wanted the names of the people who had been bullying her. Faith claimed that if she gave up the names, it would only make things worse for her. Sharon stated it was the only way they could help her. Faith spat that if Sharon cared, she wouldn't have removed Jordan from Faith's life. Jordan had been her only friend. Nick said it was their job to take care of her. Faith told her parents to stay out of it. She told Nick it was unfair of him to hold her phone hostage.
Sharon asked if Faith expected them to allow people to treat her that way. Faith said it was better than being isolated from her friends and sisters without her phone. Nick said no one was trying to isolate her. He would get her a new phone with a new number, and he would keep her old one. Since Faith had deleted the old text messages, he wanted to see any new text messages that would be sent to her old phone. After Faith left, Sharon told Nick she wanted to be kept in the loop if there were any further text messages sent to Faith. Nick agreed. He told Sharon to make things right with Rey.
At the Chancellor mansion, Abby told Nina that she would never have believed that Devon would offer to be her donor. She was happy; however, she and Chance were two white people from a privileged background, and they knew very little about raising a biracial child. It was nice to think the world was color-blind, but that was insulting and a lie. Some would say it was hurtful and thoughtless. The child would eventually realize there were racist people out there, and the child would be judged only on the color of its skin. Abby admitted she didn't know if she and Chance were equipped to deal with that. It would break her heart if it happened to their child.
Nina said that Abby and Chance were intelligent and responsible people. She asked Abby to pretend she was discussing the situation with Chance. She asked what Chance would suggest. Abby said Chance would say to go for it. Abby was thrilled that her best friend had offered to be a donor. He would be a wonderful uncle. Nina wasn't so sure. She wondered if Devon had thought beyond becoming a donor. She said Abby wanted Devon to be part of the baby's life, and she suggested that Abby ask Devon how he felt.
Abby told Nina she'd found articles online about bringing up a biracial child. She said the baby would have half of her DNA and the other half would be from someone she knew. She said having a biracial child from a donor everyone knew could present many problems. Nina asked Abby to think what would have happened if she and Chance had decided to adopt a child; she wondered if they would have only considered a white child. Abby said, "No." Nina stated the issue of a biracial child was moot.
Abby told Nina that she couldn't carry a child, and Chance couldn't father one, yet she felt so blessed to have friends like Devon and Mariah, who wanted to help her and Chance achieve their dream. Abby believed that Katherine would have given them her blessing. Nina asked if Abby was going to call Devon. Abby smiled and said she was.
Devon arrived at the Chancellor mansion a short time later. He told Abby that no matter what her decision was, there wouldn't be any hard feelings. Abby said that she and Devon had been friends for a long time, but they had never discussed race. She asked Devon how he felt about white parents bringing up a biracial child. Devon claimed there were things to consider, but he didn't believe it would affect the child.
Devon reminded Abby that Lily and Cane had had biracial twins. Devon claimed the child needed someone to guide them in the right direction. Abby claimed their child would need Devon, and she wanted the child to know that he'd been the donor. She asked if Devon was ready to be part of her family. Overjoyed, Devon said he was, and he was honored.
Devon greeted Mariah when she arrived. Mariah was very excited and asked where Abby was. Devon said she'd gone to get a bottle of Champagne. Practically jumping out of her skin, Mariah demanded to know what Abby had decided. Devon smiled and said that Abby had agreed. Abby arrived with the Champagne, and they all drank to baby Chancellor.
Abby called the first executive meeting of the baby Chancellor committee. She wanted everyone to focus on the legal aspect of their situation. She wanted each of them to retain their own lawyer and draw up a contract. She said she would cover all the legal fees. She claimed it was very important to keep up their mutual support through the process. She said the baby would be surrounded by love right from the beginning.
Nick and Faith arrived at the Grand Phoenix. Phyllis told Faith that she'd arranged a spa day for Faith. Faith was excited. Phyllis said the room was being prepared. Nick asked Faith to sit down and wait while he set up her new phone. Phyllis said that Nick could have had a new number assigned to Faith's old phone, but Nick explained that he wanted to see all future text messages sent to Faith's old phone, and the new phone with the new number would protect her from future bullying. Phyllis reminded Nick that Summer had bullied Jamie, but she'd been very immature at the time; once she'd matured, the bullying had shut down. Faith's situation would also end.
Nick told Phyllis that Faith didn't trust that Sharon would support her, and it didn't help that the picture of Sharon and Adam kissing kept popping up. Phyllis stated that Sharon would get her act together because she was a good mom, and there was nothing Sharon wouldn't do for Faith.
Devon arrived at the Grand Phoenix to meet with Amanda. He asked how things had gone in her meeting with Naya. Amanda said things hadn't gone as well as she'd hoped. She said the relationship was quite fragile, and they needed to take it one step at a time; however, Naya wanted to see her again. Amanda asked how things had gone with Abby. Devon said Abby wanted him as a donor, and she wanted him to be part of the child's life and be there for guidance.
Amanda said she'd been certain Abby wouldn't go for it. Devon told Amanda that he was going to be the child's uncle. Amanda asked how he saw the whole situation working out. Devon said it would work out really well for everyone involved, but he needed a good lawyer. He asked how he would go about retaining her services.
Amanda told Devon they needed to sit down and discuss his goals and expectations. She asked him how much time he'd spent with the twins. He said he'd spent a lot of time with the twins. Amanda wondered whether they would all want the same thing when the child was older. She said that Devon would be doing all the heavy lifting without any rights. Devon said it wasn't about rights because Abby and Chance were like family to him. Amanda said that people and things changed, and a good contract was the best way to keep things on an even playing field.
Mariah arrived at the coffeehouse. She asked Sharon what was going on. She wanted to know why Sharon had kissed Adam. Sharon claimed that Adam had kissed her. She didn't want to talk about it because she was sure half the town was already talking about it. Mariah asked about Faith. Sharon said Faith was upset and confused, and she was living with Nick. Mariah said she would stop by Nick's and check up on Faith. Mariah told Sharon that Abby had given the go-ahead for the baby, and Devon had volunteered to be the donor. She said the baby would know where it had come from, and it would have a lot of love.
Sharon said what Mariah and Devon were doing was extremely generous. Mariah was happy because she got to help her friends become parents and change their lives. Mariah asked if she was crazy because she'd never felt more grounded or excited. Sharon claimed it was easy to get caught up; however, she wanted to make sure that Mariah was being realistic about what being a surrogate involved. Mariah claimed she'd done her homework, and her eyes were wide open. She wasn't looking forward to the morning sickness, heartburn, and no more sushi and wine. Sharon said it didn't only entail the physical changes. Before Sharon could complete her sentence, she received a text message from Rey. He wanted to talk.
Mariah asked Sharon if Rey would be at home. Sharon said he would be after work. Mariah asked what Sharon was going to say to him. Sharon said she was going to open her heart and pray that would be enough.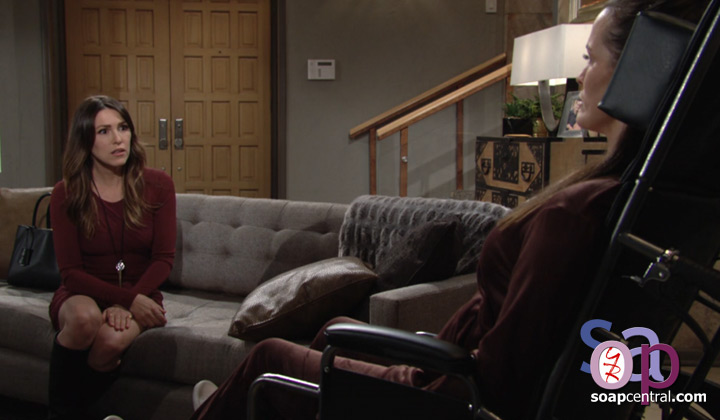 Chloe suspects Chelsea needs help
Friday, February 26, 2021
At Society, Nick ran into Rey and asked how he was doing. Rey replied that he'd been better, and Nick indicated that Sharon had told him Rey had slept at the police station the night before. Rey explained that he'd needed space, so he'd thrown himself into work. Nick mentioned that Faith had opted to stay with him for a while, and he and Sharon had agreed it was for the best. Rey recognized that Nick thought Rey and Sharon could work things out, and Rey wanted that more than anything.
Rey shared that he'd asked Sharon to meet at the house later, but he was hoping to talk to Lola first. Nick also wanted to speak with Lola to find out if she knew who'd taken the photo of Sharon and Adam kissing. Rey hoped he and Sharon could move past it, but he wondered if Nick thought that was possible with Adam involved. Nick knew Sharon hated how much pain she'd caused Rey and Faith, and he encouraged Rey to lead with that for the best shot of getting Sharon to walk away from Adam for good.
Rey doubted that he could convince Sharon to do it when even Nick hadn't been able to do so. Nick cited his own history with Adam, which had caused Sharon to discount his opinion as personal baggage. Nick reasoned that Rey was solely focused on his marriage and family and not part of the epic family battle. Nick referred to everything Sharon and Rey had faced over the past year with her cancer treatment, and he noted that Rey was the one Sharon had chosen to spend the rest of her life with. Nick believed that Rey was the one person who could put an end to the thing between her and Adam.
At the Grand Phoenix, Sally inquired whether Phyllis knew when a larger suite might be available. Phyllis snapped that Sally was still on the wait list, and Sally questioned how long the list was. Phyllis testily advised her to be patient, and she imagined that Sally would be busy working extra hours as Lauren's assistant to prove herself invaluable. As Jack walked in, Sally sweetly replied that she appreciated Phyllis' interest in her promotion, but sometimes things other than work had to take precedence. Phyllis scowled when Jack asked if Sally was ready to go.
Phyllis asked where Jack and Sally were off to, and he informed her that he was taking Sally to a dealership to get a new car. Sally explained that the cold weather had done her old one in, so she'd decided to treat herself after her promotion. Phyllis remarked that it was sweet of Jack to take Sally. Jack escorted Sally to the door, and she marveled that it would only be her second new car because she'd always driven vehicles into the ground. Jack expected that to change because she was moving up in the world, and she gushed about the new car smell. She intended to savor every second of her first ride in her new baby. Phyllis watched them leave.
Nick entered the Grand Phoenix and wondered where Faith was. Phyllis reported that she'd added a couple extra things to the girl's spa treatment. Nick was glad Faith had gotten a reprieve, but he thought they had serious issues to talk about, since she'd hidden her classmates' bullying for months. Nick believed the harassment had led to Faith's drinking, and it had all started when the kids had learned Faith had been switched at birth.
Nick spat that Adam's actions had set all of it in motion, and it was just another thing to add to the never-ending list of ways Adam had hurt them. Phyllis urged Nick to let it go for one night and just enjoy spending time with Faith and Christian. Phyllis stressed that Faith deserved a break, since the picture of Sharon and Adam making out hitting social media was a catastrophe waiting to happen, and the only question was how bad the fallout would be.
Later, Nick reported that Faith was still at the salon, getting a manicure. He grumbled that she'd seemed more interested in nail polish than talking to her dad, but Phyllis figured they could deal with reality later. Phyllis muttered that she wanted to give someone a big dose of reality, and she griped that Jack had been there earlier to take Sally to get a new car because Sally hadn't been able to do it herself. Phyllis complained about Sally fawning all over Jack and him being unable to see what was going on. Nick questioned why Phyllis cared that much.
Phyllis ranted that Sally was obviously over being a pain in Summer's butt, so she'd moved on to Jack. Phyllis thought someone had to do something about it, and Nick surmised that someone would be her. Phyllis revealed that she'd talked to Summer about joining forces, and Summer had been open to the idea. Nick guessed that Summer hadn't actually signed on, and he noted that whatever threat Sally had posed seemed to have been neutralized.
Phyllis pointed out that something had been off with Summer and Kyle the other day, but Nick informed her that Summer had told him everything was fine. Nick added that Jack was a grown man who'd been around the block a few times, and he doubted Jack would let Sally take advantage of him. Phyllis worried that Jack was sad and vulnerable after his mom had just died, and she was adamant about making sure he didn't get hurt. Nick advised her to stay out of it.
At Crimson Lights, Sharon sent a text message to Rey, saying she was looking forward to seeing him later and talking things out. Jack entered the coffeehouse and was surprised to see Sharon. She assumed he'd seen the photo of her and Adam plastered all over the internet, but Jack swore he wasn't judging because he knew she and Adam had a complicated history. She asserted that the photo was misleading, since nothing was going on between them.
Sharon continued that Adam loved Chelsea and was doing everything he could to help her, but he felt overwhelmed sometimes. Sharon conceded that the kiss shouldn't have happened, but Adam had just acted in the moment, and she suspected that a mean-spirited kid had tried to cause trouble by taking the photo and posting it online. Jack inquired about how Rey was handling it, and Sharon lamented that her husband hadn't taken it well. She added that she and Rey had plans to talk later to work things out.
Sally entered and apologized for keeping Jack waiting while she'd been preoccupied with programming her steering wheel. Sharon congratulated her on her new car purchase, and Jack and Sally playfully bickered over who would buy the coffee. Sally headed to the patio, and Sharon noted that the two seemed close. Jack ordered two lattes, and Sharon smiled as he joined Sally.
On the patio, Sally enthused about all the modern features on her new car, but she realized that Jack probably had all those things already. He encouraged her to enjoy it and to be proud of getting a good price. She crowed that she'd spent a lifetime negotiating to get what she wanted, so she was pretty good at it. Sally was determined to properly thank Jack for lending her a hand, and he suggested a ride for a ride. He proposed that they go for a drive in the countryside that could double as a winter driving lesson.
Sally anticipated treating Jack to lunch when they needed a break from their drive. Jack recommended a quaint place outside of town, and Sally proclaimed that it could be their second date. She rambled that dinner had been their first date, but that day had just been a friendly hangout after an errand. He teased her for keeping a log of each encounter to categorize them properly. Sally contended that no one in Genoa City was as handsome or charming as Jack, and she enjoyed hanging out with him. She wanted to call them dates and hoped for more of them -- unless it wasn't where his head was.
Sally stammered that it was cool if Jack didn't want to date her, since she had a quirky way of doing things that didn't make sense to anyone else. She cited her work as a designer, pairing prints and colors that no one else thought belonged together. He thought that it made her work more distinctive. Sally babbled that she skipped to the end when reading books and found it impossible to keep her opinions to herself, even when sharing was a terrible idea. She could see how she was generally unappealing, and he deadpanned, "Yeah, not appealing at all."
Jack thought it was pretty clear that he liked spending time with Sally, and he wanted to see more of her. She suggested that they keep things casual and see where it led, and he said that would be great. Sally prepared to wrap up some things before the night ended, and she thanked Jack for finding the time to do her a favor. He insisted that he'd had fun, and his New Year's resolution had been to have more fun. He looked forward to their next outing -- even if it wasn't a date.
Later, over the phone, Jack learned that Traci was having a good time in New York. He reported that he'd just had the best day he'd had in ages.
Meanwhile, Sally returned to the Grand Phoenix and announced that she'd decided to check out and move to the Athletic Club, where she could have a larger suite. Phyllis reasoned that she never liked to lose a guest, and she suddenly found another suite available. She asked if Sally would be staying, and Sally replied that she was thrilled the hotel could accommodate her. Phyllis offered to send a bellman to Sally's room to move her things and give her a new card key. Sally headed to the elevator. Nick approached Phyllis and assumed that she'd decided to play nice. Phyllis revealed that she'd kept Sally there to see what she was up to.
Sharon found Rey at the cottage. He admitted that he wasn't proud of the way he'd stormed out, but the picture had gotten under his skin, just like Adam did. Sharon agreed that Adam had a talent for exploiting people's weak spots, and Rey called Adam a master manipulator -- especially where Sharon was concerned. Rey accepted that the kiss had been an impulsive mistake on Adam's part, and he confided that he'd considered arresting Adam for assault. Sharon confirmed that she'd heard Rey had confronted him, since Adam had stopped by to tell her.
Rey became livid that Adam had sought Sharon out after Rey had explicitly warned him to stay away. Sharon recounted that she'd told Adam to leave and to stay away, and he had. She understood Rey was angry, but she was glad he hadn't arrested Adam because antagonizing him would have been counterproductive. Rey imagined that it would have been satisfying to arrest Adam, but it wouldn't have solved the larger problem. Rey contended that even when Adam wasn't around, he was still present in their marriage, and they had to acknowledge it and discuss how to go about changing it -- together.
Rey recalled that he'd promised to be Sharon's husband in good times and bad, and he refused to let anyone get between them. He vowed to do his part to make sure they ended up stronger than they had been before, and she also pledged to do whatever it took. Rey thought couples therapy would be a good start to get to the real reason why she couldn't let go of Adam after all that time. Rey suspected that Adam represented something she was addicted to, like a surge of adrenalin that wasn't part of her everyday life. He thought it explained why she was drawn to Adam, even when she knew it was unhealthy for her and everyone around her.
Sharon conceded that she might have had tendencies like that years earlier, but she'd worked hard to become a different person. Rey called her a strong, smart, caring woman who lost all sense of reason with Adam around. Sharon thought Rey was overreacting, but he implored her to think about what Adam had done to her, her family, and Adam's own family. Rey questioned how many times she'd forgiven Adam because she was drawn to him emotionally, and he demanded that they be realistic. He shared that he'd studied the photo of the kiss as if it had been a crime scene, and he noted that Sharon hadn't stopped or even resisted Adam.
Rey determined that the evidence suggested that Sharon had given in to the kiss, but she vehemently denied it. He pulled up the photo on his phone and forced her to look at it. Rey interpreted it as a significant moment between Sharon and Adam, filled with real connection and feeling. Sharon argued that she had been there and knew what had happened, but Rey was hurling painful accusations instead of believing her. She didn't understand how he could possibly think that would help them.
Sharon agreed that she and Rey had serious issues to resolve, but she implored him to reevaluate after thinking about what she'd said. She suspected that he would see things the way she did and realize they were perfectly capable of working out their problems on their own. Rey swore that everything he'd told her was from a place of love, and he wanted her to know what he was thinking and feeling; however, he strongly believed having the support of an objective third party would help. He steeled himself to accept it if she wasn't up for it, but he maintained that her dynamic with Adam was a real obstacle for him and for them, and he was searching for a way to overcome it together.
Adam found Chloe at the door of his penthouse. She announced that she was there to see Chelsea, but he replied that he hadn't been expecting her. He claimed that the nurse had just gotten Chelsea settled in for the night, but Chloe protested that it was early. Chloe peered past him and saw Chelsea sitting in her wheelchair. Chloe observed that her friend was still awake, and she chirped that she'd made it just in time.
Adam asked if he could get Chloe anything, and she requested some privacy. He didn't budge, and she wondered if there was a problem. He requested that she keep her visit brief, but she felt like she owed Chelsea some quality time after not seeing her best friend in forever. Adam warned that Chelsea tired easily and that it had been a trying day. Chloe eyed Chelsea carefully and replied that she could only imagine.
Chloe promised not to overstay her welcome or tire Chelsea out. She explained that she hadn't been there in a while because Kevin had surprised her with a Valentine's Day trip, but she wanted to cheer Chelsea up. Adam was sure Chelsea would be thrilled to see Chloe, and he stepped out. Chloe gazed intently at Chelsea as a tear rolled down Chelsea's cheek. Chloe wondered why she was crying. Chelsea thought to herself that Chloe had to get her out of there, since Chelsea couldn't stay with Adam one more second after he'd broken her heart.
Chloe realized that Chelsea was trying to talk with all her might, but she couldn't get there yet. Chloe wished she knew what was going on in Chelsea's head. Chelsea looked down at her left hand, which noticeably moved. Chloe incredulously asked when Chelsea had regained the use of her hand, and she contemplated summoning Adam. Chelsea blinked repeatedly in protest, and Chloe interpreted that Chelsea didn't want Adam to know. Chelsea firmly blinked once, and Chloe swore that she wouldn't say a word, but she questioned why Chelsea wanted to hide her huge breakthrough. Chloe inquired whether something had happened between Chelsea and Adam. "Sharon. Sharon happened -- again," Chelsea snarled in her mind.
Chloe decided to ask yes-or-no questions to attempt to figure out what Chelsea was trying to tell her. Chloe recognized that she always assumed the worst of Adam, and she wondered if there was any chance Chelsea was upset that Chloe had interrupted a private moment with him. Chelsea blinked multiple times, and Chloe took it to mean that something was wrong. Chloe questioned whether Chelsea felt like she was in physical danger, and Chelsea blinked to indicate no. Adam returned and asked how everything was going, and Chelsea quickly moved her hand back to its original place.
Chloe claimed that she'd been telling Chelsea about her amazing trip and showing her adorable pictures of Bella and Miles. Chloe pointedly vowed to be there for Chelsea, no matter what. Adam thanked Chloe for being a wonderful friend to Chelsea. Chloe pressed for more girl time, but Adam shot the request down, claiming the nurse was waiting. Chloe told Chelsea to keep her chin up, and she pointedly stated that she'd be back with the book she'd offered to read to Chelsea.
Chelsea watched as Adam closed the door behind Chloe. Adam headed out to get the nurse, and Chelsea clenched her hand into a fist. In the hallway, a worried Chloe sent a text message to Kevin, voicing concern that Chelsea needed help.