Beginning this month, Erica Kane's daughter, Bianca Montgomery, will find her way back to Pine Valley. This time, though, things are going to be a little different.
When Bianca left town on March 19, 1998, the young girl was waging a valiant battle against anorexia nervosa. Her loved ones gathered by her side, Bianca met with a therapist to discuss why she was unable to eat. It was this storyline that helped win Susan Lucci (Erica Kane) her very first Daytime Emmy award.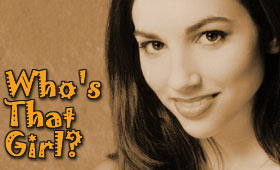 On July 27th, a slightly older Bianca will make her first on-screen appearance in over two years. A new actress will assume this role, and reports indicate that Bianca will now be about 18 or 19 years of age.
Eden Riegel, a relative newcomer to daytime television, had landed the coveted role of Erica Kane's daughter. Riegel isn't new to the acting game; her works include the voice of Young Miriam in the movie, The Prince of Egypt. She's been seen in front of the camera in a 1997 edition of television's Law and Order and as Sarah in the film American Pie, as well as stints on the CBS soaps, As The World Turns and Guiding Light.
What are your thoughts on Bianca returning to Pine Valley? We want to hear from you -- and there are many ways you can share your thoughts.