Erica Kane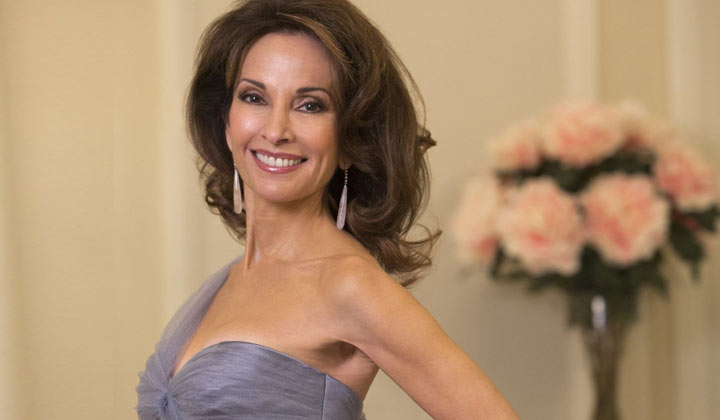 Born November 2, 1954; when AMC debuted in 1970, Erica was 16 years old
In 1993 it was changed to 1956, as Erica was said to be 14 years old than her daughter, Kendall Hart, who was 23 at the time
In 2001, the year was changed to 1962 as Kendall's birth date was changed to 1976
Co-producer of a movie based on her book Erica Kane Uncensored (working title)
Joint head of Cortlandt Electronics (shared position with Caleb Cortlandt)
Former executive at Fusion Cosmetics, overseeing the company's product development
Former shareholder in Chandler Enterprises
Former host and executive producer of New Beginnings
Former co-host of He Said, She Said
Member of the board of directors of Cambias Industries
Former CEO of Enchantment Cosmetics [Removed as CEO, Sep 16, 2003]
Founder of Enchantment Cosmetics
Member of the board of directors of Cortlandt Electronics
Former host of the Cutting Edge talk show
Former spokesmodel for Orsini Vineyards
Former waitress (when she kidnapped Bianca)
Former editor-in-chief of Tempo magazine
Former fashion model
Former owner of Erica's disco
Former hostess at the Goal Post restaurant
Former hostess at the Chateau restaurant
Writer; penned the books Raising Kane, Erica Kane: Beyond the Pain, and Having It All
The penthouse at the Yacht Club
Formerly Seasons East Casino, Suite 1223
Formerly Chandler Mansion (300 River Road)
Formerly Hawthorn correctional facility
Formerly 1100 Main Street, Penthouse; a penthouse apartment atop the Enchantment Building
Formerly the Valley Inn
Formerly 328 Crescent Avenue [burned down]
Formerly Wildwind (3900 Glenview Road)
Formerly 20 Adams Street; Linden House
Single/Broken engagement to Jackson Montgomery [Engaged: Jun 21, 2010; broke-up Sep 23, 2011]
Jeff Martin (1971 to 1974; divorced)
Philip Brent (1975; divorced)
Tom Cudahy (September 1978; annulled)
Adam Chandler (1984 to 1993; divorced)
Mike Roy (1987; invalid)
Travis Montgomery (1988; invalid)
Travis Montgomery (1990; invalid)
Adam Chandler (1991; vow renewal)
Dimitri Marick (June 1993 to 1994; divorced)
Dimitri Marick (December 31, 1994 to 1996; divorced)
Jackson Montgomery (Married: May 24, 2005; divorced: Aug 16, 2007)
Eric Kane (father; deceased)
Mona Kane (mother; deceased)
Silver Kane (half-sister; deceased)
Mark Dalton (half-brother)
Julie Rand Chandler (niece)
Kendall Hart (daughter, with Richard)
Joshua Madden (son, with Jeff; originally aborted; deceased)
Unnamed child (miscarriage; with Philip)
Bianca Montgomery (daughter, with Travis)
Unnamed child (miscarriage; with Dimitri)
Spike Lavery (grandson; via Kendall)
Ian Slater (grandson; via Kendall)
Miranda Montgomery (granddaughter; via Bianca)
Gabrielle Amelia Montgomery (granddaughter; via Bianca)
Charles Tyler III (1970; dated)
Jason Maxwell (1972 to 1973; deceased)
Brandon Kingsley
Lars Bogard
Lincoln Tyler
Kent Bogard
Mark Dalton (before learning of being related; never lovers)
Steven Andrews (alias: Dave Gillis)
Jeremy Hunter
Jackson Montgomery (engaged)
Mike Roy (second time)
David Hayward (engaged; deceased)
Chris Stamp (engaged; Aug 10, 2002; deceased)
Jackson Montgomery (engaged)
Jeff Martin (affair)
Ryan Lavery (lovers)
Caleb Cooney (kissed)
Sexually assaulted by Richard Fields
Suffered a miscarriage [1997]
Suffered severe facial lacerations after being involved in a car accident [Feb 1999]
Battled drug addiction [2000]
Admitted after unexplained fainting [Dec 20, 2001]
Suffered unexplained blackouts [2003; Feb 2, 2004]
Stabbed by Annie Lavery, resulting in significant blood loss and a lacerated liver [Nov 26, 2008]
Choked by Annie Lavery [Jul 2, 2009]
Kidnapped by Jane Campbell and held captive while Jane impersonated her [April 13, 2011 to July 25, 2011]
Injured in an explosion at a quarry [May 13, 2011]
Killed Kent Bogard for having an affair with Connie Wilkes, who impersonated the real Silver Kane; became a fugitive from justice when arrested for the murder; and impersonated a nun; cleared of all charges
Attempted to help Jeremy Hunter escape from prison by helicopter
Kidnapped Bianca
Lied under oath to try to retain custody of Bianca
Arrested for slapping a police officer
Faked amnesia to hold on to Dimitri
Stabbed Dimitri, because she thought that he had raped Kendall
Addicted to painkillers after a fall from scaffolding during a modeling shoot
Lugged around Jonathan Kinder's corpse -- before she knew he wasn't really dead
Kidnapped Maria and Edmund's baby and tried to pass it off as her own
Tied David Hayward up in her basement and put his hand in a vise to get back at him for causing the accident that scarred her face
Jailed for interrupting Jake and Liza's custody hearing
Deceptive business practices; coerced Greenlee into signing a lopsided contract [May 25, 2001]
Bribery/blackmail; paid Rain Wilkins $10,000 and told her to leave town
Confessed to killing Mary Frances "Frankie" Stone
Perjury; claimed to have shot and killed Frankie in self-defense [Jan 2002; sentenced to community service]
Impersonated Greenlee Smythe on the phone [Mar 18, 2002]
Opened a letter addressed to Chris Stamp [Jun 2002]
Withheld information offering Kendall an alibi in arson charges [Jul 2002]
Clubbed Trey on the head with a pipe [Oct 2, 2002]
Arrested for breaking and entering into Kendall's hotel room [Nov 27, 2002]
Blackmail; held personal information over Mary Smythe's head to prevent her from telling Jackson that he was Greenlee's father [Jun 2003]
Offered Lena Kundera in excess of three million dollars to stop seeing Bianca permanently
Attempted to stab Kendall Hart with a pair of scissors because she thought Kendall was Michael Cambias [Feb 2, 2004]
Shot Adam Chandler because she hallucinated and thought he was Michael Cambias [Aug 29, 2003]
Perjury; while on the stand, claimed to have killed Michael Cambias [2003]
Drugged Greg Madden's drink, nearly causing his death [2005]
Stabbed Zach Slater after being drugged by Joshua Madden [Jan 2006]
Adultery; slept with Jeff Martin while married to Jackson [2006]
Fraud; planned to sign Mary Smythe's name on Greenlee's commitment papers [Nov 2007]
Accused of and arrested for insider trading [Feb 18, 2008]
Bribery; bribed a public official [Feb 19, 2008]
Blackmailed Adam into giving Carmen a job [Jul 2008]
Coercion; had the judge in the Chandler custody case recuse himself for meeting with David Hayward, and release J.R. Chandler from jail [Mar 26, 2009]
Trespassing; broke into Chandler Mansion [Jul 3, 2009]
Trapped Scott and Annie in an elevator at Fusion [Oct 30, 2009]
Conspired to have David Hayward kidnapped [Feb 16, 2010]
Implicated in embezzling funds from the Miranda Center; she was framed by David and Greenlee [May 2010]
Falsely confessed to shooting David Hayward in the chest [Nov 30, 2010]
Stabbed David Hayward in the abdomen with a steak knife [Jul 25, 2011]
Broke into David Hayward's office and stole a file [Aug 29, 2011]
In 1970, high school senior Erica engineered her first successful breakup, of classmates Phillip Brent and Tara Martin. But when Erica didn't win Phillip as she'd planned, she set her sights on Tara's older brother, medical intern Jeff Martin, with whom she eloped a year later. But Erica soon was bored with her life as the wife of a struggling young doctor and embarked on a career as a model -- and an affair with her agent, suave Jason Maxwell. In 1973, certain that she was on the verge of fame and fortune, Erica secretly aborted Jeff's baby.
Jeff stood trial for Jason's murder, but finally, it was revealed that Mona had killed the cad. The scandal temporarily ended Erica's days as a cover girl.
In 1974, after granting Jeff a divorce, Erica made another play for Phil, who was on the rebound from Tara. This time, he not only slept with Erica, but a year later, he married her. After Erica miscarried their child and suffered a nervous breakdown, she gave Phil a divorce and began an affair with the much older Nick Davis, her mother's best friend.
At the same time as Erica was carrying on with Nick, she became quite taken with Mark Dalton, the new music teacher at Pine Valley University. When it appeared that Erica and Mark might become more than friends, Mona admitted that the young man was the illegitimate son of Erica's father and his secretary, Maureen Dalton. Initially, Erica refused to accept her half-brother Mark, but over time, the half-siblings became very close.
Meanwhile, Erica and Nick broke up after Mona caught them in bed together. But they couldn't stay apart. After Erica developed pneumonia, she lost the will to live. To ensure recovery, Nick popped the question, and she accepted. When he broke their engagement in 1978, she turned around and wed ex-football star Tom Cudahy, for whom she worked as the hostess of his restaurant, the Goalpost.
The Cudahys' stormy union suffered as Tom discovered that Erica was telling him one lie after another. Among her deceptions was Erica telling Tom she wanted children, while secretly taking birth control pills. Behind Tom's back, she opened a trendy disco named after herself. The marriage finally ended after Tom discovered Erica's dalliance with cosmetics tycoon Brandon Kingsley.
After Erica closed up shop in 1980, Erica herself became the prize in a battle between rival cosmetics tycoons Brandon Kingsley and Kent Bogard. Erica and Sensuelle Cosmetics boss Brandon's affair soured when she learned that he had a wife, Sara, and kids that he had no intention of leaving. Kent offered to steal away Erica -- both romantically and professionally. He promised to give Erica her own line of beauty products.
In 1982, Kent and Erica's relationship hit a snag in the form of her mousy half-sister, Silver Kane, who had begun working as her assistant. Silver transformed herself into a glamorous vamp and seduced Kent, who Erica accidentally shot after learning of their fling. Silver was revealed to be an imposter named Connie Wilkes and was sent to prison.
In 1983, Erica hired Mike Roy, the man who would be the love of her life, to ghost write her biography, Raising Kane. Despite her feelings for the author, she wed millionaire Adam Chandler in 1984 in order to win the part of herself in the movie version of the book. Eventually, she extricated herself from their volatile marriage, but it was too late -- Mike was shot and killed.
In 1985, Erica found a new reason to love in Jeremy Hunter, an artist who once saved Mike's life. But their romance was thwarted at every turn by a formidable rival, Jeremy's youthful stepmother, Natalie Hunter, who wanted him for herself. In 1987, Noelle Keaton was revealed to be the real Silver Kane, Erica's half-sister. She became obsessed with Jeremy, and Natalie killed Silver in self-defense.
That same year, Erica helped Mark beat his addiction to drugs. She also took her next husband, politician Travis Montgomery, when she became pregnant with his child. Finally, in 1988, after a bout with toxemia, Erica gave birth to Bianca. That same year, after Travis had himself kidnapped in a desperate bid to save his empire, Erica divorced him.
Erica's father, Eric, left her for a second time in 1989, after she discovered that he wasn't dead as he had led everyone to believe. Eric was traveling with a circus as Barney the Clown. In 1990, trying to be a better parent than her father ever was, Erica broke her engagement to Travis' brother, lawyer Jackson Montgomery, and remarried Travis to cheer Bianca, who had contracted Reye's syndrome. The reunion was short-lived; Erica and Jackson resumed their relationship.
Much to Erica's chagrin, her competition for Jack's affection was Brooke English. The women's longstanding rivalry dated back to their days vying for Tom's attention. First, Erica married Tom, then Brooke did. After Erica's marriage to Adam ended, Brooke married him, too. Brooke had even been engaged to Mark at one time.
Erica and Jack eventually parted company, and she took Dimitri Marick as her next husband. Although initially Dimitri was out to take over Erica's company, once they fell in love, he was as devoted to her as Kendall Hart was resentful of her. In 1992, the waif showed up on Erica's doorstep and soon was revealed to be the product of Erica's rape at age 14 by Richard Fields, a friend of her father's.
Making matters worse, in 1994, Erica lost her mother, Mona. The following year, following a fall off of scaffolding during a fashion show, Erica became addicted to painkillers -- and the object of the unscrupulous Dr. Jonathan Kinder's obsession. After overcoming both obstacles, Erica learned that she was pregnant with Dimitri's child. Still in love with him, she asked Dimitri to remarry her, blissfully unaware that he had slept with their sister-in-law, Maria Grey, after catching Erica in what appeared to be a compromising position with Jonathan.
After suffering a miscarriage in early 1997, Erica soon found herself as a new mother. This required a little setting up. Dimitri and Maria slept together. It was a one-night stand, but when Maria later discovered that she was pregnant, the baby could very well have been Dimitri's. It wasn't, but Skye Chandler doctored a paternity test to make it look like Dimitri, not Edmund, was the father. Erica learned of the affair and cornered Maria in a cabin at Willow Lake. The stress of the confrontation sent Maria into early labor. Erica would have been content to let Maria suffer, but she felt obligated to help deliver the one month premature baby and take it to the hospital.
The weather was treacherous, and Erica hit a patch of ice while en route to the hospital. Erica, the car, and the baby skidded off the road and into Willow Lake. The baby ended up missing, but after being released from the hospital, Erica retraced her steps and learned that a woman had found the baby and taken it into her home. Erica then faked going to Russia to adopt a baby and used Maria's baby, newly named Sonya, as the baby she'd supposedly adopted. But holes in her plan began to show themselves. Dimitri made calls to the adoption agency and learned that Erica had not adopted the baby from Russia.
Erica then claimed that Esther, the woman who had rescued Sonya from the icy waters of Willow Lake, was the baby's biological mother and had allowed Erica to adopt the baby. The guilt built and Erica decided that she had to take the baby back to Edmund and Maria. The infant was reunited with Maria, but simply returning the baby did not serve justice in Edmund and Maria's eyes. Erica was charged with kidnapping and two other felonies.
From jail, Erica learned of Maddie's true paternity. She helped reunite Edmund with his daughter. Little did Erica know that her daughter, Bianca, was suffering from anorexia nervosa. Erica did almost everything to get out of jail. At her parole hearing, Edmund felt that it was his duty to turn the tables and say a few words on Erica's behalf. Erica was released from prison to help Bianca recover. She went home to nurse Bianca back to health and became the owner of Enchantment. As a surprise, Erica made Bianca second in command. Bianca seemed very pleased. Erica hoped that might be what Bianca needed to help her regain her self-confidence.
With Bianca on the road to recovery, Erica was focusing her attentions back on her career. That was until a car accident during a snowstorm badly scarred her face and did damage to her heart. Dr. David Hayward was the other driver, and he had been in a hurry to attend Liza and Adam's second wedding when the car hit a truck on the side of the road. The damage to Erica's face was so severe, that she wore a mask on the entire left side of her face until a renowned plastic surgeon was able to restore her original beauty.
Seeking revenge on Dr. Hayward for the damage her had done to her personally and professionally, Erica tied up David in her basement and damaged his hand in a vise. What started out so ugly for Erica and David, turned into a budding romance, with each forgiving the other for their crimes. David and Erica definitely shared passion. However, their relationship ran into trouble because both felt that the other was putting something before their relationship. For Erica, David's devotion to his job and his irregular work schedule made her feel like a second fiddle. David, on the other hand, was irritated by Erica's persistent references to and interest in her former husband, Dimitri. In a tear-filled face off, Erica told David that they were unable to love each other the way that they deserved to be loved. Passion, she said, was not enough. With that, the two parted ways.
Erica kept David in her life, especially when Bianca returned to town. Bianca's arrival back in Pine Valley proved troublesome for Erica because she'd lost touch with her daughter and the fact that her daughter wasn't a little girl anymore. The two clashed at almost every turn, but through it all, Erica remained her daughter's biggest fan. When Travis died, Bianca was forced to remain in Pine Valley full-time. Erica continued to press her wishes and desires on her daughter, and it backfired. Bianca moved out of the house and in with her Uncle Jack, though the relocation lasted barely a night. Bianca moved back into her mother's house, but took with her a secret that was tearing at her heart.
On Christmas Eve 2000, Bianca shared with her mother the secret that was causing her so much pain. As Erica prepared for a press conference to announce that she and her daughter would be the featured models in an ad campaign for Enchantment, Bianca remained at her mother's house. Erica returned to find the reason for her daughter's delay. Bianca revealed to her mother that she was gay. Erica turned, unwilling to listen to what her daughter was saying.
She asked Bianca to continue getting dressed because the media was waiting for them. Bianca tried to get her mother to listen to her, but nothing she said seemed to get through to her mother. Erica left the house and did not return home until the next morning. Erica and Bianca took several months to restore their relationship. Things did not become "normal" overnight. Erica bribed Bianca's friend, Rain, a homeless teen, to leave town, claiming that she was a bad influence on Bianca.
In spring 2001, an Ecstasy overdose aggravated a pre-existing heart condition in Brooke's daughter, Laura. A cardiologist on staff at Pine Valley Hospital determined that Laura's condition was quite grave -- and potentially deadly. Erica and Brooke put aside their differences to become an unlikely pair, determined to free Dr. David Hayward from jail so that he could do risky surgery to attempt to save or prolong Laura's life. The two women worked together because of a common bond: motherhood.
Erica strongly disapproved of her daughter Bianca's friendship with tomboy Mary Frances "Frankie" Stone. Erica vowed to kill Frankie after Bianca walked in on Frankie and a boy, Adam Chandler, Jr., in bed together. Sure enough, Frankie turned up dead several hours later. Thinking that Bianca had killed Frankie, Erica decided to take the fall for Frankie's death. The trial quickly degraded into a three-ring circus, with Erica ditching counsel in order to represent herself. Erica was ultimately found not guilty, but her relationships with Bianca and lawyer-and-lover Chris Stamp were severely strained.
Erica was soon reconciled with Bianca and Chris due to their mutual hatred of Erica's long-estranged daughter, Kendall, who had arrived back in town to play a part in Erica's murder trial. Kendall did her best to ruin Erica's bonds with Bianca and Chris, while Erica plotted various ways to drive Kendall out of Pine Valley, none of which worked. When Erica's home was set on fire and Bianca nearly died, Erica immediately blamed Kendall and refused to believe anyone who doubted her guilt. However, ultimately Erica learned of evidence that Kendall had not been responsible and cleared her. Still, Erica had no intention of having a real relationship with Kendall, since at one point she had even told Kendall she saw her rapist every time she looked in Kendall's eyes.
Memories of Richard Fields continued to haunt Erica as one night she thought she heard his voice at the construction site for her new office. She hit the man on the head with a pipe, only to realize he was Trey Kenyon, Kendall's roommate and former attorney. Soon she also learned that he was Richard's son by Vanessa Cortlandt, and that he had burned down her home earlier that year. Erica decided to make both him and Kendall pay for their nasty ways, but ultimately landed a brief stay in jail after breaking into Kendall's hotel room. Her friends and family rallied around her for the Thanksgiving holiday.
By February 2003 Erica's newest concern was Fusion, an upstart cosmetics company run by, among others, Kendall, and Erica's former star employee, Greenlee. Her personal life should have been perfect, as she was engaged to Chris. But her old feelings for Jack were resurfacing once again, leaving Erica guilt-ridden after she and Jack shared a passionate kiss in her apartment one day. Erica and Jack had a one-night stand. Erica tried to stay loyal to her fiancé, Chris, but they had many communication problems, especially regarding her desire to make him work at Enchantment, and her meetings with corporate shark Michael Cambias.
After a few months, Chris found out about Erica and Jack's tryst, and dumped her. He went off the deep end and was a prime suspect when Jack was shot, but he was soon cleared. Chris and Erica made peace as Chris announced his plans to leave town. Meanwhile, Erica rallied to Jack's side as he recovered from his shooting. They got engaged, only to have Erica push him away when she found out Chris had been shot and killed. She saw it as a curse, which she brought on men. Jack quickly wore down her defenses, and they reconciled.
Michael tried his best to take over Enchantment, using Bianca's girlfriend Lena and Kendall as pawns in his twisted mind games. Lena was arrested for her corporate espionage, and Kendall played double agent for Erica. Erica saved Kendall from Michael's attempt at rape. A few weeks later, after Erica reaffirmed her hold on Enchantment and forced her way into a major role at Cambias Industries, squeezing Michael out in the process, Michael tried to rape Erica, and Kendall was the savior this time. Erica disliked Lena but grew to accept her in Bianca's life.
Michael was not so easy to deal with and continued to menace Erica and her daughters. His threats spurred more flashbacks to the night Richard Fields raped Erica, and Kendall was a great comfort. For the first time, mother and daughter had worked out their issues and were actually close. With this fence temporarily mended, Erica worried about what was troubling Bianca, because she didn't know Michael had raped Bianca.
On the romantic front, after Jack nearly died of complications from his gunshot wound, only a rare blood type saved his life. Erica discovered that Greenlee had provided that rare blood type, and was Jack's daughter via a long-before affair with Mary Smythe, who wanted Jack back. Erica blackmailed Mary with proof of past misdeeds while Erica tried her best to push ahead with wedding plans and keep the truth from Jackson and Greenlee. On Erica and Jackson's wedding day, Greenlee walked into the ceremony and announced that she was Jack's daughter. Hurt that Erica had kept the truth from him, Jack called the wedding off.
During the summer of 2003, Michael Cambias had raped Bianca, and also tried to rape Erica and Kendall, but was not successful. Bianca didn't tell anyone about the rape, although everyone noticed the drastic and unhealthy change in her behavior. In order to cover up her rape, she told everyone that she had broken up with Lena and that was why she was so upset. She broke things off with Lena, not giving much of an explanation or reason. Weeks later, Bianca finally admitted to Maggie Stone that she'd been raped. Bianca continued to hide her rape from her family, including Erica, who knew better than anyone else how she felt.
Erica was led to believe that it was actually Kendall who was pregnant. Kendall had devised a strategy to shield Bianca from anyone finding out that she had decided not to terminate her pregnancy. Kendall went on trial for Michael Cambias' murder, and things went terribly out of control. Ryan figured out that Bianca wasn't pregnant and agreed to help the two women carry out their plan of deception. Ryan hired a top-notch doctor, who agreed to conduct a non-invasive paternity test on Bianca and say that she had conducted the test on Kendall. The test results satisfied the court, but there were still those who doubted that Kendall was really pregnant. In the middle of court, Greenlee duPres yanked Kendall's dress off, revealing a pregnancy pouch.
The incident turned everything upside down. Everyone put two and two together and realized that Bianca was carrying Michael's child. Erica was outraged and blasted her daughters for having lied to her. Kendall and Bianca both claimed that they had been doing what they thought was best for Erica, but Erica didn't believe them.
Slowly but surely, Bianca started to recall that she might have more information about Michael Cambias' murder. The pieces finally fell together and she realized that she had been the one who'd shot and killed Michael. She had visited Michael's condo, toting Reggie's gun. When Michael had again tried to harm her, she had shot and killed him. Following Bianca's confession, the judge presiding over the case leaned hard on the prosecution not to press any charges against Bianca.
The resulting stress of the situation started Erica drinking, something she hadn't done since she'd gotten hooked on painkillers. Though her loved ones begged her to stop, Erica saw no need for their concern.
As Bianca's due date approached, she found herself trapped in the middle of nowhere with Babe after a storm. Babe called Paul and asked that he fly his medical helicopter to take her and Bianca to the hospital. Paul initially refused, but later agreed. When he arrived, he helped Babe deliver her baby. He then administered an unknown medicine to Babe, leaving her groggy.
During that time, Paul staged a chopper crash. When Babe awakened, Paul told her that her baby had died during the crash. However, when help arrived and Babe's family threatened harm to Paul if anything had happened to Babe's child, Paul changed his story and said that Bianca's baby had been thrown from the chopper. He had hidden Babe's baby in a nearby cabin and planned to give the baby boy to Kelly so that Kelly could pass the baby off as her own. Bianca's baby was then given to Babe, leaving Bianca and her family to believe that her child had been killed.
Erica was overjoyed later when she, and the rest of the family, learned that Bianca's daughter Miranda was alive and well. She managed to put aside her reservations concerning Miranda's conception to accept her daughter, and also cemented her relationship with Jack by marrying him in a beautiful ceremony in Florida. Shortly after, she began hosting her own show, New Beginnings, and had planned to use Greg Madden as her first guest. Before long, Erica realized that Greg, who had shown an alarming interest in her, was the doctor who had performed her abortion during her marriage to Jeff. She also discovered that his son, Josh, was actually her own son -- rather than abort Erica's baby, Greg had implanted the fetus in his own wife.
Erica had every reason to get revenge on Greenlee, since Greenlee had gotten into a car accident that had nearly killed Erica's grandson, Spike Lavery. Erica forged Mary Smythe's name on commitment papers to get Greenlee sent to Oak Haven. This plan blew up in Erica's face, and Jack broke off his relationship with Erica.
Erica was intrigued by U.S. Attorney Samuel Woods's campaign for the U.S. Senate. What Erica did not know was that Samuel Woods had investigated her for insider trading. Apparently, Erica had gotten word from a close confidant that the stock price for Chandler Enterprises would soar through the roof one day. Erica decided to sell her stocks on the day that it happened. At the Fusion Go Red fashion show, Samuel arrested Erica for insider trading. Erica decided that, rather than plead not guilty and see Sam get publicity for her arrest, she would plead guilty and serve time in prison. Erica was sentenced to a federal prison.
While being escorted to prison, Erica met Carmen Morales. When the bus carrying both of them crashed, Erica and Carmen went on the run. Carmen told Erica that she'd gotten arrested thanks to her ex-boyfriend, "Mando," and his mother in a robbery that she claimed was their fault. Erica told Carmen she would help Carmen get revenge on both of them. When Erica phoned the police about Mando and his mother's involvement in the robbery, the police arrived and arrested both Mando and his mother. Erica and Carmen were escorted to prison.
Erica turned out to be a model prisoner. She implemented some new programs to help the women at the prison gain job skills so, upon release, they would have the knowledge to compete for employment. However, a couple of the inmates threatened Erica's life. The warden decided to put her into protective custody. Erica spent some time in solitary confinement but, thanks to Jack and Sam pulling some strings, the warden removed her from this predicament.
Erica's good behavior caused her to be released from prison early. On the day of her release, another inmate, Sable, took Erica hostage at knifepoint when she claimed that Erica had slept with her husband. Erica claimed she never did such a thing. Erica freed herself from Sable and left the prison.
Erica resumed ties with her ex husband, Adam Chandler. While Adam and Erica were trapped together during the tornado, Adam, thinking that he would die, confessed to Erica that he had tainted the Bella perfume launched by Fusion so as to get the company for himself. Since Erica was in charge of Fusion, due to Kendall giving her proxy, and Kendall was unable to work there, because she was in a coma from the tornado, Erica used the information to get all lawsuits against Fusion over the Bella tainting to be dropped.
Shortly after, Kendall was diagnosed with heart failure, and Erica's other two children, Bianca and Josh, returned to town. Bianca arrived with her girlfriend, Reese Williams. Josh returned to act on his feelings of anger and resentment toward Erica. Josh had angered Zach when he embezzled money from the casino, and he was back to steal more money. Josh robbed the casino at gunpoint. Erica was at the casino and recognized Josh's ring. She begged him keep everyone safe, but he took Reese hostage. Zach shot Josh. Josh was kept alive by life support. Erica made the decision to turn off Josh's life support so his heart could be donated to Kendall.
After three months, Kendall awoke from her coma, and Erica gave Kendall a warning about a woman that could cause problems to Kendall's marriage to Zach. The woman was Bianca's fiancée, Reese. Erica was hesitant about Bianca's relationship with Reese. She saw what she thought to be an attraction between Reese and Zach. Erica warned both of them that, if they hurt her daughters, they would pay. To make matters worse, Erica crashed a bridal shower for Bianca, Reese, and Greenlee by taking along Mary Smythe and Reese's mother, Claire Williams.
Erica tried to bridge the gap between Kendall and Bianca when Kendall learned Zach had fathered Bianca's daughter, Gabrielle, via artificial insemination. Kendall refused to attend Bianca's wedding unless Bianca promised to leave town permanently after the wedding. Bianca and Reese exchanged vows, but Greenlee did not make it to the altar. Kendall was driving erratically when she accidentally ran Greenlee off the road. Zach said he was driving when he learned that Greenlee was presumed dead. Erica tried to support Jack as he grieved his daughter. Jack appreciated Erica's efforts, but he left town alone to mourn his daughter.
When Jack returned, a rift developed between Erica and Jack over their daughters. Kendall was charged with the murder of Stuart Chandler, and Jack was Kendall's lawyer until he learned Kendall, not Zach, had caused Greenlee's accident. Jack refused to represent Kendall, and he left town again. Even without Jack's help, Erica was determined to prove Kendall's innocence. She moved in with Zach to help look after Kendall's children, and she stepped in at Fusion in Kendall's place. Ryan oversaw Fusion in his role as the head of Cambias Industries, so Ryan and Erica worked closely with one another. They both suspected Ryan's ex-wife, Annie Lavery, had killed Stuart, so they agreed to consolidate their efforts to free Kendall.
Erica went to Africa with Krystal Carey to raise awareness for poverty. Erica dreamed of the dance and the kiss she and Ryan had shared before she left. When Erica returned to Pine Valley, she organized a dance competition to raise money for children in Africa. Ryan was her dance partner. At the charity event, Ryan and Erica admitted their mutual attraction and allowed their friendship to become physical. Erica and Ryan became lovers, and they went public with their relationship, despite the age difference. The relationship ended soon after it began when Jack returned from Paris. Erica realized she and Ryan were not meant to be, but they parted ways as friends.
Erica continued to run Fusion after Kendall was exonerated. Adam Chandler confessed he had murdered his brother. Kendall was reunited with her family, and they set off on an extended vacation. Erica had help running Fusion when Greenlee returned to Pine Valley. David Hayward had rescued Greenlee on the night of her supposed death and had nursed her back to health. Greenlee married David, which outraged Jack and Ryan. Greenlee and Erica battled each other at Fusion, and they placed Greenlee's father, Jack, in the middle. Greenlee and David set up Erica so it appeared she had embezzled Fusion profits meant for the Miranda Center.
Palmer Cortlandt passed away, and Erica went to Pigeon Hollow upon his death as Palmer had requested. David had Erica's plane tampered with, and she disappeared. A mysterious mountain man named Caleb rescued Erica. Although he did not say much, Caleb cared for Erica when she injured her leg and became ill. Jack and Krystal found Erica. When Erica tried to introduce the man that had saved her, he was gone. Erica's mind was on Caleb when she accepted Jack's marriage proposal. Caleb's presence at the reading of Palmer's will shocked Erica. Caleb's last name was Cooney -- Palmer was his uncle. Palmer's will required Caleb and Erica to run Cortlandt Electronics together for one year.
Caleb and Erica disagreed immediately over Cortlandt Electronics. Caleb wanted to sell the company and head back to the mountains, but Erica wanted to keep the company and fulfill Palmer's wishes. Erica understood why Caleb wanted to leave Pine Valley when she learned the history between Adam Chandler and Caleb. Adam had seduced Caleb's wife and destroyed Caleb's family. Jack sensed something between Erica and Caleb. When Jack confronted Erica, she denied it. Erica was shaken by the kiss she shared with Caleb, so Erica stalled when setting a wedding date, but talked Jack into going on a honeymoon.
When Erica returned from her pre-wedding honeymoon with Jack, she expected Caleb to be gone. Instead, Caleb stayed to fight for Cortlandt Electronics with Erica by his side. The Chandlers tricked Caleb into selling the company, and he vowed to get the company back. Erica discovered that a young man working for the Chandlers, Asher Pike, was Caleb's son. Asher wanted to destroy Caleb. When the strained relationship between father and son became public, Erica stood by Caleb, and she shared her own experience with Kendall when Kendall first arrived in town. This led to another kiss, but Erica remained adamant that she loved Jack.
Jack remained suspicious of Caleb's intentions toward Erica, and he questioned Erica's feelings for Caleb when she confided in Caleb instead of him. Erica claimed she had shot David Hayward to protect Ryan after David faked his death. Kendall was the one who had shot David, but Erica took the blame to protect Kendall. Erica shared the truth of David's shooting with Caleb, not Jack.
Another rift developed between Jack and Erica when Kendall needed heart surgery. Erica used her influence to secure a full pardon for David so he would perform the surgery. Since David had caused Greenlee so much pain, Jack wanted Erica to back out of the deal with David after the surgery had been completed. Erica refused.
Erica finally set a date to marry Jack when she became jealous of Krystal's interest in Jack. As Jack and Erica took off to St. Barts to be married, Caleb told Erica he would wait for her. Caleb arrived in St. Barts and made a final plea to Erica to back out of the wedding to be with him. Jack waited for Erica at the altar, but she did not arrive. Erica was kidnapped, but she did not know the identity of her kidnapper. The kidnapper forced Erica to call Jackson to tell him she could not go through with the marriage.
Erica initially believed Krystal was her kidnapper and when the mystery person that held her captive asked her to describe her best day, Erica answered by stating it would be her wedding day to Jack. Erica learned her captor was a woman and persuaded her to bring Erica a book. The book had a phone stored in a secret compartment. Erica made her secret call to Jack but Kendall's son Spike answered the phone. Her captor forced Erica to record a message to her loved ones. Within the message, Erica hinted she was being held at the quarry. Caleb was able to decode Erica's message and rescued a woman he believed to be Erica as the quarry exploded.
Erica was shocked when her kidnapper revealed her identify because she looked just like Erica. A woman named Jane Campbell underwent plastic surgery and kidnapped Erica so she could take her life. Erica remained in captivity while Jane was rescued from the explosion and resumed Erica's life. While Jane was out impersonating Erica, a man named Ben guarded her. Erica decided to befriend Ben in order to learn more about Jane. She also hoped she could persuade Ben to become her ally and set her free.
Jane continually visited Erica and shared how her impersonation of Erica was going. Erica was horrified when Jane shared she had fallen in love with David Hayward and was engaged to marry him. David discovered Jane was not Erica and they formed an alliance. Jane arranged for David's medical license to be reinstated and back in control at the hospital. Erica warned Jane that David was only using her and was not capable of love but Jane refused to listen.
In order to bond with Ben, Erica decided to write a new autobiography and she asked Ben to help her with it. Just as Erica had hoped, Ben was affected by the story of her rape as a child and he agreed to help Erica escape. Jane overheard Ben change alliances and he begged Jane to end her impersonation of Erica before she landed herself in prison. Ben convinced Jane to listen to Erica's memoirs so she could realize there was much more to Erica Kane than the charmed life Jane believed she led.
Jane overheard David proclaim his love to Greenlee and Jane was devastated. She did not know how to proceed in Erica's life and turned to Erica for help. Ben and Erica convinced Jane it was time for each woman to return to their own life. Erica agreed not to press charges against Ben or Jane with the understanding that Jane would undergo surgery to restore her original face. Ben blindfolded Erica one more time so she would not know where she had been held, although Erica was sure it was a place in or near Pine Valley with other rooms because she often heard banging coming from the other side of the wall.
Upon her release, Erica went straight to Jack to tell him the story of her kidnapping. He was at Confusion and s she reunited with him, David walked in. Erica asked David to corroborate her story but David refused and insinuated Erica was suffering some sort of mental break. She became frustrated and stabbed David in the stomach. Jack was pleased David's spell over Erica was broken and he agreed Erica had not been acting like herself for quite some time. Erica insisted the strange behaviors were not her at all, but her doppelganger Jane. No one believed her.
Police Chief Jesse Hubbard witnessed the stabbing and Jack arranged for Erica to be committed to Oak Haven. She was welcomed at Oak Haven by Janet Dillon and Marian Colby while another patient, Annie Lavery, was overjoyed to learn Erica had been committed. Annie and Erica quickly fell into their familiar pattern of arguments and accusations but Janet and Marian stepped in to prevent the woman from losing craft time.
Opal arrived at Oak Haven as a patient shortly after Erica was admitted. Opal pretended she had lost her grip on reality so she could break Erica out of Oak Haven but her son Tad quickly arranged her release. After Opal left, Annie set Erica up so it looked as though Erica had attacked Annie and Erica was sent into isolation. On the way to isolation the orderly accidently opened the door to an occupied room. The room was occupied by Dixie Cooney.
Erica befriended Janet and Janet honored Erica's friendship by using her influence with an orderly to admit Erica into Dixie's room. Janet was impressed that Erica could see dead people but warned her not to share that information if she planned to be released from Oak Haven anytime soon. Erica tried to speak with Dixie and asked how she was alive when everyone they knew believed she was dead. She was unable to get much out of Dixie except that she was afraid of hospitals and David. Erica was placed in a room on the other side of Dixie and they tapped the walls to signal to one another. Erica wondered if Dixie had been on the other side of the wall while she had been held captive by Jane.
Erica explained to Janet that they needed to help Dixie by reuniting her with Tad. Janet set a fire at Oak Haven and Erica escaped with Dixie. Erica shocked her daughters when she arrived at Kendall's home with Dixie and Marian. Bianca and Kendall decided to believe Erica's story about being kidnapped by Jane because it no longer seemed so far-fetched after seeing Dixie alive.
Everyone learned Erica's story about Jane was true after Jack tracked her down and she confessed she had kidnapped Erica and took her place. In order to make amends to Erica, she also confessed to stabbing David and was taken into police custody. Erica still believed David was somehow connected to Jane and she threatened to continue to dig until she could find proof. David warned Erica to let it go or else she would never know who else besides Dixie he had saved. Jack distracted Erica from thinking about David by taking her on a romantic trip to Paris.
While in Paris, Erica and Jack received the news that Zach was one of David's patients and he was in the hospital recovering. When they returned to Pine Valley, Erica visited Zach and was surprised to learn that Zach had become David's partner in Project Orpheus. Erica confronted David and threatened to use her power as the owner of the hospital to shut down David's work. David told Erica if she shut him down she would never be reunited with the loved one of hers that he had saved.
Erica shared what David had said about saving a loved one of hers with Opal and her friend warned her that David was baiting her. Erica started to think about her time with Mike Roy and wondered if David had saved him. She broke into David's office and found a file with the initials M.R. on it and an address in L.A. At the same time, one of Mona's friends named Agnes Eckhart was admitted to the hospital and Erica visited her. Agnes relayed a message to Erica from her mother telling her to be content with her life in Pine Valley. Erica responded with a message for mother assuring her that she will be just fine. Erica then invited Opal to join her on a trip to L.A. Opal declined due to plans she had with her former lover Sam Brady but she did visit Erica in L.A. on her way to Hawaii with Sam.
Erica claimed she was heading to L.A. for her book tour but Jack knew she was searching for Mike Roy. Erica reminded Jack she had chosen him over Mike before and Jack was still her choice and she promised to plan their wedding when she returned. Erica went to the address listed on the file but Mike was not there and a guard insisted he never had been. Erica called David and he confirmed that Mike had never been one of his patients and the loved one of Erica's that he saved was not a former lover of hers.
While in L.A., Erica met movie producer Kit Sterling and he offered to buy the rights to her book. He also asked Erica to co-produce the movie with him and asked her to consider playing herself in the movie. She confessed she had always seen herself in Hollywood and Kit asked if there was anything holding her back. Erica told Kit about her family and fiancée but assured him they would understand and support her movie endeavor.
Erica returned to Pine Valley and shared the news about the movie with Jack. He suggested that she focus on the role of planning her last wedding but she explained their wedding would have to wait until after the movie. Their discussion was put on hold when they ran in to Brooke English at ConFusion. Erica thought Brooke was back because Adam had left her and the women exchanged verbal barbs with one another. Brooke assured Erica her relationship with Adam was fine and Erica admitted that she missed seeing Brook around town, but not enough to include Brooke in her movie.
Erica's latest book revealed many personal moments that involved her daughters and Bianca and Kendall were less than thrilled when they read her book. Jack was also not happy about the time Erica was spending with Kit at the expense of time with him and their family. Erica did take a break from work long enough to attend a family barbeque held at Zach and Kendall's home. Kendall and Bianca shared their discomfort regarding the personal moments mentioned in the book but Erica refused to change what she had written.
Moments later, Erica showed her loyalty to her family when J.R. showed up and tried to take his son from Bianca's girlfriend Marissa but Erica prevented him from taking the child. J.R. threatened Erica but she stood firm and warned him not to mess with her family. After the confrontation with J.R., Kendall questioned if Erica would include that moment in her book and the women went back to their previous argument until Erica convinced her daughters to trust her judgment and they agreed.
Jack and Erica were enjoying some time together when Kit arrived and announced that an Oscar winning screenwriter had agreed to collaborate with Erica on the movie and Erica needed to board a jet immediately to head to L.A. Kit also informed her she would be needed there for at least three months. Erica told Kit she needed to discuss the offer with Jack first so Kit left them alone. Jack told Erica that he knew she had already made up her mind to go and Erica assured Jack they would be married immediately after her time in L.A. Jack told Erica that something always came up that was more important than their relationship and he was tired of living that way. He kissed Erica on the forehead and walked away.
After Jack walked out, Erica shared what had happened with Kendall and Bianca. They suggested that she remain in Pine Valley and write a new ending to her book. Her marriage to Jack could be the new ending. Erica insisted that marriage was not an ending and she would not compromise her dreams, even after Kendall pointed out that perhaps that was why none of her previous marriages had ever worked out.
Erica watched her children and grandchildren and reminisced the day Bianca was born as Opal found her and informed her that Jack was moving out. Erica rushed home with Opal and realized Opal was correct in assuming that Jack had moved out. Kit arrived and told Erica it was time to board the jet to Hollywood but Opal warned Erica not to give up on Jack. Her friend shared her regrets about the lost time with her beloved Palmer and pleaded with Erica not to make the same mistake. Opal told Erica about the party Adam and Brooke were hosting to welcome home Stuart, the latest person David had saved. Erica turned down Kit's offer to board the jet and instead planned what to wear to the party in order to win back her man.
Erica found Jack and the party and pulled him away for a private conversation. Erica declared she had a solution that would work for both of them. Jack could move to L.A. with her so they could have their nights together. Jack informed Erica that he was done putting his dreams on hold for her and pointed out it was clear she did not want to be married. Erica agreed but insisted she loved him. Jack wished Erica luck living the rest of her life without him and stormed away through the party. Erica chased after him and claimed she needed him. Jack replied that he did not care what she needed and a shot rang out.

Post a Comment

Share on Facebook

Tweet this

Submit Feedback