Adam Chandler, Sr.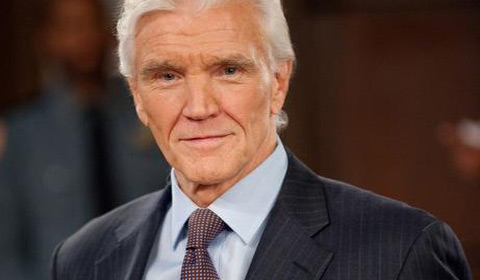 Born May 24, 1945
Founder and former CEO of Chandler Enterprises
Owner, IncredibleDreams.com
Former owner and operator of "Adam's Place," a bar formerly known as "The Pit."
Former owner of WRCW
Former owner of a fertility clinic
Former owner of Tempo Magazine
Former producer of the movie Raising Kane
Chandler Mansion (300 River Road)
Single/Engaged to Brooke English [Engaged: Sep 23, 2011; Re-proposed: Apr 29, 2013]
Althea (divorced)
Erica Kane (divorced)
Brooke English (invalid)
Dixie Cooney (invalid; deceased)
Natalie Marlowe (invalid)
Erica Kane (vow renewal)
Gloria Marsh (divorced)
Liza Colby (divorced)
Liza Colby (divorced)
Arlene Vaughan (divorced)
Liza Colby [Married: Mar 13, 2001; divorced]
Krystal Carey [Married: Sep 21, 2005; renewed vows: Mar 23, 2006; divorced: Dec 24, 2007]
Annie Novak [Engaged: Aug 4, 2009; Married: Nov 9, 2009; divorced: Jul 30, 2010]
Stuart Chandler (twin brother)
Charlotte Chandler (sister; deceased)
Ross Chandler (nephew)
Scott Chandler (nephew; via adoption)
Julie Rand Chandler (great-niece)
Hayley Vaughan (daughter; with Arlene)
Adam Chandler Jr. (son; with Dixie)
Anna Claire Chandler (daughter; with Gloria; deceased)
Unnamed Child (with Liza; miscarriage)
Colby Chandler (daughter; with Liza)
Miguel Reyes (son; with Sonia)
Unnamed Child (miscarriage; with Annie)
Lorenzo Hector Santos (grandson)
Adam Chandler III (grandson)
* Adam and Althea had previously adopted Skye Chandler Quartermaine
Joy Hawkins
Kaye Campobello
Sonia Reyes
Kaye Campobello
Had Stuart locked up in the west wing of the Chandler mansion for years
Tried to drive Dixie crazy, in order to get custody of their son, Adam, Jr.
Hired a thug to shoot Palmer Cortlandt
Paid Natalie to spy on Palmer
Faked his own death to test Erica
Stole Natalie's money by having her sign papers she didn't know she was signing
Blackmailed Erica into marrying him again
Illegally divorced Erica; had Stuart stand in for him
Kidnapped Erica and took her to Canada
Rigged a pregnancy test to show that Jeremy was the father of Natalie's baby
Told An-Li that she had to marry Brian Bodine in order to get her green card, just to keep Brian away from Hayley
Staged his own kidnapping to test Gloria's loyalty
Locked a pregnant Gloria in an abandoned building because he didn't believe her pregnancy was in danger
Swapped Jake's sperm specimen with his own so that Liza would have his child
Bribed a judge to grant custody of Max to Mateo rather than Raquel
Switched Colby's stem cells with another infant's so that his genetic link to Colby would not be revealed
Plotted to buy a controlling percentage in WRCW so that he could ruin Tad's career
Blackmailed Leo du Pres into having Paolo Caseli seduce Marian, in order to break up Marian and Stuart's marriage
Sabotaged the Colmar Tower and caused its destruction
Tossed Arlene's lifeless body overboard from the Fidelity after believing that Hayley had killed her
Forged Arlene's name on divorce papers
Jailed for bribing a police officer; plea bargain arranged for community service [Mar 2001]
Lying to the police; claimed he, instead of Adam Jr., was driving a car that crashed [May 17, 2001]
Assault; clobbered David Hayward [Jun 12, 2001]
Adultery; slept with Kaye Campobello while married to Liza. [Jul 2001]
Bribery/judicial tampering; slept with Kaye Campobello so that David Hayward would be found not guilty [Jul 2001]
Cited for contempt [Aug 8, 2001]
Assault; clobbered David Hayward [Mar 28, 2002]
Ambushed Vanessa at the hospital [Apr 5, 2002]
Hired a photographer to take pictures of Anna and David and published that they were married [Apr 5, 2002]
Gaslighted Liza, making her believe she was crazy/ill [Jun 12, 2002]
Blackmailed Trey Kenyon [Jul 2002]
Arrested for breaking and entering into a doctor's office as Pine Valley Hospital [Dec 24, 2003]
Arrested for the possible murder of Michael Cambias [Feb 6, 2004]
Had a videotape altered to make it appear as though Babe had threatened to kill J.R. and used the tape to blackmail Babe [Oct 2004]
Kidnapped Krystal's baby and planned to sell it on the black market [May 2007]
Arson; burned down Tad Martin's house after learning that Tad was the father of Krystal's baby [Fall 2007]
Threatened to frame Pete Cortlandt for rape if Pete didn't keep quiet about Colby being involved in a car accident [Jul 18, 2008]
Obstruction of justice; falsely reported his car being stolen to cover up that Colby had possibly run over Richie Novak [Jul 2008]
Participated in/accomplice to the tainting of Bella perfume with Pete Cortlandt [Sep 2008]
Blackmailed Krystal into testifying in J.R.'s favor during Little A's custody hearing [Apr 2009]
Assault; hit Tad Martin with a fire poker [May 15, 2009]
Held Annie at gunpoint [Jul 24, 2009]
Paid off a judge to have Annie released from an ankle monitor and undergo psychiatric treatment
Shot his brother, Stuart [May 15, 2009; revealed Oct 23, 2009]
Arrested for the murder of Stuart Chandler [Nov 20, 2009]
Suffered from high blood pressure
Suffered a stroke
Was poisoned by Gloria Marsh
Accidentally shot by Palmer while the men argued over which of them would shoot Michael Cambias [2003]
Experienced light-headedness and unexplained headaches; possible transient ischemic attack [Apr 2005]
Hospitalized in Philadelphia after collapsing [Mar 2009]
Suffered bruises when he crashed his car into a tree [Apr 3, 2009]
Collapsed after suffering a seizure while being taunted by J.R. Chandler [May 1, 2009]
Suffered a heart attack and "died" during his wedding [Nov 9, 2009]
Adam Chandler, a Pigeon Hollow native, arrived in Pine Valley in 1984. He grew up with Pete Cooney, a.k.a. Palmer Cortlandt, and they were rivals because of a past relationship Pete had with Adam's sister, Lottie. Adam first got involved with Erica in New York. Over the years, Adam was always involved with dirty dealing, such as swindling Natalie, blackmailing Erica, and trying to drive Dixie insane to get custody of Adam, Jr. He needed complete control over his children and wives, and would use every dirty trick in the book to get what he wanted. Manipulation was his strongest suit.
At the end of 1996, Adam and Liza developed a scheme to make the objects of their desires -- Tad and Brooke -- jealous. In the scheme, the two would get married and hope that either Tad or Brooke would stop the wedding. Part of the scheme saw Liza receiving ownership of half of WRCW. When she found out that Adam didn't own WRCW and that she was going to get nothing, she decided to forgo the plans to leave Adam at the altar and go through with the wedding.
Adam and Liza were in denial of their love for one another. As things progressed, Liza tried to scam her way into Adam's bed to consummate their marriage. At one final attempt, Adam and Liza were finally intimate, but by that time, Liza had fallen deeply in love with Adam and didn't care about his money. As it ended up, their one night of passion resulted in Liza getting pregnant. When she revealed the shocking news to Adam, he knew his feelings for Liza and the unborn baby were true.
Liza wanted to prove that she deeply loved and cared for Adam, so she wanted to buy him a real wedding ring, one with meaning. Marian and Liza took off on a shopping trip via a Transglobal jet. Unfortunately, the jet made an abrupt, hard landing, causing Liza to lose the baby. After learning the faulty turbine blades, made by a company Adam owned, were responsible for the crash, Liza instantly blamed Adam for the loss of the baby. Liza left Adam and filed for divorce. Adam tried to prove his love for Liza in any way he could, but Liza went through with the divorce.
Adam had a mild stroke after an altercation with Liza and was hospitalized. He was released and was back at Pine Valley Hospital almost immediately, suffering from a bigger stroke. Liza became concerned and was at his bedside. Adam was given a lethal dose of drugs, which caused his blood pressure to elevate and his heart to beat faster.
Dr. Hayward came to the rescue and claimed to be the hero for saving Adam, even though this "hero doctor" was the one who had injected him with the drugs in the first place. Dr. Hayward was hell-bent on seeing to it that Jake was held responsible for it. Adam filed a lawsuit against Jake. As for the divorce between Adam and Liza, Adam refused to sign, claiming that he and Liza would get back together.
Adam still teetered back and forth on whether or not to grant Liza a divorce. On the day of the divorce hearing, Liza found out the real reason why she had lost the baby, Fifth disease. Joe Martin told her that a woman in the hospital had been diagnosed with it and that Liza could have been in contact with her at any time during her pregnancy. With that news, Liza ran to tell Adam that it was not his fault about the baby. However, both were too proud to say that they didn't want the divorce, so the divorce went through.
While at the 1997 Crystal Ball, Adam saw a vision of a woman -- a woman whom he recognized from his "carny days." He and Stuart had rescued Joy from her abusive husband, Lee, and she and Adam had fallen in love. However, Joy's husband had continued to torment her, and in order to get her free from Lee's control, Adam and Stuart had faked her death. Adam was further confused when he continued to see this image of Joy in various places; as well, he began to hear voices, urging him to confess.
Unbeknownst to Adam, the young woman was actually Joy's daughter, Camille. Her father, Lee, had convinced Camille that Adam had killed Joy, and Camille was determined to avenge her mother's death. Adam found strange things happening wherever Camille was -- like an elevator that trapped Marian and Stuart and a fuse box that electrocuted -- and nearly killed -- Scott. Adam wanted everyone in his family to be aware that Camille was out to harm them, and even went so far as to fly Junior back to Pine Valley from Pigeon Hollow to keep him safe.
However, what Adam was unaware of was that Camille was not really the one behind the threats on his family -- her father, Lee, was. Camille had discovered that her father had lied to her, and was trying to stop him. Shortly after Dixie and Junior's arrival in Pine Valley on the Fourth of July, Lee rigged a boiler at Holidays to explode. Camille learned of his plans and rushed over to Holidays. She tried to warn everyone to flee for their lives, but no one believed her. She tried to fix the boiler, but was unable to stop it from exploding. She lost her life, trying to save the dozens of partygoers in the upstairs restaurant.
Knowing Camille was dead, Adam believed his family was safe. However, the horror was only beginning. Lee kidnapped first Junior, then Hayley, and held them hostage, planning to kill them as revenge for Camille's death. Junior managed to escape, and with Tad, Edmund, and Mateo's help, they rescued Hayley, but not before she received a tattoo from Lee, which caused her blood to be poisoned for months and meant she had to wait to become pregnant.
Adam was not pleased when he learned of Stuart and Marian's growing relationship, and went to great lengths to break them up. One of his schemes included gathering a collection of Marian's old flames at a dinner party, and parading them in front of Stuart, to show Stuart how unsuitable Marian was. Liza was furious at him for hurting her mother, and worked long and hard to get him to accept Marian and Stuart's relationship. Marian and Stuart were later married, with Adam's blessing.
Adam found out that Liza wanted to be artificially inseminated by Jake Martin. Adam wanted to put a stop to that, and, in typical Adam Chandler style, bought the fertility clinic and switched Jake's sperm sample with his own. Liza remained completely oblivious to the switch, and accepted Adam's marriage proposal, which put Adam on Cloud Nine. However, dastardly Dr. David Hayward had proof of Adam's paternity of the baby and threatened to expose the truth to Liza. If Adam thought about killing David, David had already made contingency plans: copies of the DNA report linking baby Colby and Adam would be sent to the police and to Liza. Adam was forced to play along with the notion that Jake was really the child's father, something that wasn't easy for him to do.
Adam and Liza were married. They went away to Adam's secluded fishing cabin, where Liza went into labor. David, still hell-bent on toying with Adam about the sperm switch, followed them and helped Liza through the birth of a baby girl, Colby. David continued to play with Adam, leaving town for a few days so that David's lawyer, Leslie Coulson, showed up at the Chandlers' with proof that David had given her, to be presented to Liza and Derek Frye in the event of David's disappearance or death. Liza just missed finding out about Adam's deception, but Erica snatched up the papers and discovered the truth. David convinced her to keep quiet.
Adam resented Jake for spending time with "his" daughter and went about attempting to control all his children. When Hayley split with Mateo, he moved her into his mansion and tried to keep her friends and family from seeing her. He got more possessive of Colby, and publicly ranted and raved when Liza and Jake agreed to give some of Colby's stem cells to a terminally ill Dimitri Marick. Yet again, he broke into hospital records to keep his paternity secret safe.
Chandler next moved on to young Adam Jr. Adam was outraged that the Martins were taking his children from him, at least in his mind. He was horrified that Tad had a bigger place than Adam did as a father figure in Junior's life, and was afraid that his son would grow up "to be a fool like Tad Martin." Adam attempted to talk his son into going off to a boarding school, and when that didn't work, he tried to trick him into going. Junior ran away, terrified of his father. Tad, Dixie, and Liza blew up at Adam, and when Junior was finally found, he didn't even want to speak to Adam.
When Ryan's Incredible Dreams venture hit rough water, he was forced to hand the business over to Adam. With Adam at the reigns, Ryan was forced to walk a thin line and run the business as Adam wanted. After Gillian's death in 2001, Ryan quit his post at IncredibleDreams.com after Adam refused to give him time away from the job to mourn Gillian.
At about the same time, Adam's son, J.R., began experimenting with drugs. His drug use spiraled out of control and J.R. was caught on videotape admitting that he had stolen drugs from David Hayward's room. David threatened to turn J.R. in to the police if Adam didn't help get him off on all of the Libidozone-related charges against him after he drugged all of Pine Valley on the Fidelity. Adam agreed to bribe the judge presiding over the case -- but money didn't quite work. Instead, Adam was forced to sleep with Judge Kaye Campobello. Accordingly, the judge found David not guilty. Liza had planned to get rid of Adam once and for all by divorcing him. She had secret meetings with an attorney, but Liza later decided to back off of those plans because Adam showed true signs of change, signs that were picked up by some of his biggest critics.
Adam took town troublemaker Mary Smythe into his home after Mary was cut off from her family's cash supply. The two grew closer, as Adam wanted someone to share his life with, and Mary wanted another meal ticket. Mary tried to endear herself by breaking up the marriage of newlyweds Adam Chandler Jr. and Babe Carey. Adam loathed Babe, who he felt was only after his son's money. Try as they might, Adam and Mary were unable to split the pair up. When Adam found out that Jamie had slept with Babe -- and Babe later found out that she was pregnant -- Adam tried to enlist Jamie into breaking up the marriage. That, too, failed.
Although not happy about the circumstances, Adam was pleased when his granddaughter, Bess, was born. It devastated him when Erica approached him with her belief that the baby was really Bianca's daughter, but he agreed to take the baby to the hospital for the DNA test that proved it was not J.R.'s child. Seeing J.R. lose Bess devastated Adam, but he was rejuvenated when they learned, shortly after, that Babe and J.R.'s son was alive and well. Jamie and Babe had kidnapped him, but J.R. and Adam managed to get him back.
Adam was thrilled when J.R. won custody of the boy in court and renamed him Adam Chandler III. Adam was more than eager to help J.R. keep Babe far away from Little Adam, but David offered to locate Liza and Colby for him if Adam would soften up to Babe. Adam was suspicious of Di, the new nanny that J.R. had hired for Little Adam, who later claimed to be Dixie. Adam got what he wanted when Babe offered to prove that Di was an imposter.
Babe, however, had a price -- she wanted Adam to free Krystal, who was doing jail time for the baby switch fiasco. Adam agreed to get Krystal out, but a DNA test seemed to prove that Di was telling the truth, and Krystal and Adam decided to take a deeper look into Di's past -- which resulted in a drunken wedding between the two of them. Krystal took advantage of her position as Adam's wife to get Babe more time with Little Adam. Despite himself, though, Adam soon found himself falling for his new bride, and the two renewed their vows at J.R. and Babe's remarriage ceremony.
Adam was thrilled when Krystal announced her pregnancy, and he was looking forward to finally having the chance to raise one of his children. Adam was crushed when he found out that it was Tad, not he, who had fathered Krystal's baby. Adam decided to break things off with Krystal and left her to give birth to her daughter all alone. However, Colby arrived and helped Krystal deliver Jenny.
Adam wanted to get revenge on Tad and Krystal for their one-night stand. He teamed up with Janet Green to kidnap Jenny. Adam planned to sell Jenny on the black market, but he did not succeed. Krystal and Tad found out and blasted Adam for it. J.R. also told Adam how disappointed he was in his father. Along with Jenny's kidnapping, Adam also burned down Tad's house.
Adam was in for a world of pain when he found out that J.R. had been kidnapped. The kidnappers demanded a huge ransom, so Adam went to Zach for help in paying the kidnappers. Zach loaned him the money but, in return, he got Adam's house and Chandler Enterprises. J.R. confessed to Adam that he had orchestrated his kidnapping all along, and Adam said J.R. was no longer a son to him. Eventually, J.R. and Adam reconciled.
Adam filed for and was granted a divorce from Krystal. What he also realized was that Kathy Mershon was really Tad and Dixie's daughter. He kept the a secret from Tad, but Ghost Dixie taunted Adam into confessing who Kathy really was. Adam told Tad that Kathy was Kate. In a rare moment, Tad shook Adam's hand for doing the right thing.
Adam teamed up with Pete Cortlandt to sabotage Fusion so he could get it for himself. Adam made J.R. believe that he would take over Fusion for J.R., but Adam really wanted the company. Adam, with Pete's help, tainted Fusion's new perfume, Bella. The tainting caused many people to suffer allergic reactions to the perfume, and they subsequently filed lawsuits against Fusion. Fusion took Bella off the market and the FDA closed them down to investigate what was going on at that time.
Meanwhile, Adam started to reconnect with his ex-wife, Erica Kane. When Adam and Erica were trapped together during the tornado, Adam told Erica that he had tainted Bella in order to get Fusion for himself. Erica, being an owner of Fusion, since Kendall had given her proxy -- and Kendall was in a coma -- managed to get the lawsuits filed against Fusion dropped.
In the early part of 2009, Adam began to suffer from memory loss and unusual behavior. He was hospitalized, but it was unclear exactly what was causing his health issues. David Hayward inserted himself into Adam's treatment and had Adam's heart medicine swapped out with a concoction that he'd put together in his own lab. At about the same time, Adam's financial health also took a downward spiral. Desperate to general some good publicity for Chandler Industries, Adam allowed an experimental heart valve to be implanted into Zach Slater and Kendall Hart's son, Ian. The valve malfunctioned, and little Ian nearly lost his life. On a dark and stormy night, nearly everyone in town had a reason to want Adam dead -- but only one pulled the trigger. What no one knew was that Adam had not been killed. It was his twin, Stuart, who had met with an untimely demise.
On the night of Stuart's murder, Adam formed a bond with Annie Novak when she led Adam to safety in the attic. Annie had recently escaped from Oak Haven, a mental institution, and was at the Chandler mansion to kidnap her daughter. Instead of taking off with her daughter, Annie stayed to help Adam. He could not clearly remember the details of the evening because he was disoriented. Adam later learned this was as result of the drugs David Hayward had been giving him.
Adam credited Annie for saving his life, and he repaid her by bribing a judge to secure her release from Oak Haven. Annie was placed under house arrest at the Chandler mansion. Adam's family was in disbelief when Adam allowed Annie to move in, because it forced J.R. and his son, Little Adam, to move out. A stipulation of Annie's house arrest required the home to be free of children.
Adam continued to defend Annie when many Pine Valley residents accused her of murdering Stuart, although Kendall Hart had been charged. His family continued to claim Annie was only after Adam's money and power, but Adam knew what Annie had planned for him. The district attorney had provided Adam with Annie's journal from Oak Haven, in which she had planned her wedding to Adam months before. Adam set up a hidden camera in the house so he could keep an eye on Annie. He also asked his nephew Scott to move in to the mansion to help keep a close watch on Annie.
Soon after Annie moved in with Adam, they became engaged. Adam knew Annie was hiding something from him regarding the night of Stuart's murder. He began to question what she was hiding, and he had proposed to make sure Annie believed he fully trusted her. Eventually, Adam's memories from the night of the murder returned, and he realized the secret Annie had kept -- Adam had murdered his brother. He was prepared to confess until Annie intervened. She told Adam she was pregnant with his child. Adam and Annie decided to be married immediately, but Adam collapsed at the end of the ceremony. His heart could not handle the stress of keeping Stuart's murder a secret.
As Adam recovered, Ryan Lavery and Erica Kane planted doubt in Adam's mind regarding Annie's pregnancy. Ryan knew that without Adam's power and influence, Annie would not be awarded joint custody of their daughter, Emma. When Dr. Jake Martin confirmed Annie was pregnant. Erica and Ryan then suggested Adam might not be the father of Annie's child. Adam was released from the hospital, but he suspected his nephew Scott could be the baby's father. Adam accused Annie of having Scott's child instead of his, but Annie swore she had only slept with Adam. During the argument, Annie suffered a miscarriage.
Annie had severe complications following the miscarriage and was unconscious. The child Annie lost was confirmed to be Adam's, and Adam was racked with guilt. He confessed he had accidentally killed his brother, and charges were filed against both him and Annie, who had covered up a murder. Adam hired Liza Colby to defend Annie when she recovered. Annie did recover, and eventually the charges against both Adam and Annie were dropped. They celebrated by renewing their wedding vows and challenging Ryan for joint custody of Emma, which they were awarded.
Adam continued to struggle with his heart condition, and his children, J.R. and Colby, were quick to accuse Annie of making his condition worse. Adam ended up back in the hospital briefly after Annie performed a seductive dance for him. Both Colby and J.R. tried to rid Adam of Annie, but Adam still named Annie as his sole beneficiary in the event of his death. He did place stipulations on his heirs, and Annie's prevented her from inheriting if she ever entered into another relationship even after Adam was gone.
Annie began to question if Adam truly loved her, especially when an ex-flame of Adam's, Brooke English, arrived in Pine Valley. Adam invited Brooke to stay at the mansion, and Adam leaned on Brooke instead of Annie when J.R. was near death, awaiting a bone marrow match. Annie was a partial match for J.R., and she used the life-saving transplant as a way to command Adam's attention. Adam questioned his feelings for both Annie and Brooke, but he decided to stay with Annie and let Brooke go. Adam changed his mind and left Pine Valley to be with Brooke when he discovered Annie and J.R. in bed together. Adam immediately filed for divorce and arranged for Annie to be kicked out of the mansion. He also punished J.R. by leaving Scott in control of Chandler Enterprises.
Adam and Brooke returned to Pine Valley when they learned that the Chandler mansion was in foreclosure. J.R. had regained control of Chandler Enterprises from Scott but had mismanaged the company and the family finances. Adam and Brooke toured the mansion filled with boxes and Adam opened a box that contained his handguns and realized one was missing. J.R. entered and reminded Adam he had given J.R. the gun that was missing.
J.R. accused Adam of returning to blame him for destroying the company and losing their home. J.R. verbally attacked his father for cutting him out of his most recent will and proclaimed that Adam had stayed away from Pine Valley because he could not stand to see J.R. due to his disappointment in him. Adam denied J.R.'s accusations and Brooke tried to defend Adam by explaining that Adam's distance from Pine Valley was his way of coping with Stuart's death and that writing J.R. out of the will was a way to free J.R. from being corrupted by money and power. J.R. disagreed and said he was leaving town. Adam agreed that might be best.
After J.R. left, Adam confessed to Brooke his regrets at parenting J.R. and admitted he felt lost without Stuart. Shortly after, Adam received a call from the hospital that a loved one had been admitted and was in critical condition. Adam immediately assumed it was J.R. but was shocked to realize the family member was Stuart. David Hayward had used his experimental Project Orpheus treatment on Stuart after Adam had shot him.
Stuart's life hung in the balance while David Hayward and Griffin Castillo tried to revive Stuart's heart. When Stuart's heart appeared to stop, Angie Hubbard brought Adam to Stuart. Adam took his brother's hand and told him he loved him. Stuart recovered and opened his eyes and Adam told Stuart he was home where he belonged. He also apologized to Stuart for shooting him and told his brother he did not expect forgiveness. Stuart forgave him.
Adam received more good news when Brooke shared that she had used her inheritance from her Aunt Phoebe to purchase the Chandler mansion. Brooke and Adam decided to host a party that very night at the Chandler mansion to welcome Stuart home. They invited many of the residents of Pine Valley to attend the event. The party began and one uninvited guest, David Hayward, stopped by. Adam and David spoke in the foyer and Adam admitted he was grateful to David for saving his brother's life and David reminded Adam cash always makes a good thank-you gift. Adam gave David an envelope of cash and then he headed back to the party.
Tad Martin made several toasts celebrating life in Pine Valley and Adam followed up with a special toast of his own. He announced he needed to add to the reasons to celebrate and he pulled out a ring and proposed to Brooke. Adam explained he had been carrying the ring around waiting for the right time to ask Brooke to marry him. She accepted. The residents of Pine Valley continued to celebrate as a shot rang out.
Time advanced five years between the final episode on ABC and the first episode of Prospect Park's online version.
Five years later, Adam and Brooke were still together but they continued to be haunted by the memories of the shot J.R. had fired at the Chandler mansion. Adam declared that it was time to move forward and he proposed to Brooke. His proposal included a request that she run Chandler Enterprises while he handled business abroad. Brooke accepted the proposal and the position. Before Adam left town, he said good-bye to his teen-aged grandson A.J. and stopped by the hospital to visit J.R., who had been in a coma since he had shot and killed A.J.'s adoptive mother Marissa and was then shot by Marissa's father David. Despite J.R.'s poor choices, Adam admitted his love for his son, unaware that J.R. had heard him.
While Adam was gone, J.R. awoke from his coma but Brooke remained at the helm of the company. He returned a few months later to attend the Chandler Media charity gala. At the event, a presentation J.R. had prepared fell apart when his file was corrupted. J.R. publically lashed out at Brooke and accused her of sabotage until Adam stepped in and silenced him. Adam privately assured Brooke that J.R. would not cause problems for her again. After consoling Brooke, Adam headed to the airport.

Post a Comment

Share on Facebook

Tweet this

Submit Feedback