Soap opera veteran Mark Pinter (Roger Smythe) has been removed from contract status with All My Children.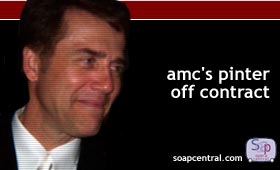 Pinter, a veteran of soaps such as As The World Turns and Another World, made his debut on All My Children on January 9, 2001 in what was only to have been a two-day stint. AMC fans were won over by his role as Greenlee's cold-hearted father and apparently show executives were as well. Pinter was offered a long-term contract and returned to Pine Valley the following month.
However, viewers have complained that the accomplished actor has been woefully underused during his run with the show. Recently, Pinter's character became involved in the show's Proteus drug lord storyline.
Pinter states in a published interview with Soap Opera Digest that AMC's executive producer Jean Dadario Burke and head writer Richard Culliton went to the mat for him. In the end, ABC execs decided that Pinter was no longer needed as a contract player.
Roger will make his exit during the show's annual Crystal Ball. Pinter claims that he didn't know his final scenes were his final scenes until after production of the episode had wrapped.
There is some talk that Roger could return to the screen in the near future as a recurring character.