Cameron Mathison (Ryan Lavery) has decided to exit his Emmy nominated role on All My Children.
Citing personal reasons, Mathison will take a temporary leave from All My Children next month. During his time away, Mathison plans to travel across the country with his fiancée, Vanessa.
"I love my life on the show, but I'm at a time in my life where I need to try to do some other things," Mathison said in a statement. "I shall remain eternally grateful to the incredible team of talented professionals at 'All My Children' and ABC Daytime, many of who I consider my extended family. It has been an amazing four years. I also want to thank the fans for their continued support, loyalty and friendship."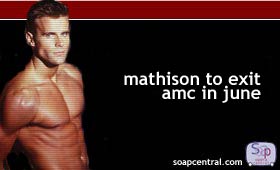 Last year a maelstrom of uncertainty surrounded Mathison as the "Will he stay or will he go" rumors flew fast and furious. After initial reports in a popular magazine that the actor's exit was a done deal, Mathison fired back on his person web site with a message calling the reports "totally and completely not true." Mathison hedged when it came to talking about whether he might leave the show.
"I could re-sign, I could not, or I could just take a little break for a while... I really have no idea," Mathison wrote.
In November, Mathison and show execs reached a deal that extended the actor's stay in Pine Valley. The terms of the deal were never released.
Mathison will exit All My Children in June. A final airdate has not yet been announced. Though he is leaving the show, Mathison will appear sporadically throughout the summer to wrap up his storyline. A setside source hints that the door will be left open for Mathison to return at a later time.
The Canadian-born actor first appeared on All My Children January 12, 1998.