Bradley Cole (ex-Richard Winslow, Guiding Light) will make a guest appearance on All My Children in January. Cole will play Jordan Roberts, a friend of Erica Kane.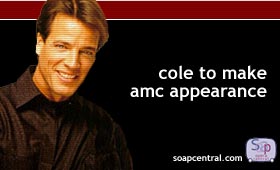 Cole opted to leave his role as Richard Winslow on CBS's Guiding Light in July. While Cole was quite popular among fans of the show, the actor decided that he wanted to leave daytime to pursue other projects, including a return to the stage. Any chance of Cole returning to his role on Guiding Light was wiped away when the writers killed off the character and had the character's heart donated to another lead character.
Cole apparently beat out a former Days of our Lives star for the two-day AMC appearance. Roark Critchlow (ex-Mike Horton, Days of our Lives) told fans on his official web site that they might soon have reason to tune into All My Children. However, Critchlow later revealed that the AMC project fell through.
Cole's stint on AMC is scheduled to last just two days and there is no word on whether or not the role could become more regular. Mark Pinter (ex-Roger Smythe) similarly signed on in 2001 to portray Roger Smythe, Greenlee's father. Fan reaction to Pinter's work was so positive that show execs offered a contract to the actor.
Cole's appearances are scheduled for January 2 and 3.