The speculation over who will take over the head writing duties at All My Children has come to an end.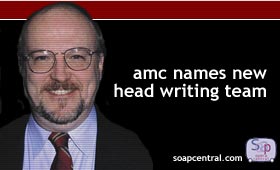 Gordon Rayfield, who has been serving as an interim head writer since the dismissal of Richard Culliton in October, will assume head writing responsibilities effective immediately. To the relief of some fans critical of changes in a show's writing staff comes some solace: Rayfield was promoted from within All My Children. He currently serves as a member of the show's Emmy-nominated writing staff. Rayfield's work first aired on December 11.
Joining Rayfield on the head writing team as co-head writer Anna Cascio. Cascio previously served as a member of the writing staff of One Life to Live. Cascio's move to AMC takes effect on December 30th.
The announcement finally puts to rest rampant speculation that As The World Turns' head writer Hogan Sheffer would be taking over the head writing spot at All My Children. Earlier this month Sheffer went on the record stating that, while he was flattered by the attention, he had no intention to jump ship to ABC.