Appearing with his attorney, Joseph Ranni, former All My Children star Michael Nader (ex-Dimitri Marick), appeared on CNN's American Morning with Paula Zahn today to discuss a lawsuit he's filed against ABC, a lawsuit that stems from his dismissal from the show following a 2001 arrest on drug possession charges.
On Saturday, February 24, 2001 was arrested by New York City Police for allegedly selling a $20 bag of cocaine to an undercover cop at the unlicensed Barber Shop nightclub in Manhattan's Lower East Side.
"I don't know if the public knows, but for 17 years, I was drug and alcohol free from a 12-step program," Nader said. "So for this event to resurface later in my life was devastating, obviously, to me."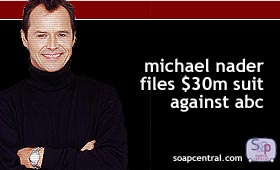 Nader received treatment at an undisclosed substance abuse facility. Charges against Nader were later reduced during an April 24, 2001 hearing. The original charges, a felony count of selling a controlled substance, were reduced to a misdemeanor possession. An additional charge of resisting arrest was dropped. In exchange for the reduced charges, Nader pled guilty and he was later placed on probation.
During the ordeal, it remained uncertain if Nader would return to his role on All My Children. Stuck with already written storyline for Nader's character, ABC hired Anthony Addabbo to fill in for Nader. A voiceover announcement aired during Addabbo's first few episodes stated that he was "temporarily" playing the role of Dimitri Marick.
"If Mr. Nader gets the help he needs and addresses his problem, and if it makes sense for the show, we would be prepared to speak with Michael in the future," a network spokesperson said in a statement released in March 2001. Nader admits that the network's purported promise to him that he could return to work was never written into a contract.
With Nader's future at the show uncertain, the writers wrapped up the character's storyline and Dimitri was written off the show's canvas. Later, Nader asserts, he was told by network brass that he was not welcome back at the show.
"I had a meeting with them with my lawyers, and they said, 'We do not want you on the show, and we never want you back on the show,'" Nader claims.
While most contract terms for soap actors remain under wraps, Nader's contract paid him "four hundred and some odd thousand dollars." In his lawsuit against ABC, however, the actor seeks almost $30 million. The actor also seeks to be re-hired for his AMC role. Nader's attorney announced that the lawsuit has been filed through the Americans with Disabilities Act.
"[ABC] misrepresented that they were going to let him back," Rianni explained, "When they said stay in your recovery, the contract is going to protect you, that we are going to follow the contract and bring you back, that's a misrepresentation. That is fraudulent activity in order to make sure that, No. 1, he didn't perform for them, and No. 2, he couldn't perform for others."
ABC declined to comment on the lawsuit.