Even though the network officially has no comment on J. Eddie Peck's (Jake Martin) exit from All My Children, the actor has released a statement confirming that he will soon be leaving the show he has called home since August 2000.
"Yes, it's true, I am leaving my role as Jake Martin on All My Children," Peck said in a statement.

The decision to have Peck exit is said to be a mutual decision by Peck and show executives. Peck and his wife maintain a residence in Southern California. All My Children, however, is filmed in the heart of Manhattan's west side.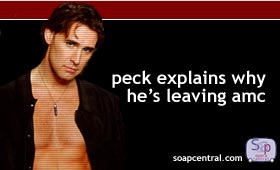 "When ABC first approached me about All My Children, [my wife] Sonya and I talked about the possibility of living in NY," Peck explained. "I remember looking into her eyes and we both got this sense of excitement about trying something new and we said 'let's go for it.' We were also attracted to the greater educational opportunities that my two sons could have in the NY area."
Peck, however, felt that the network "needed to see a higher level of commitment" to his character -- as well as other members of the core Martin family. When Peck approached network execs in July 2002, he said that he did not feel that that committment was going to be met and asked to be released from his contract. The network, however, refused to let him walk.
Things apparently changed behind-the-scenes with the introduction of AMC's new head writing team. The network agreed to honor Peck's request to be released, even though Peck admits that he really wanted was for the show to go back and honor the rich history of the Martin family.
Talk has already begun on the 'net that Peck might return to The Young and the Restless, where he played Cole Howard from April 1992 to November 1999. A spokesperson for Y&R, however, states that having Cole return to the show's canvas is not in the gameplan.
"The cast, crew and production staff at AMC have become not only my friends, but my family here in NY. They are an extremely talented and professional group of people and I have admiration for all of them," Peck said. "To all of you who have been so generous with expressing your support for me in the last two-and-a-half years on the show and certainly within the last several weeks. I thank you with all of my heart on behalf of me and my family."
Peck's final tape date is February 3rd. His final on-air appearance is set to air in either the final week of February or the first week of March.