Lately it's become a weekly occurrence at All My Children to have an actor released from his contract or -- even worse -- get fired. This week's casualty is newcomer Sam Page (Trey Kenyon).
According to a spokesperson for All My Children, Page's exit is "storyline dictated." The role will not be recast.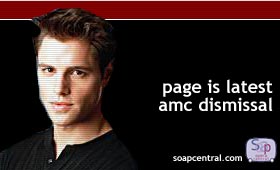 Page joined the cast of All My Children on March 28, 2002. At the time, he was believed to be a budding young attorney. It was later revealed that Trey was really Ben Shepherd, son of Vanessa Bennett and child molester B-movie star Richard Fields. Trey's biological link to the dastardly Fields also made him half-brother to another town pariah, Kendall Hart. The writers moved quickly to develop a brother and sister bond for Trey and Kendall and Trey became involved in several other key-storylines, including a recent kiss with Greenlee duPres and his pseudo-adoption of street kid Reggie.
Page was also named one of America's most eligible bachelors in a People magazine feature.
Soap Central first learned of Page's exit a little over a week ago, but a show insider asked that we not reveal the information. When the news of Jason Olive's (Frank Hubbard) dismissal hit the Internet earlier this month, Olive had not yet been notified by ABC that he'd been fired. Because of that, we opted to use discretion and not reveal Page's release until a spokesperson for the actor confirmed that Page knew of his fate.
Internet chatter claims that Page's dismissal was the decision of ABC Daytime President Brian Frons, who reportedly was not a fan of the character of Trey Kenyon. A spokesperson for ABC explains that the network does not comment on Internet rumors.
Page has since taped his final All My Children appearance. His will make his exit in February.