The cast of All My Children will lose yet another of its young female performers. Fans of the show still reeling from the announced departure of Eden Riegel (Bianca Montgomery) will now have to come to terms with the exit of Elizabeth Hendrickson (Maggie Stone).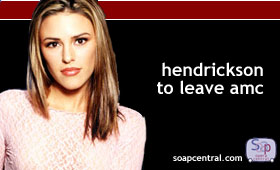 Hendrickson joined the cast of All My Children in September 2001 as Mary Frances "Frankie" Stone. Though the stage was set for Frankie and Bianca to possibly form a relationship, Frankie's life was cut short when she was gunned down in November 2001. Frankie's death led to outrage among some viewers who accused the Disney-owned ABC network of backing down from a same-sex love story. Then-head writer Richard Culliton insisted that Frankie's death had been incorporated into the show's storylines from the beginning. Fans and network execs, however, were quite taken with Hendrickson's work and some scripts were shuffled to allow for Hendrickson to return to the show - as Frankie's twin sister, Mary Margaret "Maggie" Stone.
In February 2002, Hendrickson returned to Pine Valley as Maggie and fans again clamored for the writers to explore the chemistry between Riegel and Hendrickson's alter egos. Unlike Frankie, Maggie was written to have a strong interest in heterosexual relationships, including romances with Henry Chin, Jamie Martin and Jonathan Lavery. However, somewhere intermingled in the storylines, the writers implied some ambiguity in Maggie's sexuality and, perhaps, unresolved feelings for Bianca.
Show sources say that while Hendrickson renewed her contract with the show last year, she did not renew for a long-term period of time. Those same sources hint that Hendrickson agreed to stick around until co-star Riegel made her exit from the show.
The final airdate for Hendrickson is February 24th - the same day as Riegel's exit. The role of Maggie Stone will not be recast.