In a message on her official web site, Eva LaRue (Maria Santos) has confirmed a report first made by Soap Central earlier this month indicating that she will be leaving All My Children later this year. Rumors that LaRue might exit the show have been circulating for several months. In fact, the actress reportedly told show execs earlier this year to start planning her character's exit.
"I want to send out a massive apology for not being the first to [announce] that I was leaving the show," LaRue said in a statement. "I have been under a bit of gag order by the show and I hate it when you try to play by the rules and others cut in line."
This will not be the first time that LaRue has left All My Children. In 1997, the actress jettisoned the daytime world to appear in a primetime series, the UPN network's "Head Over Heels." The sitcom was panned by critics and viewers weren't too fond of it either. After airing just a few episodes, the show was cancelled. This time, however, if LaRue decides to focus on primetime television, she already has a foot in the door. The actress already appears on a recurring basis on ABC's The George Lopez Show, as the sister of the title character played by George Lopez. Additionally, LaRue will appear in a new series on The Style Network later this year.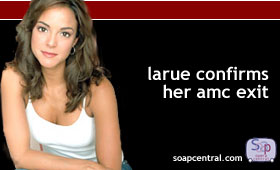 The decision to leave All My Children has reportedly been very difficult for LaRue. Following a separation from husband John Callahan (ex-Edmund Grey), LaRue expressed a desire to move back to California to be with her family.
"I don't want to get all soapy on ya but it is going to break my heart to leave. Being part of All My Children changes your molecules, it literally becomes part of who you are. This has become a second family to me but it's time for me to rebuild and my family on the West Coast has been calling me to return for a long time," LaRue continued in her statement. "But whenever I have the need to visit to Pine Valley, I will close my eyes, click my heels three times, and say there's no place like home."
LaRue joined All My Children in March 1993 and remained with the show through 1997. After a brief one-day return in 1998, LaRue remained away from the show until June 3rd, 2002. Her final on-screen appearance is scheduled for later this spring.
An ABC spokesperson declined to comment for this story.