Sydney Penny (Julia Santos) has signed a deal that will bring her back to ABC's All My Children this summer.
Up until earlier this year, Penny was a contract player across the dial at CBS's The Bold and the Beautiful. In most markets, the 30-minute B&B airs opposite the final half-hour of All My Children. Penny's character on the CBS soap, Samantha Kelly, failed to catch on with viewers and her on-screen time dwindled as her stay with the show waxed on. Eventually, Penny was taken off contact, though she continued to appear on a recurring basis.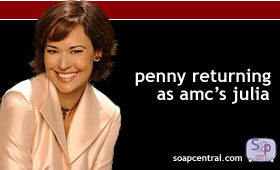 When Penny was snatched up by The Bold and the Beautiful in August 2003, it put the kibosh on All My Children's reported plans to bring the actress back to the show. AMC wanted to put Penny on contract with the show but, at the time, Penny expressed a desire to remain in California. All My Children is taped in New York, while B&B is filmed in Los Angeles.
It has been about two-and-a-half years since All My Children fans last saw Penny in Pine Valley. The actress debuted as the middle Santos sibling in September 1993 and remained with the show through November 1996. Since leaving a full-time AMC gig, Penny has made guest appearances in August 1997 and December 2002.
Penny's return may initially be a bit complex to work into the All My Children script. Her character fled Pine Valley after being enrolled in the Federal Witness Relocation Program. Penny's exit was coupled by the exit of her on-screen husband, Keith Hamilton Cobb (ex-Noah Keefer). However, Cobb will exit his current role on The Young and the Restless at the end of May - and rumors that he will be returning to AMC have already begun to circulate.
Penny makes her return to All My Children on August 5, 2005.