Sydney Penny is returning to daytime television. The actress, best known for a run on ABC's All My Children, has landed a contract role on CBS's The Bold and the Beautiful.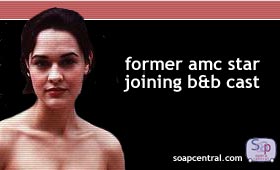 On The Bold and the Beautiful, Penny will appear as Samantha Kelly, a childhood friend of Ridge Forrester.

Penny earned her big break as an actress in the epic mini-series The Thorn Birds, in which she played a young Meggie Cleary. Penny made her debut in daytime television as BJ Walker on NBC's Santa Barbara, but it was her work on All My Children that earned her legions of daytime fans. Penny played Julia Santos from 1993 through 1996, and then again in guest appearances in 1997 and 2002. For a brief time in 1999, Penny filled-in on Sunset Beach.

Penny had reportedly been approached by AMC executives to return to Pine Valley on a full-time basis, but the actress agreed only to return on a "recurring basis." Penny's return lasted just handful of episodes. It was said that Penny did not have a desire to relocate to the East Coast. All My Children is filmed in New York while The Bold and the Beautiful tapes in Los Angeles.

Complicating matters for a return to AMC was Penny's former co-star and on-screen love, Keith Hamilton Cobb's (ex-Noah Keefer), unwillingness to return to the show. Cobb has since signed on to play Damon Porter on CBS's The Young and the Restless.

Penny premieres on The Bold and the Beautiful on August 11th.