What is your reaction to new that Rebecca Budig may leave AMC?

I'm crushed. I can't imagine not seeing her on AMC any more.
54%
Fans won't accept a recast, but I hope Greenlee isn't killed
19%
I hope AMC recasts Greenlee. The character is too important.
10%
I sensed this was coming, so I've been preparing myself.
5%
Other
4%
I don't have an opinion about Budig's status with AMC.
4%
I don't think she's leaving. This is all just gossip.
3%
Poll Posted: May 25, 2005
Though unconfirmed by the network, the rumors that Emmy-nominated
Rebecca Budig
(
Greenlee Smythe
) is leaving All My Children are growing louder. In fact, there are now published reports confirming her exit.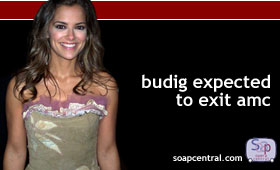 As previously mentioned by Soap Central, talk that Budig planned to leave the ABC soap first surfaced back in March. According to chatter at the time, Budig was ready to spread her wings and focus on projects outside of daytime television. For the past year or so, Budig has moonlighted for the WE network's Full Frontal Fashion program. The Women's Entertainment network recently announced that the fashion show - and Budig - would be back for another season.
Budig's career in daytime television spans more than just the six years that she spent on All My Children. Prior to joining AMC in August 1999, Budig had a three-year run as Michelle Bauer on CBS's Guiding Light.
Budig was nominated for an Outstanding Supporting Actress Emmy in 2001 and 2003.
It would appear unlikely that the role of Greenlee would be recast. Requests for comment were not returned by reps for Budig or All My Children.