Though it was initially unconfirmed by ABC, soapcentral.com has learned that Bobby Steggert (Sam Grey) has been let go by All My Children. The dismissal may explain why the character's storylines had been cut short in recent months.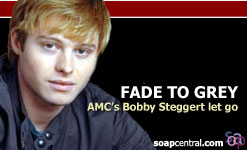 Steggert joined the cast of All My Children in March 2005 in what was to have been a recurring role, but after a few months with the show he was upgraded to contract status. Fans seemed taken by the actor's on-screen chemistry with actress Leven Rambin (Lily Montgomery), but their fledgling romance has received almost no airtime since the summer.
Rumors that All My Children might begin cutting its large cast have been floating about for some time. While the bulk of that chatter focused around some of the show's veteran performers, there has also been talk that a handful of newcomers were also on the chopping block.
With Sam's father killed and his mother living in California the show's writers have been reluctant to give the character much storyline - in spite of having had the character tied back to his biological family, the Martins.
"Sam will be leaving Pine Valley," an AMC spokesperson said. "It's storyline-dictated." Steggert makes his final on-screen appearance on December 20th.