Though no one at ABC is speaking officially, Soap Central has learned that William de Vry (Michael Cambias) will be returning to All My Children in 2006. The news is now being confirmed on the actor's official web site.
Rumors of de Vry's return to All My Children started making the rounds when the actor was spotted near the AMC studio in Manhattan. De Vry was quick to dismiss talk of his return to All My Children, saying that his presence was "just a simple visit."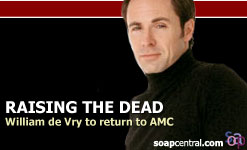 But in an announcement on de Vry's official web site, fans are being told a different story. According to the site, Michael Cambias fans will have their wishes come true this holiday season.
"It's official," the announcement reads. "Michael Cambias will return to All My Children in 2006."
It's been well over a year since All My Children fans had a glimpse of the murdered rapist, Michael. Since Michael is (or at least was) dead, the shows scribes will have to do some backpedaling to explain how Michael's corpse managed to resurrect itself from its final resting place in a landfill. But as it is currently being developed, Michael will appear to his brother, Zach (Alexander Cambias, Jr.) in a dream sequence that will air over two episodes. In the dreams, Michael will attempt to convince Zach that there is no such thing as a Cambias Curse.
During his contract run from January through August 2003, de Vry earned critical praise for his work. In fact, the actor was awarded a Daytime Emmy nomination for Outstanding Supporting Actor in 2004. But as is the case with most soap opera villains, he met with an untimely demise. Well, at least that's how it appeared.
ABC had no comment for this article. William de Vry's two-day return takes place on January 27 and 31, 2006.