How do you feel about AMC getting rid of Cigliuti's Anita?


I'm upset. I enjoyed Cigliuti's work and think the writers dropped the ball
38%
Cigliuti is a good actress, but Anita was such a boring character.
38%
I didn't care for Anita and Cigliuti's work did nothing to change my mind.
15%
I have no opinion one way or another about her dismissal.
8%
This is just a rumor. I don't believe that she's been let go from the show.
1%
Other
1%
Poll Posted: March 23, 2006
Little-seen
Natalia Cigliuti
(
Anita Santos
) has been released from her All My Children contract. The news, while disappointing to fans, does not come as a total surprise. The actress' on-screen time has been nearly nonexistent in recent months.
Cigliuti joined the cast of All My Children in February 2004 as a young woman whose marriage was in trouble. It had been seven years since Anita had been seen leaving Pine Valley to start a new life with then-boyfriend Bobby Warner. When the two characters returned - both recast - their storyline was sketchy at best. The couple seemed to want to patch up their marriage, but fans didn't seem particularly interested. Upon the announcement of Anita's return, a third of those responding to a poll on Soap Central said that they didn't see a need for Anita in Pine Valley.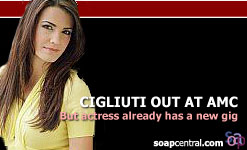 Actor Christian Campbell (Bobby Warner) lasted less than a year with the show and was written out in January 2005.
Cigliuti's character had a blossoming relationship with Aidan Devane. However, the romance was put on hold so that Cigliuti could take maternity leave. When the actress returned to work, the show's writers had moved on: Aidan had a new possible love interest and much of Anita's family had been written out. The situation becomes somewhat touchy because of a lawsuit filed against ABC by actress Kari Wuhrer (ex-Reese Marshall). Wuhrer claims that she was wrongfully dismissed by ABC after she revealed that she was pregnant. In papers filed for the case, Wuhrer alleges that she is not the only actress to be pushed out the door because of a "surprise" pregnancy.
Meanwhile, Cigliuti and former The Young and the Restless Lyndsy Fonseca (ex-Colleen Carlton) have both landed parts in a pilot for CBS. The series, a drama about the quirky mayor of Providence, Rhode Island, will also star Larenz Tate, Mary Stuart Masterson and Joe Pantoliano.
ABC had no comment on Cigluiti's status with the show.