It's a well-known fact in the soap opera world: most villains eventually get what's coming to them. While All My Children's Greg Madden dastardly deeds might not put him at the top of the "Pine Valley's worst villains" list, the not-so-good doctor's days in Pine Valley do seem to be coming to an end.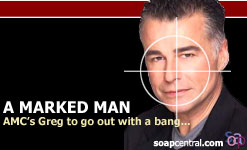 As Soap Central readers may recall, Ian Buchanan's (Greg Madden) stay on All My Children was never intended to be long-term. In fact, since joining the cast of the ABC soap in May 2005, the actor has already signed one contract extension. That extension, inked in the Fall of 2005, was offered to Buchanan in order to allow the show ample time to explore the current front-burner storyline in which Greg's son, Josh, was revealed to be the son of Erica Kane and Jeff Martin.
Buchanan has an impressive resume - and not just in daytime television. In addition to his roles as James Warwick on CBS's The Bold and the Beautiful and Duke Lavery on General Hospital, Buchanan has appeared on the silver screen as well.
Buchanan's final airdate has not yet been released by ABC. However, Buchanan's character is expected to go out with a bang by month's end - and lead to a whodunit storyline that will serve as one of the show's major summer storylines.