As first reported by Soap Central back in February, All My Children execs had an active interest in bringing Colby Chandler, the daughter of Adam Chandler and Liza Colby, back to Pine Valley. After a lengthy search, the show has cast the role and set a first airdate for a much-aged Colby.
When last spotted in Pine Valley, Colby was played by 5-year-old actress Kathryn Newton. The actress exited the show when her alter ego was kidnapped from Pine Valley by her on-screen mother, Liza.
This time around, daytime newcomer Ambyr Childers will assume the role of a teenaged Colby.
An exact age has yet to be released by All My Children's publicity department, but an initial casting call put the character's age somewhere around 16. In reality, Colby would only be about 7 years of age; this phenomenon is called "Soap Opera Rapid Aging Syndrome" (or SORAS) by fans. Characters, usually children, are often "aged" to accommodate storyline.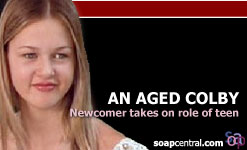 The storyline planned for Colby has the young woman returning to town to cause more than a few headaches for her father. Her return will echo much of what Adam went through when another of his daughters, Hayley Vaughan, showed up in Pine Valley in the early 1990s.
Childers is a newcomer to daytime television, but the young starlet has appeared in several feature films. Her most recent on-screen gig was in the 2003 film Dickie Roberts: Former Child Star.
In landing the part on AMC, Childers reportedly beat out at least one soap vet for the role of Colby. Robyn Richards (ex-Maxie Jones, General Hospital) was spotted at the AMC set and word spread quickly that the actress had auditioned for the role of Colby.
Don't expect to see Emmy award-winning actress Marcy Walker (ex-Liza Colby) back in Pine Valley any time soon. The actress has retired from acting to focus on Christian ministries work that helps young children. [Click here for our related story].
Childers will first air on July 3rd.