With Tanisha Lynn leaving, should AMC recast Danielle Frye?

If AMC couldn't find story for Lynn, why bother bringing in a new actress?
66%
Yes, I think there is a lot of story left for Danielle. Recast the role.
16%
I'm not really a fan of Danielle, so I think that she should be written out
8%
It doesn't matter to me what the show decides to do with Danielle.
5%
I'm thinking no, but maybe a new actress would bring a new story.
3%
Other
1%
Poll Posted: May 24, 2006
There are some changes coming to the "younger set" scene on ABC's All My Children. As the show prepares for its typical teen summer storylines, there will be an influx of new faces and at least the departure of one familiar, though under-utilized star.
Setside sources tell Soap Central that Tanisha Lynn (Danielle Frye) will exit the show by the end of the summer. Lynn joined the cast of All My Children in March 2004 and still has the better part of a year remaining in her contract. However, the actress has asked to be let out of her contract early and show execs reportedly were happy to oblige her.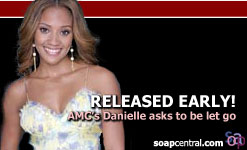 Though Lynn initially had substantial on-screen time as part of a love storyline with actor Michael B. Jordan (Reggie Montgomery), Lynn's on-screen presence of late has been reduced to serving as background. The character has not been part of a major storyline in nearly a year.
Lynn's impending exit also has prompted some insiders to speculate that Jordan might also be leaving. Earlier this year, Internet rumors claimed that both Jordan and Lynn had been taken off contract. A show spokesperson denied the rumors, asserting that both performers were still on-contract.
Jordan joined the cast of All My Children in March 2003. Though he has ties to major characters, Jordan's Reggie has not seen much in the way of substantive story in some time.
Both Jordan and Lynn were newcomers to daytime television upon landing their respective All My Children roles. Lynn had several guest-starring roles in primetime television as well as having appeared in several motion pictures. Jordan, meanwhile, appeared in guest roles on programs such as The Sopranos, The Wire and Cosby.
AMC head writer Megan McTavish asserts that the role of Danielle will be recast, though no official statement from the network has been made.
With the possible loss of two young African-American stars, AMC's casting department has already stepped up to add another Black performer to the cast. The show has announced that Jamal Cudahy, the adopted son of Tom Cudahy and Livia Frye, will be returning in June.
For more on Jamal's return, please click here.