Heads are rolling - or not rolling, depending upon how you look at it - at All My Children. Two veteran contract performers have been let go to make way for a flood of new, younger stars. And rumor has it that this is just the beginning.
When All My Children's revamped opening credits debuted earlier this month, fan were overjoyed to see that some of the show's recently-hired stars had finally made it to the lineup. But upon closer examination, the credits were also missing two familiar faces.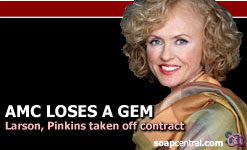 All My Children has released Jill Larson (Opal) and Tonya Pinkins (Livia Frye) from their contracts. According to a statement from the show, both actresses are now on recurring status, but may continue to make appearances on the show in the future.
Jill Larson joined the cast of All My Children in November 1989, assuming the role of Opal Gardner that had been played several years earlier by Emmy-winner Dorothy Lyman. Larson racked up two Emmy nominations of her own in 1991 and 1993 in the Supporting Actress field. Though Larson had been relegated to the back burner (or even off the burner) for the past few years, fans had been holding out hope that Larson would soon see more on-screen time as the show ponders a move to age and recast Petey Cortlandt, Opal's son.
The Tony Award-winning Pinkins, meanwhile, re-joined All My Children in December 2003 following an eight-year absence. Even as a contract performer, Pinkins has seen little airtime over the past two-and-a-half years. During a portion of her time on AMC, Pinkins pulled double-duty as she appeared in the Broadway play, Caroline, or Change, for which Pinkins was again nominated for a Tony.
A spokesperson for All My Children did not respond to requests for comment on this article.