Rumors of Michael B. Jordan's (Reggie Montgomery) dismissal from All My Children have been swirling since May. The whispers first started when Jordan's on-screen love interest, Tanisha Lynn (Danielle Frye), reportedly asked to be let out of her contract. Now, almost four months later, Lynn has denied that she's leaving. But it looks like Lynn's on-screen persona is going to have to get along without Reggie.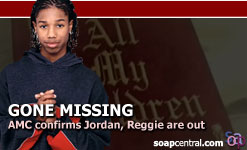 An All My Children spokesperson has now confirmed that Jordan will not be making any additional appearances on the ABC soap. Though the young actor's contract was not set to expire until March of 2007, the actor was released from that contract early.
During his three years with All My Children, Jordan was twice honored with Daytime Emmy pre-nominations in the Outstanding Younger Actor field. Those nods came in 2003 and 2006. Jordan also received two Image Awards nominations in 2005 and 2006 for Outstanding Actor in a Daytime Drama Series.
Jordan may not have much down time. The actor is slated to appear in the movie "Blackout," which should begin production sometime next year.
There are no immediate plans to address Reggie's missing in action status within the show's current storylines. Instead, Reggie will remain off-screen. There are also no plans to recast the role at this time.
Jordan last aired on June 5th.