Earlier this year, Soap Central first reported on Tanisha Lynn's (Danielle Frye) decision to leave All My Children early. The actress, who has been a member of the AMC cast since 2004, was slated to exit by the end of the summer. Now, however, the actress wants to set the record straight about her status with the ABC soap.
Now, as September approaches, some fans have wondered why the actress continues to air on the show. In some instances, Lynn has appeared more frequently than she has in the weeks prior to the exit announcement.
"I must address a few rumors that have been circulating," Lynn said in a recent entry to her blog. "I never asked to be let out of my contract to leave the show. I believe in honoring your commitments to your fullest ability. I intend to carry out all of my responsibilities and duties that I signed up for."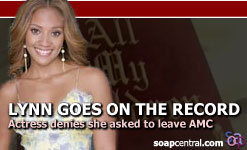 The statement seemingly flies in the face of comments made earlier this year by All My Children's head writer, Megan McTavish, indicating that the show had was taking steps to recast the role of Danielle.
As previously reported, Lynn was reportedly unhappy with her lack of on-screen time. In her refutation of her impending exit, Lynn again expresses her frustration over lack of story.
"Now, it is the case that I desired to be more involved with AMC. I wanted [the fans] to see me more on screen so that [their] wishes for bigger story could be granted," Lynn continued. "But there were many things that I had no control over and all I've ever wanted was to be utilized to my fullest potential."
With Lynn rumored out, talk also began circulating that her on-screen beau, Michael B. Jordan (Reggie Montgomery) might also be leaving. Jordan has been seen very little in recent weeks. His most recent appearance was way back in June. [For more on Jordan's status, please click here.]
Lynn joined the cast of All My Children in March 2004 so the actress has a little more than six months left in her current contract.
ABC does not comment on contracts.
Michael B. Jordan released from his AMC contract.