Now that he has taped his final All My Children scenes, Vincent Irizarry (David Hayward) is commenting for the first time on his departure from the ABC soap. Irizarry, a member of the AMC cast since 2001, found out earlier this fall that he was being let go.
"Let me first say, that yes, of course I was deeply saddened to learn of my upcoming departure, despite the fact that I kind of saw it coming by the way they've been writing David these past 2 or so years," Irizarry said in a statement on his official web site. "For some curious reason, they couldn't seem to develop any story with him on any level that lived up to what had one time been such a substantive and vital character in Pine Valley. Therefore, I can't honestly say that it's been a pleasurable experience as of late. "
In a previous statement by one All My Children exec, the decision to cut Irizarry's character was said to be both financial and the result of a lack of story for the character.
"The decision to write the David character off the canvas was both financial and storyline based," said All My Children executive producer Julie Hanan Carruthers. "[Irizarry] is a wonderful actor and a true gentleman and I thank him for his years of dedication to the show."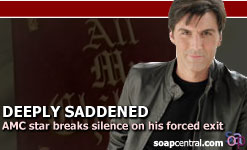 Irizarry taped his final All My Children scenes on October 26th amid talk that he had already lined up a post-AMC gig. Those plans included a possible return to CBS's Guiding Light, where, during two different engagements with the show, the actor played two different roles. Now, as the actor looks forward to life after All My Children, there is conflicting information about whether or not Irizarry really is headed back to the fictional town of Springfield.
In an interview with TVGuide.com, Guiding Light head writer David Kreizman dismisses talk that Irizarry is returning to the show.
"There are no plans to bring him back at the moment," Kreizman stated.
The statement seemingly flies in the face of what an insider told Soap Central just last week. As reported then, a show source stated that Irizarry and GL execs engaged in talks that would have had Irizarry reprise the role of the supposedly-dead Lujack.
As soap fans know well by now, not every statement made on-the-record by a show executive is necessarily the "truth." That is not to say that show reps intentionally mislead the public, but it is often in a show's best interest to keep quiet about certain things. Frequent Soap Central visitors already know that the network rarely comments on actor firings or contract talks.
Irizarry will last air as All My Children's David is November 28th.