As first alluded to in September, Soap Central has learned that Vincent Irizarry is in talks to rejoin the cast of Guiding Light. The veteran soap star, whose was released by All My Children earlier this fall, will reprise one of the two characters he previously portrayed on the CBS soap. Meanwhile, another media outlet is reporting that no such talks have taken place.
For the past decade, Irizarry has played the dastardly David Hayward on All My Children. As the ABC soap fights languishing ratings and increasing production costs, Irizarry found himself as one of the casualties of budget cuts.
"The decision to write the David character off the canvas was both financial and storyline based," said All My Children executive producer Julie Hanan Carruthers. "[Irizarry] is a wonderful actor and a true gentleman and I thank him for his years of dedication to the show."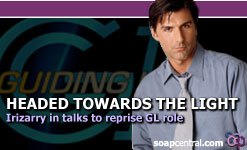 In a bit of peculiar timing, a Guiding Light episode that aired the week Irizarry's AMC departure was announced referenced Lujack. The mention immediately prompted many to wonder if the writing team was planting the seeds for an eventual Irizarry return. Officially, a Guiding Light spokesperson downplayed the mention, saying that it was merely a nod to the show's long history.
When last spotted in Springfield back in 1996, Irizarry had just wrapped up a five-year stint as Nick McHenry Spaulding. Prior to that, Irizarry portrayed Nick's brother, Brandon "Lujack" Luvanoczeck from 1984 to 1986. Lujack died in Beth's arms from injuries sustained in a boat explosion.
In a published interview with TVGuide.com, Guiding Light head writer David Kreizman asserts that Irizarry is not returning to the show. [For more, please click here.]
Irizarry will last air as All My Children's David in mid-November.
A Guiding Light spokesperson reminds Soap Central that it is not network policy to discuss rumors.
---

RELATED STORY
Irizarry says he is "deeply saddened" by his AMC exit. [Nov 2nd, 2006]
---