As previously reported by Soap Central, Jeffrey Carlson reprises the role of international rock star, "Zarf," this week on All My Children. Fans may remember Carlson's one-day stint on All My Children earlier this year during which Josh and Babe tried to convince the fictional rock star into appearing in a Fusion advertising campaign. This time around, Zarf's presence will be much more meaningful. In what will be a first for daytime television - or any scripted series on broadcast television - All My Children will reveal that Zarf is a transgender person.
"All My Children has a long-standing commitment to telling socially relevant stories that entertain and inform. Viewers can expect a heartfelt story between two people who share common ground, yet learn about inherent differences and understanding. At its core, this is a story of acceptance and love," All My Children executive producer Julie Hanan Carruthers said in a statement.
The term "transgender" is applied when a person's gender identity -- the gender to which one identifies themselves -- does not match their assigned gender at birth. However, the term does not apply to sexual orientation; transgender persons may be heterosexual, homosexual, bisexual or asexual. In the past the historically medical term "transsexual" has been used to apply to transgender person. While the terms are essentially synonyms, the use of "transsexual" is now typically avoided because of negative connotations associated with the word "sex."
The storyline begins as Zarf -- whose birth name is Freddie Luper -- develops a relationship with (and attraction to) openly lesbian Bianca Montgomery. Though Zarf has known for sometime that she identifies herself a female, the attraction to Bianca sets off a period of realization for the character: the biologically-male rock star feels that he should have been born female.
Along the way the storyline will chronicle the steps of Zarf's desire to live life as a woman and, possibly, sexual reassignment surgery. Not all transgender persons have sexual reassignment surgery. The storyline will also include how Zarf's transition affects her friends in Pine Valley.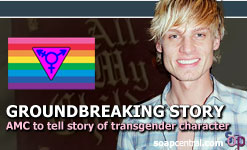 The transition process is a complex process and takes place over a long period of time. A spokesperson for All My Children has indicated that the show has not yet decided whether or not to take the storyline to completion of surgical procedure. Presumably, the show will move forward only if the storyline captures the interest of viewers.
"Telling the story of a character's transition from male to female is groundbreaking television," says Damon Romine, entertainment media director of the Gay & Lesbian Alliance Against Defamation (GLAAD). "All My Children has a track record of telling honest and important storylines, and we applaud them for their commitment to telling Zarf's story with compassion and integrity."
While network television has become more willing to explore storylines involving homosexuality, aside from reality-based programs, television has been reluctant to tackle issues involving transgender persons. The Showtime series, The L Word. is the only other scripted series to have followed a character through a transgender character's transition.
Feature films have been far more reaching in their discussion of transgender persons. Actress Felicity Huffman earned an Academy Award nomination earlier this year for her role as a male-to-female transgender person in the film Transamerica.
For Carlson, this will not be the first time that actor has been involved in a role that focused on sexual identity. Two years ago, Carlson played a cross-dresser named "Marilyn" in the Broadway musical Taboo, based on the life of pop star Boy George.
Carlson returns to All My Children on November 29th.