"BAM" fans are in for a treat in the New Year as Elizabeth Hendrickson (Maggie Stone) returns to All My Children for a short-term run. Hendrickson exited All My Children in February 2005 when Maggie and Bianca headed off to Paris to start a new life together.
Hendrickson joined the cast of All My Children in September 2001 as Mary Frances "Frankie" Stone. Though the stage was set for Frankie and Bianca to possibly form a relationship, Frankie's life was cut short when she was gunned down in November of the same year. Frankie's death led to outrage among some viewers who accused the Disney-owned ABC network of backing down from a same-sex love story. Then-head writer Richard Culliton insisted that Frankie's death had been incorporated into the show's storylines from the beginning. Fans and network execs, however, were quite taken with Hendrickson's work and some scripts were shuffled to allow for Hendrickson to return to the show - as Frankie's twin sister, Mary Margaret "Maggie" Stone.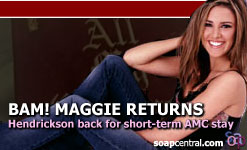 Despite the fact that All My Children is gearing up for a somewhat controversial love story between Bianca and Zarf, AMC's head writer Megan McTavish has promised "BAM" (Bianca and Maggie) fans that Bianca and Maggie's story was not yet finished. Now, though, a setside source hints that Hendrickson's return will help tie up some loose ends and allow for Bianca to move on.
Since leaving All My Children, Hendrickson has appeared in a handful of primetime dramas. In just the past twelve months, the actress has appeared on Cold Case, Criminal Minds, CSI: Miami, and Medium.
Hendrickson tapes the first scenes of her three-week return on December 13. Those scenes will first air January 15.
Photo Credit: ABC