How do you feel about the decision to kill AMC's Dixie?

I can't believe Dixie is being killed off (again). I'm absolutely furious!
98%
I'm upset. I'd much rather see Dixie written off than killed off.
1%
Dixie died before and she came back. I suspect it will happen again.
1%
I've been less than thrilled with Dixie's return. Maybe it's not a bad idea
0%
I've never cared much for Dixie, so I think this is a great storyline twist
0%
I have no opinion on McClain's upcoming exit from AMC.
0%
Other
0%
Poll Posted: January 18, 2007
Her silence has been broken. In a recent post on her
official web site
, two-time Emmy winner
Cady McClain
(
Dixie Martin
) broke her silence about her unceremonious firing from All My Children
late last year
.
McClain was informed in December that she would be exiting the show, as her character would fall victim to the infamous Satin Slayer. But the news of her exit didn't leak until several weeks later. Some fans speculated that McClain was axed because she had spoken out about the exit of another Emmy-winning female lead on the show, Julia Barr (ex-Brooke English). The rumor was given added credibility when the FOX News cable channel issued a report stating that McClain's outspokenness was the reason she had been shown the door.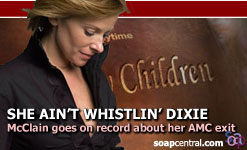 "Who is this guy from FOX news and what does he know?" McClain asked, noting that all of her blog entries were approved by ABC executives before they were ever posted on the Internet. "I was talking about the character of Brooke when I said 'life is not fair,' [..] not Julia getting let go."
So what is the reason for McClain's exit? The actress says that the show's triumvirate of top execs decided that killing Dixie was the best way to move forward for a character that no one quite knew what to do with any more.
"This [was] a mutual decision of Brian [Frons, president of Daytime for Disney-ABC Television Group], Julie [Hanan Carruthers, AMC's executive producer] and Megan [McTavish, AMC's head writer]," McClain notes. "I was told they all agreed on this decision."
Still reeling from the news that one of the most-loved characters in AMC history was going to be murdered, fans were further outraged when, earlier this month, ABC seemingly removed all references to McClain and Dixie from the official All My Children web site. McClain, whose exit was only a few weeks ago, is no longer listed in the actor biography section nor is her character listed in the character profiles. Meanwhile, former co-stars Vincent Irizarry (who left his role as AMC's David Hayward in November and is now appearing on rival soap The Young and the Restless), Marcus Patrick (whose blink-and-you-missed him appearance as Jamal Cudahy ended in September) and many other recently departed stars are all still listed among the stars of the show.
"I really am only the actor. I don't think they will ever bring me back, especially if they have removed the Dixie CHARACTER bio from the website," McClain offered. "It's over. It's all done. AMC is going to become something totally different than it once was. It will be all new, all different. Why? I can only conjecture."
Despite no longer being part of the All My Children cast, McClain did earn a pre-nomination for this year's Daytime Emmys.
Knowing that many of her fans have threatened to never again watch All My Children, McClain offered some reassuring words.
"Do not stop watching All My Children," McClain urged. "There are some good actors on that show, the producers are trying new and innovative things, and the writers are trying out lots of concepts and ideas that you may ultimately find very entertaining."