In a stunning casting move that is sure to draw fire from more than a few fans, Cady McClain (Dixie Martin) will exit All My Children in the weeks ahead. Though they are conflicting reports about whether McClain's contract was not renewed or whether the actress was released from her contract, this much is clear: this was not McClain's decision. While this is not the first time that McClain and the show have parted ways, it will more than likely be their final split: Dixie will fall victim to the Satin Slayer.
"It is true, I have been killed off," McClain said in a message on her official blog.
McClain returned to All My Children with great fanfare in December 2005, but despite a much-hyped storyline, McClain saw little in the way of on-screen time and fans were left disappointed by the storyline that had been crafted for her return.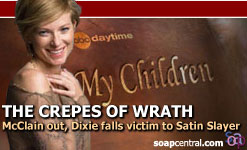 "I am thrilled to be returning to a show where I have such a long and beautiful history," McClain said in a statement at the time. "I hope the audience will enjoy the incredibly thrilling storyline Megan McTavish has created as much as I am going to enjoy playing it... It's going to be a great 2006."
Now, only a few weeks into 2007, Dixie becomes the fourth victim of a serial killer that has been stalking the women of Pine Valley. Last year, Terri Ivens (Simone Torres) and Connie Fletcher (Erin Lavery) were cut from the show when their on-screen personas were poisoned. Earlier this year, Tanisha Lynn (Danielle Frye) was targeted by the killer but she managed to escape death.
McClain is the most veteran performer to be killed off in the serial killer storyline, a plot that was devised as a way to intrigue fans and also prune non-essential characters from the canvas and slash the show's budget all at the same time. There have been, in recent weeks, victims of cast cuts that were not felled by the fictional Satin Slayer.
McClain joined the cast of All My Children in October 1988 and remained with the show through 1996. She returned in July 1998 before again exiting in February 2002. During her nearly 13 years with All My Children, McClain earned two Daytime Emmy nominations and one win for Outstanding Juvenile Female (now called Outstanding Younger Actress) in 1990.
In an announcement that stunned the daytime world in 2002, McClain exited AMC and signed on to play Rosanna Cabot on CBS's As the World Turns. McClain's streak of critical acclaim continued with a second Daytime Emmy trophy for Outstanding Supporting Actress in 2004. She had earned an additional nomination in 2003.
In addition to her acting, McClain also writes and performs music. Last year, McClain released her first album, BlueGlitterFish.
"[T]he future is friendly, with so many lovely folks [...] out there," McClain remarked. "I hope to be up and acting and making music very, very soon. When you fall off a horse..."
A final airdate for McClain has not yet been announced by ABC. It is expected to come during the first week of February.