All My Children has finally named the successor to ousted head writer Megan McTavish. And actually, it is successors -- plural. The ABC has tapped the writing pair of Barbara J. Esensten and James Harmon Brown.
The names of Esensten and Brown should be well known to daytime viewers. The team paired up as script editors for Days of our Lives last year, served as head writers for Guiding Light, Loving, The City, Port Charles and in 2005 were appointed as consultants for One Life to Live. Esensten and Brown also served as writers for the popular 80s primetime soap, Dynasty.
"We're thrilled to welcome this talented team back to ABC," Disney's Daytime head Brian Frons said in a statement. "They're known for telling compelling stories that take characters and viewers on a great emotional ride, and their creative vision promises to continue the show's tradition of cutting-edge storylines. Fans can expect an exciting summer in Pine Valley and can look forward to even more of the romance and intrigue they have come to love and look for on All My Children."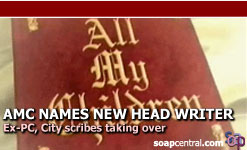 Some fans, however, are already skeptical, citing that fact that Esensten and Brown were at the helm when both The City and Port Charles were cancelled. However, the team is credited with introducing the 13-week story arc telenovela format to Port Charles. The storytelling format helped power Port Charles to a Daytime Emmy nomination for Outstanding Drama Series.
"Combined with their ability to take creative and emotional risks, Barbara and Jim write with commitment to character integrity and honesty," said executive producer Julie Hanan Carruthers, who worked with the pair on Port Charles. "I look forward to working with them again and welcome them to All My Children."
No first airdate has been given for Esensten and Brown's stories. The show has been without a permanent head writer since Megan McTavish was let go in March amid substantial fan disapproval of her work.