Higley To Get "Help" from Award-Winning
Writing Team
by
Dan J Kroll

Posted Wednesday, January 05, 2005 9:51:36 PM

One Life to Live has brought in some familiar names to help recently-appointed head writer Dena Higley as she pens the show's future plots and storylines.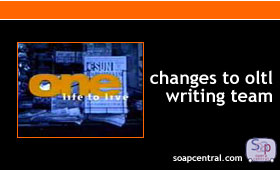 ABC announced that it has hired the writing team of James Harmon Brown and Barbara Esensten to serve as consultants on One Life to Live. Brown and Esensten have a substantial history in daytime television. The pair most recently served as head writers for the now-cancelled 30-minute ABC soap Port Charles. They have also collaborated as head writers on CBS's Guiding Light as well as two other defunct ABC soaps, Loving and The City. In 1981, Brown and Esensten were writers for the primetime soap, Dynasty.

Higley's experience has a head writer can be misconstrued by some as somewhat limited. For a brief period in 2003, Higley served as head writer for NBC's Days of our Lives. Higley reportedly earned the top scribe gig after presenting the show's executive producer with a long-term story outline. And while technically not the head writer, for a 17-year period from 1986 through 2003, Higley worked as an associate head writer at DAYS. Higley was named head writer for One Life to Live in September 2004.

In their role as consultants, Brown and Esensten will not necessarily write storylines, but rather help shape ideas and offer guidance to Higley. The hiring of Brown and Esensten should also not be seen as a knock against Higley. It should be noted that during the previous writing regime, Michael Malone was originally hired as a consultant for then-head writer Josh Griffith. Later, Griffith served as a consultant for Malone.

RELATED STORY
OLTL set goes dark as new head writer takes over. [Sep 23rd, 2004]
---