ABC has announced that Days of our Lives writer Dena Higley has been named the new head writer of One Life to Live. She will replace outgoing head writer Michael Malone.
Higley has been a part of the Days of our Lives writing team for 19 years. She served temporarily as head writer of the show from December 2002 through the Spring of 2003. Prior to be named head writer of the NBC soap, Higley was said to have presented Days of our Lives executive producer Ken Corday with a detailed, long-term story outline. It was that outline that helped her snag the show's top writing job. Higley was later replaced as head writer by James E. Reilly. Reilly's hiring - actually a rehiring - was part of negotiations between NBC and Corday Productions, the owner of Days of our Lives.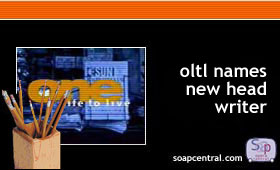 Malone, meanwhile, was scheduled to serve out the remainder of his contract, which was believed to run through November 3rd. ABC Daytime President Brian Frons trumpeted Malone's return to One Life to Live in November 2002 as a way to bring "quality [and] diverse stories" to the show's canvas.
Earlier this year, Josh Griffith - who was also rehired along with Malone in 2002 - left the show after a reported argument with network execs over some of his proposed storyline ideas. Among those is believed to the mob-related storyline involving the Santi family. Several media outlets took the show to task for the storyline, saying that the plot appeared to be a blatant rip-off of General Hospital's mob tales. Actress Saundra Santiago (Angelina Santi), who was originally hired for a six-month run on One Life to Live, was released from the show after just three months. As it became apparent that the show had changed its course with the storyline, rumors that there would be more sweeping changes behind-the-scenes began to swirl.
"Llanview will always be one of my favorite fictional landscapes," Malone said in a statement. "I wish all who live there every good fortune."
Malone will focus his attention on being a novelist.
Higley, meanwhile, has shared her vision of what she would like to bring to Llanview. "I'm passionate about writing character-driven story, and that's what OLTL is all about," Higley said in a statement. "It's a very big change for me, and quite a challenge. But I'm looking forward to [it]. I hope to offer OLTL a fresh perspective, while at the same time remaining true to the show's illustrious history."
Higley's first day at work was October 18th.