For weeks -- possibly months -- the fate of Days of our Lives was said to be hanging in the balance as NBC executive and Corday Productions, the owners of Days of our Lives, engaged in talks about the show's future. Days of our Lives was up for renewal and talks between the two sides reportedly did not go well.
In fact, even the show's performers didn't know if Days of our Lives would be canceled, if the show would move to another network or if they'd even have jobs.
On May 8th, Days of our Lives' co-executive producer Steve Wyman announced over the studio's public address system that the show was safe; it had been picked up by NBC for another five years.
Now that the two sides have reached an agreement -- one that will keep Days of our Lives on NBC until March 2008 -- chatter is beginning to emerge about the concessions made by both sides during the bargaining.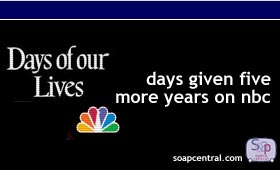 James E. Reilly will return to head writing duties at DAYS. If that name rings a bell, there are two possible explanations for it. Reilly served as DAYS' head writer from 1993 to 1997. During that time he penned the now-infamous tale of Marlena's possession by the devil. That storyline may have been a foreshadowing for Reilly's next endeavor: creating the supernatural-themed soap opera, Passions, for which he has served as head writer since its debut in 1999.
"Days Of Our Lives has entertained millions of loyal fans for over 37 years, all of them on NBC. We're delighted to continue the partnership with Corday Productions and Sony Pictures Television for another five years. We're also excited for James Reilly to return as head writer on DAYS," said Sheraton Kalouria, Senior Vice President, Daytime Programs, NBC Entertainment.
Reilly's (re)ascension to the DAYS head writing throne means that Dena Higley has been ousted after less than a year as the show's head scribe. Higley was named head writer of Days of our Lives earlier this year after having presented executive producer Ken Corday with an outline of her vision for the show for the next twelve months.