A spokesperson for All My Children has now confirmed that Alexa Havins (Babe Carey) will exit the show this fall. Rumors of the actress' imminent departure have been circulating for some time.
Havins will exit All My Children in October and head out west to be with her real-life husband, Justin Bruening (ex-Jamie Martin). Bruening opted not to renew his contract and exited AMC just last month. It was widely expected that Havins would follow him - but at the time no one was willing to make an official comment.
What are your thoughts on AMC's decision to recast the role of Babe?


I'm upset. I really didn't want to see another actress as Babe.
38%
I'm pleased. I love Babe and didn't want the character to just vanish.
26%
I don't like Babe, so I'm hoping the recast can change that.
23%
I'm willing to give the newcomer a chance. Havins was once one, too.
8%
I've never been a fan of Babe, so I was hoping she'd leave town.
3%
I don't really care what the show decides to do with Babe,
1%
Other
1%
Poll Posted: September 3rd, 2007
Havins joined the cast of All My Children in October 2003 as a newcomer to the daytime medium. The actress was immediately thrust into a front burner storyline involving a baby swap - and the actress and her on-screen persona have been the subject of fans' attention (both positive and negative) ever since. Havins received a Daytime Emmy nomination in 2005 for Outstanding Younger Actress.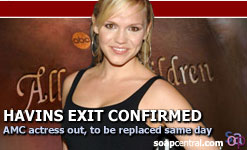 Tapped to take over the role of Babe is daytime newcomer Amanda Baker. Baker, however, already has ties to the ABC Daytime lineup; the actress is currently tackling the role of Jolene on Night Shift, the primetime spinoff of General Hospital. Baker has also appeared in guest roles on One Tree Hill and Campus Ladies.
Havins makes her final AMC appearance on October 8, 2007. In an unusual move, Baker will assume the role of Babe on that very same day.
"[Alexa Havins'] Babe will hug Krystal and when they separate from the hug, it will be Amanda Baker [in] the role," clarifies the show rep.